General Hospital Spoilers Next 2 Weeks: Shocking Decision, Rescue Mission, Arrest Made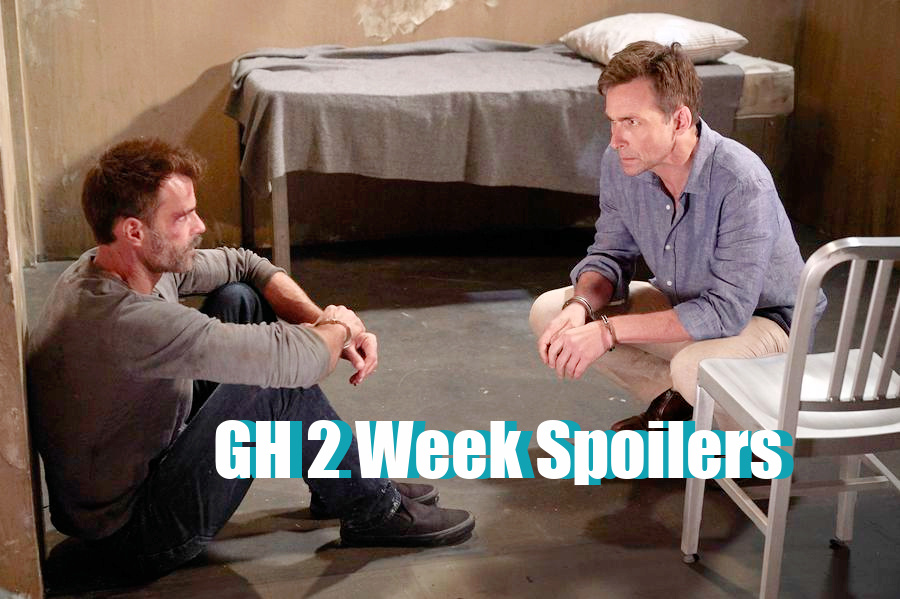 General Hospital (GH) spoilers tease for the weeks of October 11-15 and October 18-22 that Spencer Cassadine (Nicholas Chavez) gets a day in court, Valentin Cassadine (James Patrick Stuart) will be rescued, Anna Devane (Finola Hughes) will make a shocking decision, Jason Morgan (Steve Burton) and Britt Westbourne (Kelly Thiebaud) team up for a Grecian rescue mission and more in upcoming episodes of General Hospital!
General Hospital Spoilers – Carly Corinthos Clears The Air
During the week of October 11-15, General Hospital viewers will see Carly Corinthos (Laura Wright) try to clear the air with Britt Westbourne (Kelly Thiebaud) but Britt isn't in a receptive mood to rehash her would-be romance with Jason! General Hospital viewers will recall that Jason and Britt had something real, until "the business" took precedence and Jason rushed back to Port Charles to marry Carly.
Now that Sonny Corinthos (Maurice Benard) is back and alive, Carly and Jason might want things to go back to the way they were but Britt isn't so sure! Meanwhile, Carly's daughter Josslyn Jacks (Eden McCoy) will school Cameron Webber (William Lipton) not to be so gullible – especially when it comes to Esme Prince, (Avery Kristen Pohl) who's been giving him the "poor little me" routine. It's quite clear to Joss that Spencer Cassadine's (Nicholas Chavez) manipulative girlfriend is playing every guy she can get to believe her sob stories!
GH Spoilers – Esme Prince Gets Up Close And Personal With Ryan Chamberlain
Also during the week of October 11-15, General Hospital viewers will see Esme continue to get up close and personal with Ryan Chamberlain (Jon Lindstrom) as she works out the details of the job she apparently has scored at Spring Ridge. General Hospital viewers suspect that there is more between Esme and Ryan than meets the eye, and that they may even be father and daughter. Sonny Corinthos makes an unusual move as he calls a truce with his years-long romantic rival Jasper "Jax" Jacks (Ingo Rademacher) and the two even may work together on some things for the sake of their loved ones in common.
Jason Morgan Stops Carly Corinthos From Doing Something She Might Regret
Jason will stop Carly from doing something she might regret during the week of October 11-15 on General Hospital. General Hospital viewers will recall he stopped her from giving Nina Reeves (Cynthia Watros) a beatdown at the Quartermaine mansion recently. Sonny will also lay down the law with Nina in regards to some things, and likely those things will involve the relationship they had in Nixon Falls, Pennsylvania when he was amnesiac "Mike" and boundaries in Port Charles.
Sonny may also talk to her about seeing their mutual grandson Wiley Corinthos (Kyler and Caleb Ends) and the do's and don'ts regarding him. Back to Jason and Carly, Carly's old feelings for Jason had come back at the point when they married, and it was going to be a real marriage until Sonny walked in on their almost wedding night activities! Sonny will demand some answers from Jason, so Jason might be trying to stop Carly from confessing her feelings for Jason to Sonny! Sonny and Carly will then have some conversations about their own future.
General Hospital Spoilers – Austin Gatlin-Holt Tries To Get Jason Morgan On His Side
General Hospital viewers will see some Quartermaine family conflict ramp up during the week of October 11-15 also, as Austin Gatlin-Holt (Roger Howarth) tries to get Jason on his side. Jason will likely stay out of the middle of the drama although he may relate to Austin's desires for recognition. Longtime General Hospital viewers will recall Jason rejected the Quartermaine lifestyle long ago, giving up his birth name of Quartermaine for that of Lila Quartermaine's (Anna Lee) maiden name, Morgan. Meanwhile, Brook Lynn Quartermaine (Amanda Setton) will try to trap Austin into violating HIPAA laws by telling her about Leo Falconeri's (Easton Rocket Sweda) autism symptoms, and Olivia Quartermaine (Lisa LoCicero) will go ballistic overhearing her conversation with Austin! Olivia cannot think of her little boy as anything but perfect, after all!
GH Spoilers – Spencer Cassadine's Backed Into A Corner – Robert Scorpio's Astounding Discovery
Lastly, during the week of October 11-15 General Hospital viewers will see Spencer Cassadine get backed into a corner. His stalker stunts combined with owing two nights in the Metro Court will see Spencer be on the receiving end of too little too late tough love from his father Nikolas Cassadine (Marcus Coloma) who cut the purse strings. Esme desperately pleads with Nikolas, but the Bank of Cassadine is currently closed and Nikolas isn't falling for Esme's sob stories either, let alone Spencer's. By next week, things get real for Spencer and by extension, Esme! General Hospital viewers will see that they'll make some discoveries about how the other half lives and will have to try to find a place to live and a way to pay! In Greece, Robert Scorpio (Tristan Rogers), still investigating with Anna Devane (Finola Hughes) will uncover an astounding secret; perhaps Holly Sutton Scorpio (Emma Samms) is also a prisoner of Victor Cassadine (Charles Shaughnessy)?
Anna Devane's Shocking Decision
During the week of October 18-22, Anna will make a shocking decision. It may actually not be all that shocking, and involve Anna and Robert working together to rescue Valentin Cassadine (James Patrick Stuart) who General Hospital viewers will recall was also kidnapped by Victor. On October 19, Anna will come to Valentin's aid, but will decide to complete the mission with Robert, who Valentin may or may not want to work with! It's probably more like Robert not wanting to work with Valentin, though. Meanwhile, Victor will dictate some malicious commands, all the while Peter August (Wes Ramsey) is still on the loose as well!
General Hospital Spoilers – Jason Morgan And Britt Westbourne's Grecian Rescue Mission
Also during the week of October 18-22, some previous General Hospital scenarios will continue to play out, including Jason and Britt teaming up to rescue her mother, Liesl Obrecht (Kathleen Gati). General Hospital viewers will recall that Liesl is also a prisoner of Victor, and Damian Spinelli (Bradford Anderson) will dig up some intel on her possible location. That will send Jason and Britt to Greece on a rescue mission together, after they receive some disturbing updates.
As for the poor little rich boy Spencer, who's not so little anymore as well as not so rich, he'll get his day in court and be arrested and arraigned! A previously leaked General Hospital script indicates that he will be arrested for stalking and malicious mischief, but his real friends Josslyn and Cameron will show up to support him while in court. It will be quite likely Trina Robinson (Sydney Mikayla) will show up as well. Uncle Sonny should show up also, and possibly replace Spencer's public defender with Diane Miller (Carolyn Hennesy).
Back with Nina's problems, Ava Cassadine (Maura West) will remind Nina she's got a secret weapon, and that might refer to visitation with Wiley. Since Michael Corinthos (Chad Duell) will be doing some bargaining before Jax makes a shocking admission, it could mean Michael's trying to put the kibosh on visits with Wiley and Jax might have some more secrets to leverage him with. Wiley's needs are the thing to put first and he won't understand losing Grandma Nina right now. As for Nina's secret weapon, it might be her and "Mike's" romance in Nixon Falls!
Stay tuned to General Hospital, and keep checking General Hospital spoilers frequently for all the latest news, updates, and developments!