General Hospital Spoilers: Anna Puzzled By What She Finds At Chloe Jennings' Bedside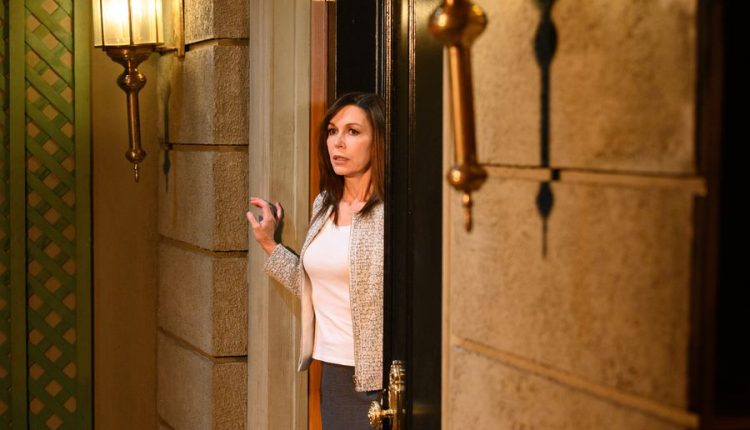 General Hospital (GH) spoilers tease that Anna Devane (Finola Hughes) will be puzzled by what she finds at Chloe Jennings' (Phoebe Kuhlman) bedside in an upcoming episode of General Hospital!
General Hospital Spoilers – Valentin Cassadine And Anna Devane Found Chloe Jennings In The US Consul Hospital
General Hospital viewers will recall that following a lead in the search for Drew Cain (Cameron Mathison) Valentin Cassadine (James Patrick Stuart) and Anna found the real Nurse Chloe Jennings in a coma in the US Consul hospital in Crete. General Hospital viewers will recall that after Valentin "passed out from too much to drink at their date in the tavern, Anna left to check on their "patient", asking the mandolin player – who had a matching Cassadine crest tattoo to Valentin's – to give him a message that she'd gone to the US consul hospital to check on Chloe.
Several episodes ago, Nurse Phoebe and Drew Cain (Cameron Mathison) had tried to pull off an escape for both of them, hopefully also freeing another female prisoner who could be heard screaming loudly, but only Chloe made it out. The US Consul doctor told Valentin and Anna that the young woman had gotten in a serious automobile accident and was in a coma.
GH Spoilers – While Valentin Cassadine Is Kidnapped, Anna Devane Checks On Chloe Jennings
General Hospital viewers will recall that Anna thought Valentin had merely passed out from having too much to drink, but other General Hospital spoilers reveal that he is actually drugged! By the time Anna gets back from the US Consul to where she'd put him in bed to sleep it off, Valentin will find himself having an unexpected visit with Drew in his cell! The two will briefly catch up and Valentin will then be dragged off to a shocking visit with his "uncle" Victor Cassadine (Charles Shaughnessy) who he had thought died in the Crichton-Clark clinic explosion and had not seen since he was six years old when he was sent off to boarding school!
But this won't be a warm family reunion – Valentin knows of Victor's reputation and his crimes, and Valentin may be glad he isn't a real Cassadine. Valentin will be mystified as to what Victor might want with him but his main goal will be to figure out how he can escape! Drew probably told him Victor and Peter August (Wes Ramsey) are calling the shots. Meanwhile, Anna checks on Chloe and makes a discovery by her bedside!
General Hospital Spoilers – Anna Devane Finds Something From Drew Cain
General Hospital viewers again will recall that Chloe escaped after plotting an escape with Drew; and Anna makes a puzzling discovery by Chloe's bedside. Drew would have had nothing to write a note with since their plot involved Drew having possession of a contraband pen in his cell, which of course could be used to make a "shiv" or homemade knife.
However, Drew may have given Chloe something to lead searchers back to him – that may not have been confiscated. Drew may have still had a passport or other identifying material on him when his plane was brought down, because no trace was ever found. Drew may even have had some photos of his late son Oscar Nero (Garren Lake Stitt) and his daughter Emily "Scout" Cain (Ella Ramacieri). General Hospital viewers know that whatever Anna finds, it will be something that is connected to Drew!
Stay tuned to General Hospital, and keep checking General Hospital spoilers frequently for all the latest news, updates and developments!