General Hospital (GH) Spoilers Next Two Weeks: Daddy Issues, Secrets Revealed, Dirty Tricks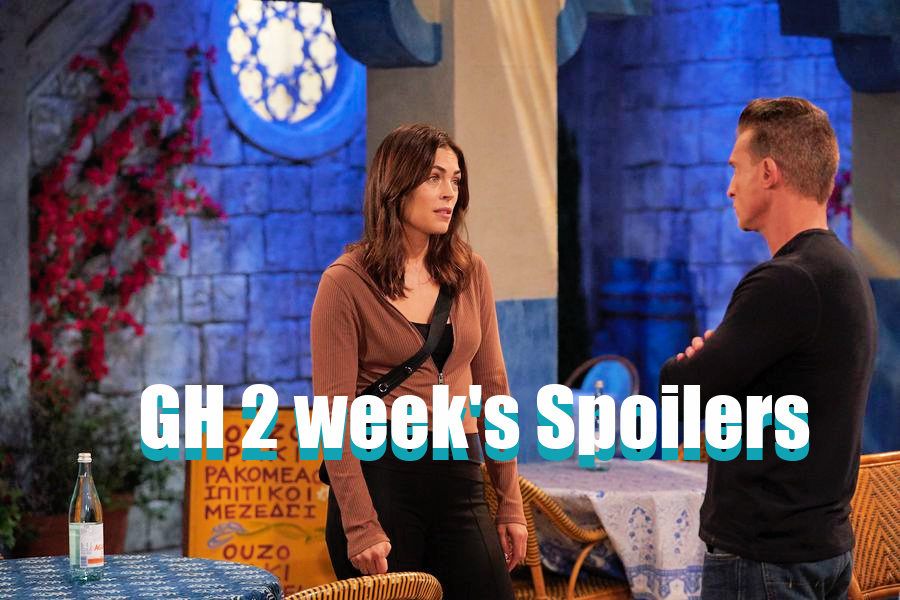 General Hospital (GH) spoilers General Hospital (GH) spoilers for the next two weeks, October 25 to November 5, tease that Curtis Ashford (Donnell Turner) gets an unwelcome warning and Elizabeth Baldwin (Rebecca Herbst) deals with daddy issues. Elsewhere Britt Westbourne (Kelly Thiebaud) is thwarted and Ryan Chamberlain's (Jon Lindstrom) minion gets busy.
General Hospital spoilers: The Week of October 25-29 Brings Down the Law
During the week of October 25-29 poor who-me? Nina Reeves (Cynthia Watros) is arrested. Carly Corinthos (Laura Wright) cheers the move but her amnesia boo Sonny Corinthos (Maurice Benard) is conflicted. Maybe he should put on his cowboy hat for a little enlightenment?
Her bestie Ava Jerome (Maura West) schemes to take advantage of the Nixon Falls Smike and Nina fling and Scott Baldwin (Kin Shriner) does his best to represent her.
Spencer Cassadine (Nicholas Chavez) was almost a convict but for his freedom he must work for minimum wage at Kelly's—horror of horrors! This means his peer and social inferior Cameron Webber (William Lipton) is his boss.
"Marshall" (Robert Gossett) is the mystery guy spying on the Ashford's and he targets innocent Portia Robinson (Brook Kerr) next. Who is this guy and what does he want?
At some point Portia and Curtis realize they have a cipher on their hands.
General Hospital spoilers: The Weeks Gets Curiouser
Meanwhile Valentin Cassadine (James Patrick Stuart) needs surgery and he ends up in the GH ICU where Liz Baldwin (Rebecca Herbst) tends to him. Will she overhear something she shouldn't?
What could go wrong when feisty Gladys Corbin (Bonnie Burroughs) picks a fight with tornado Brook Lynn Quartermaine (Amanda Setton)? This ought to be good soap fans, each woman is a total force of nature.
General Hospital spoilers: During The Week of November 1-5 Secrets Are Revealed
During the week of November 1-5 Britt Westbourne (Kelly Thiebaud) and Jason Morgan (Steve Burton) continue to search for her mom Liesl Obrecht (Kathleen Gati). Fans will see the doctor come out of a haze and she is in a laboratory, which is never a good sign on GH.
Meanwhile look for unkillable Peter August (Wes Ramsey) to be up to his dirty tricks, and there's some girl bonding between Carly and Olivia Quartermaine (Lisa LoCicero). These ladies go to The Savoy but could get an unwelcome visit from mob minion Joey Novak (Patrick Zeller) who is a pure pain.
Explosive show spoilers indicate that Snarly won't back down from the gangster and this could result in trouble down the line.
Troubled Esme has what every teen girl dreams of, an internship at a locked facility. At Spring Ridge she makes a beeline for psycho Ryan.
Daddy issues are on the front burner when Terry Randolph (Cassandra James) stuns Liz with news of her dad and Curtis may find his AWOL pops who may or may not be one of the many, many mob minions that inhabit the fringes of Port Charles.
Be sure to catch up on everything happening with GH right now. Come back here often for General Hospital spoilers, news, and updates.