General Hospital Spoilers: Carly Seeks Answers To Why Jason Died And Peter Lived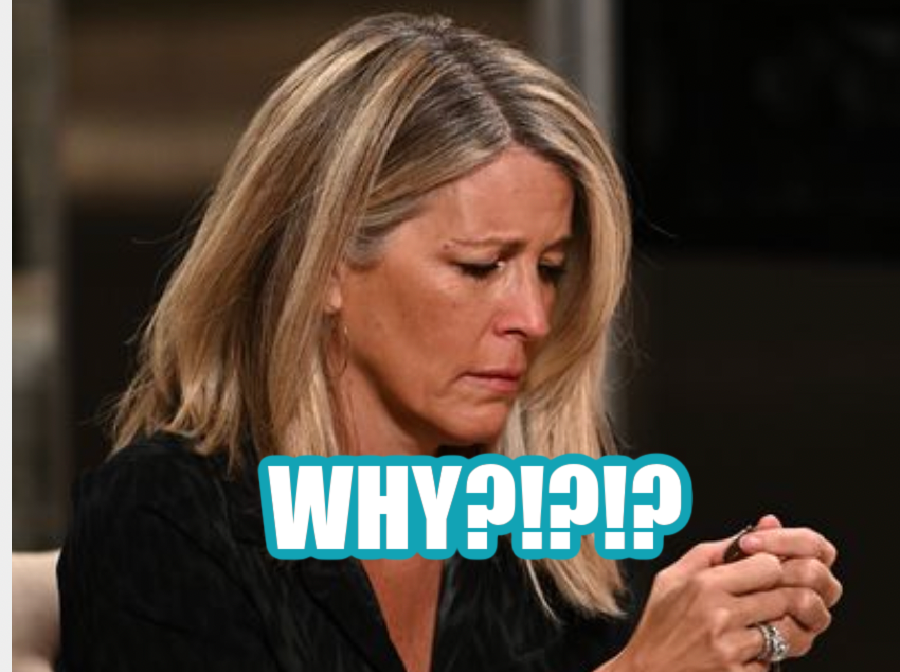 General Hospital (GH) spoilers tease that Carly Corinthos (Laura Wright) will seek answers to why Jason Morgan (Steve Burton) died and Peter August (Wes Ramsey) lived in an upcoming episode of General Hospital!
General Hospital Spoilers – Carly Corinthos And Jason Morgan's Love Went Back Years!
General Hospital viewers know that Carly has been going through a very rough time since Jason died on Cassadine Island a few months ago, she was much more bonded to him than to her husband! Longtime General Hospital viewers will remember that Carly fell in love with Jason many years ago, long before Sonny Corinthos (Maurice Benard) arrived in Port Charles to take over Frank Smith's (George Gaines) territory. Carly doesn't really know how to live without Jason any more, even though the last time he presumably died she had seemed to go on with her life much better than she's doing now. Perhaps the grief is deeper because their old feelings they had pushed down for years after Carly dumped Jason for Sonny had resurfaced and they were even stronger when Sonny returned from "the dead".
GH Spoilers – It Isn't Fair, A Monster Lived And A Good Man Died!
General Hospital viewers will recall the sad, sad sight of a devastated and broken Carly trying to reach out to her best friend Jason in the great beyond with tears in her eyes! This was the night that she told Sonny not to come back home after the truth about what happened between him and Nina Reeves (Cynthia Watros) in Nixon Falls came out at Nina's preliminary hearing! First she stood for quite a while on the deck of her home in the Corinthos compound and cried out to Jason with her sights on the stars, while the rest of her family stayed inside. General Hospital viewers can tell her grief for Jason is much harder for her to handle than her grief over her marriage falling apart –it isn't fair; a monster lived and a good man died!
General Hospital Spoilers – Carly Corinthos Is A Hot Mess Of Conflicting Emotions
GH viewers will agree that Carly is a hot mess of conflicting emotions, and she's always relied on Jason to keep her from coming unhinged, even though she does what he taught her-sometimes. General Hospital viewers will remember from a recent episode she counted to ten to herself as she muttered about Jason under her breath as well…however, it isn't helping all that much. Carly wants to stay in control – but she's ready to explode like a volcano, and has, as she's falling apart inside with grief, yet full of revenge and ready to kill all at the same time! She keeps going over the horrible irony in her mind that monsters live while good men die as she contemplates Peter in a coma in the intensive care unit of General Hospital!
GH Spoilers – Why Isn't Peter August Dead? Why Did They Bring Him To General Hospital?!
General Hospital viewers will remember that Carly was well aware of Peter being brought into General Hospital unresponsive and in a coma. She and Sonny were there supporting Brando Corbin (Johnny Wactor) and Sasha Gilmore (Sofia Mattsson) as their tiny newborn, Liam Mike Corbin (uncast infant) laid on life support in the NICU. Carly angrily contemplates the fact that while nothing could be done for an innocent baby, extraordinary measures are taken to preserve the life of a piece of trash like Peter August! She continues to ask herself, why isn't Peter August dead and why did they bring him to General Hospital; couldn't they have just left him dying in his cell-he would have faced the death penalty anyway!
Be sure to catch up on everything happening with GH right now. Come back here often for General Hospital spoilers, news, and updates.