90 Day Fiancé alum Rosemarie "Rose" Vega first starred on the TLC reality show with Big Ed Brown. While he has since struggled to find someone to spend his life with, it turns out Rose has finally found the man of her dreams. She posted a romantic video and a series of images to her Instagram account to announce her relationship with a new mystery man and we couldn't be happier for her.
90 Day Fiancé alum Rose Vega and Big Ed Brown
90 Day Fiancé fans will remember Rosemarie Vega, starring with Big Ed Brown on season 4 of Before the 90 Days. Ed and Rose found each other online and after chatting for a few months, he made his way to the Philippines to meet in person. Ed planned on becoming engaged by the end of that season.
However, all along, he treated Rose badly and the final crunch came when he announced that he was getting a vasectomy. From the start, Rose had said she wanted more children – siblings for her son Prince – so this truly was the last straw for the young Filipina beauty.
Soon afterward, Ed was offered the chance of starring in season 1 of 90 Day: The Single Life, where he fell for a single mother, Liz Woods. Again, the romance didn't go smoothly and they had several explosive fights. However, despite the backlash from 90 Day Fiancé fans, Liz and Ed finally got engaged and plan to marry soon.
Meanwhile, since splitting from Big Ed, 90 Day Fiancé alum Rose Vega has built herself a great life and in November 2021, she finally spoke of moving on and dating again. Despite the problems with Ed, she even said she was open to dating another American man, as long as he loved her son, Prince.
Rose finds 'the one'
Admittedly, we don't know if she has met another American man, but recently Rose announced her new boyfriend by posting a romantic video and several images on Instagram. She captioned the post, "I have found the one. Thank you for being there for me and Prince. We'll always have each other through our ups and downs."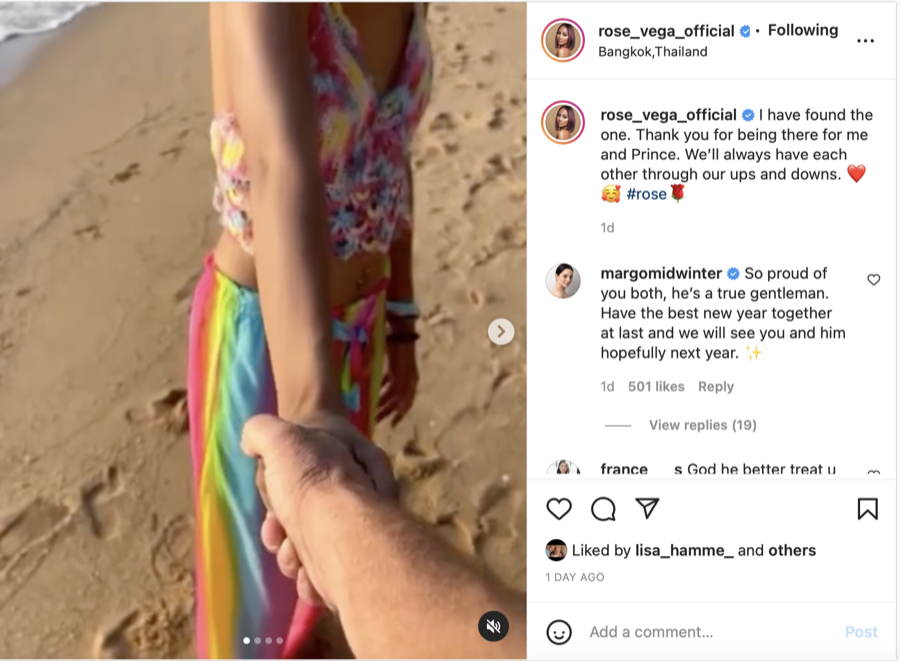 In the video, she can be seen running on the beach, holding her new beau's hand. Other images showed Rose and Prince having fun at the beach. However, she didn't reveal her mystery man's face, likely wanting to keep his identity secret.
Fans quickly commented on the romantic post, congratulating Rose on finding happiness. One of her followers seems to know the couple, as they commented that he was "a true gentleman."
Another follower wrote, "Just by looking at his arm we can tell you upgraded." Meanwhile, another commented, writing, "I hope he treats you well, it's what you deserve."
It looks like the video and photos might have been taken in Thailand, as she recently revealed she and Prince had visited and that it was her son's first-ever flight. Some 90 Day Fiancé viewers wonder whether Rose was in Bangkok on a modeling gig, as she regularly posts gorgeous modeling images to her Instagram. Whatever her reason for traveling there, we wish her every happiness with her new man.