Days Of Our Lives Spoilers Next Two Week: Undead Resurrections, Interrogations, Regrets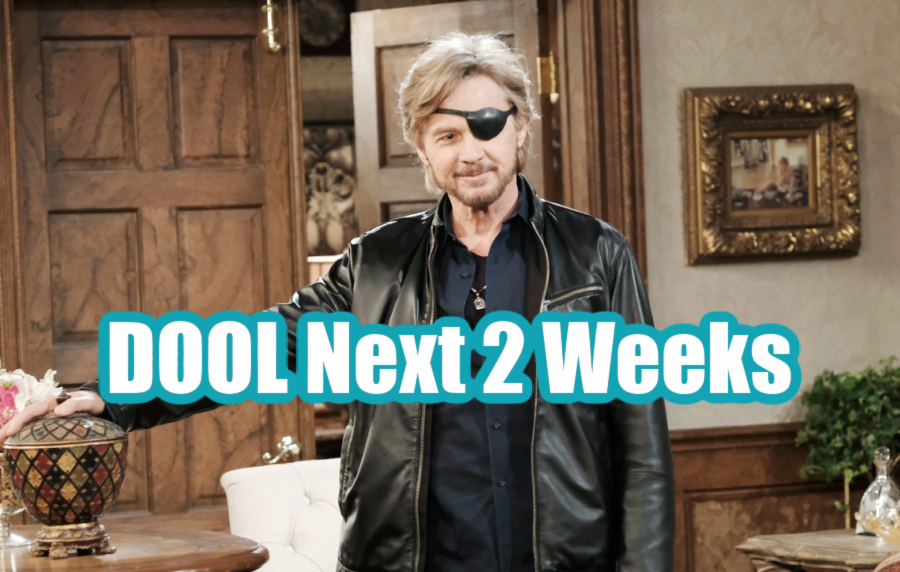 Days of Our Lives spoilers for the next two weeks, November 1-5 and November 8-12, tease creepy connections, suspicious scenarios, and all around chaos for many Salem residents as Days of Our Lives continues satan's reign of terror!
Days Of Our Lives Spoilers –  MarDevil's Undead Resurrections
Days of Our Lives spoilers for November 1-5 have MarDevil – Marlena Evans (Deidre Hall) inhabited by satan – going on a resurrection spree of at least three villainous villains first off! Days of Our Lives viewers will recall that she started with Charlie Dale (Mike C. Manning), whose undead but perfectly preserved hand could be seen clawing its way out of his grave after MarDevil chanted an incantation and waved her magic pitchfork!
The rise of the undead will continue with Deimos Kiriakis (Vincent Irizarry) and Nick Fallon (Blake Berris) who will terrorize Nicole Walker (Arianne Zucker) and Gabi Hernandez, (Camila Banus) respectively, while Charlie goes after Allie Horton (Lindsay Arnold)! Tripp Johnson (Lucas Adams) will battle undead Charlie when Allie is terrorized. Gabi will save Jake DIMera (Brandon Barash) after Nick buries him alive! Meanwhile, Ava Vitali (Tamara Braun) will have enough problems without a zombie son on the loose as she's brought into the Salem Police Department by Eli Grant, (Lamon Archey) after Rafe Hernandez (Galen Gering) finds one Carmine Merlino (Richie Stephens) dead on his kitchen floor!
Days Of Our Lives Spoilers –  Ben And Ciara Weston Get A Warning
Also during the week of November 1-5 on Days of Our Lives, Ben and Ciara Weston, (Robert Scott Wilson, Victoria Konefal) newly pregnant, will get a warning from Susan Banks (Stacy Haiduk) who senses danger ahead for their baby! She will brainstorm with Ciara to try and figure out exactly where her sense of foreboding is coming from, although Days of Our Lives viewers already know that it's the devil, who intends to inhabit the little one ala "Rosemary's Baby"!
Also during the week of November 1-5, Gwen Rizchech (Emily O'Brien) and Xander Cook (Paul Telfer) will be freed from jail just in time for Bonnie Lockhart (Judi Evans) and Justin Kiriakis' (Wally Kurth) wedding! Viewers will recall that Victor Kiriakis (John Aniston) bribed District Attorney Melinda Trask (Tina Huang) with an offer she couldn't refuse, and she delivered when she saw Steve Johnson (Stephen Nichols) escorting Kristen DiMera (Stacy Haiduk) into the SPD!
Days Of Our Lives Spoilers – Rafe Hernandez' Regrets
During the week of November 8-12 on Days of Our Lives, Rafe will have some regrets after giving into his passions with Nicole on the conference table at Basic Black! Both will regret it, actually, but Rafe was dealing with doubts about Ava's innocence in Carmine's killing, and he made the first move! Nicole will try to push him back to Ava, and urge him to keep their tryst to himself.
Steve will become suspicious when he doesn't hear from his Black Patch partner John Black (Drake Hogestyn), who's tied up – actually chained, in the DiMera crypt thanks to MarDevil! Also, MarDevil will give some wild advice to Brady Black (Eric Martsolf) about his love life, and it sounds like she'll advise him to take Chloe Lane (Nadia Bjorlin) by force, so to speak, and seduce her! MarDevil will also advise that Ciara ignore Susan's premonitions. The devil in Marlena will want to stay hidden and not be exposed at any cost!
Days Of Our Lives Spoilers – Ciara And Ben Weston's Awkward Encounter
During the week of November 8-12, Ciara and Ben will have an awkward encounter with Theo Carver (Cameron Johnson) who of course is in Salem for his injured father Abe Carver (James Reynolds) who was recently shot. Eventually, Theo will find out that his former fiancée Ciara is pregnant, so they may decide whether to tell him themselves or let him find out later through the grapevine. Days of Our Lives viewers can also expect that Paulina Price (Jackée Harry) will try to postpone her wedding to Abe, considering that she's been having Freudian slips about Lani Price-Grant (Sal Stowers) being her daughter instead of her niece!
But Paulina really just wants to make sure Abe is fully recovered from his gunshot before participating in a big fancy wedding! Meanwhile, Chanel Dupree (Raven Bowens) will catch Mama in a lie, and that will be about Paulina's decision to ask Lani to be her matron of honor. Paulina explained but what she tells Chanel won't line up with what she told Lani and the two compare notes! A simple fix might be for Paulina to have both a matron and a maid of honor, although she did ask Chanel to give her away at the wedding! Chad and Abigail DiMera (Billy Flynn, Marci Miller) will find they have a new start to their marriage now that Gwen's secret will be out in the open, her having confessed to Jack Deveraux (Matthew Ashford) previously. EJ DiMera (Dan Feurreriegel) will continue to cause them trouble, however.
Stay tuned to Days of Our Lives, and continue to check Days of Our Lives spoilers frequently for all the latest news, updates and developments!