Days of Our Lives Spoilers: Charlie Rises from the Dead, Shocks Allie & Tripp – Marlena's Most Twisted Move Yet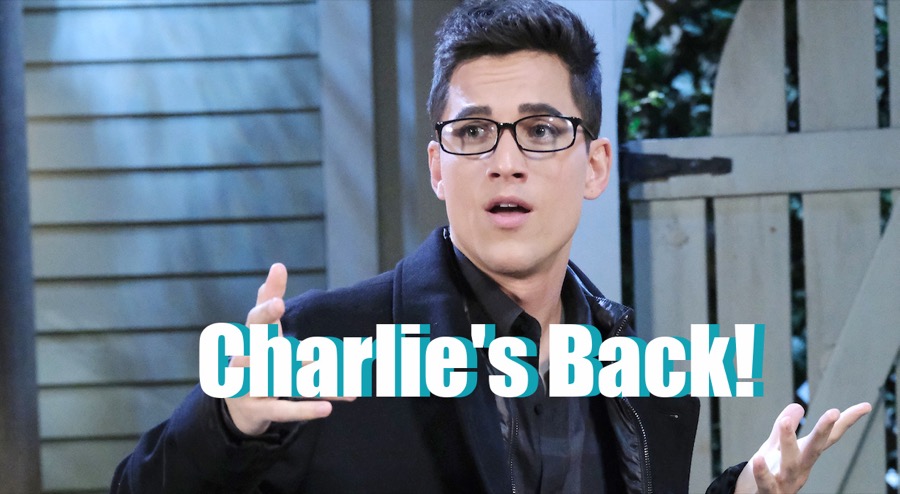 Days of Our Lives (DOOL) spoilers tease that Charlie Dale (Mike Manning) is apparently set to rise from the dead, which will mean a huge shock for Allie Horton (Lindsay Arnold) and Tripp Johnson (Lucas Adams). In possessed Marlena Evans' (Deidre Hall) most twisted move yet, she'll bring multiple Salemites back to life – and there won't be any happy reunions!
This is all about bringing back the most horrifying Days characters with axes to grind. The devil will want to create total mayhem and hurt the foes of these previously deceased Salemites, so some stunning moments are on the way.
DOOL fans know Jan Spears (Heather Lindell) pulled the trigger on Charlie, but she's seemingly faking a coma elsewhere at the moment.
Claire Brady (Isabel Durant) will also be safe from harm since she's in Johannesburg, but we can think of one tiny Salemite who's definitely at risk.
Charlie threatened to go after his son shortly before he was killed, so Henry Horton (Jayna and Kinsley Fox) will be on his radar once he rises from the grave.
During the week of November 1-5, the devil's handiwork will result in some disturbing scenes for Tripp and Allie.
It sounds like Charlie will show up on a mission to claim Henry and could perhaps decide he wants revenge on Allie as well.
Allie certainly isn't to blame for the assault that happened in London, but Charlie may hold her responsible for destroying his life anyway.
Charlie also viewed Tripp as the golden boy who got all Ava Vitali's (Tamara Braun) love and attention. He'd have a motive to target Tripp for vengeance too, but we'd say Henry will be Charlie's main focus.
Regardless, Days spoilers reveal that Allie and Tripp will stand against a dreadful enemy, so Charlie should be the back-from-the-dead Salemite they face off with.
DOOL viewers will see a scary showdown, but Tripp will prove he's a hero and earn Allie's deep gratitude in the process.
It looks like Tripp will serve as Allie and Henry's fierce protector, so Allie might declare her love for him once the drama winds down.
Whether Charlie is back for real or as a zombie, all signs point to him causing major chaos. We'll offer updates as other Days news pops up.
Days of Our Lives spoilers say Salem will turn into a total nightmare once Charlie and other deceased Salemites run amok.
Are you excited to see all the comebacks and the terror that follows? Be sure to check Soap Spoiler back often for the latest Days of Our Lives spoilers, news and updates!