The Bold and the Beautiful Spoilers: Taylor's Biggest Threat Looms – Is It Brooke or Sheila?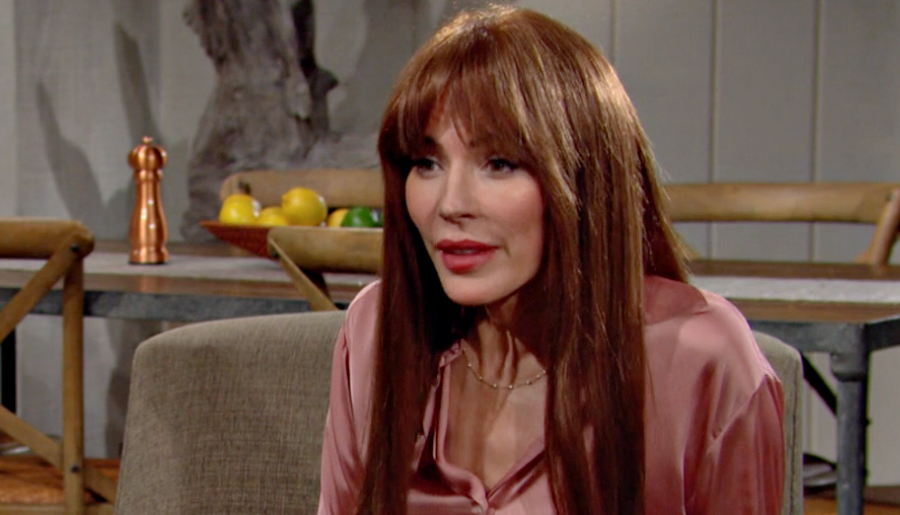 The Bold and the Beautiful spoilers document that Taylor Hayes (Krista Allen) is settling in. She has reconnected with her family and Ridge Forrester (Thorsten Kaye). But confrontations with Brooke Logan Forrester (Katherine Kelly Lang) and Sheila Carter (Kimberlin Brown) are inevitable.
Taylor revealed to her longtime love that she felt bad about not being there for Steffy Forrester Finnegan (Jacqueline MacInnes Wood) when Hayes Forrester Finnegan (Samantha Worden and Piper Harriet) or when Sinn was married.
The one-time Tridge reminiscing, along with Steffy and Thomas pining for B&B's old days, is fine. But the drama will soon drop for Taylor, which she might not be prepared for.
Bold And The Beautiful Spoilers – Living Away From California Changed Taylor Hayes
Taylor accepted a fellowship after she was last seen on B&B three years ago. As viewers recall, this character faded from a storyline that involved Beth Spencer's (Madeline Valdez and River Davidson) kidnapping at birth. The newborn, who was temporarily referred to as Phoebe while Steffy unknowingly was raising Lope's daughter, was eventually revealed as Beth.
The missionary work Taylor performed comes across as a bit soapy. But that is what this world-famous psychiatrist is said to have been doing in recent years. Ridge informed the audience that Taylor was speaking to thousands at her seminars.
Sometimes people leave home to help solve the problems of the world because they are unable to resolve their family issues. Such was the case with Taylor.
Bold And The Beautiful Spoilers – Confronting Two Enemies At Once
Yes, Sheila remains a real threat to Taylor's well-being. The multiple-time attempted murderer is somehow roaming the streets of Los Angeles, California.
However, Sheila is not married to Ridge. Brooke holds that honor for the eighth time in her life. Taylor was married to Ridge a multiple of four times less.
Taylor is the favored grandmother. Sheila's beef with her will be centered on jealousy, with Brown's character being banned from seeing Hayes.
Brooke is bothered by nearly anything that threatens Bridge. Taylor is a clear threat because she is one of Ridge's great loves.
Bold And The Beautiful Spoilers – Consequences For Shooting Bill Spencer
Bill Spencer (Don Diamont) was shot in the back by Taylor (as then played by Hunter Tylo). Sheila could exploit that to the utmost degree if that knowledge is gained.
The investigation was shut down long ago. Bill chose to not report Taylor's actions in deference to Steffy.
So, legal action might not be in the daytime cards. However, Sheila could use what can be overheard or somehow learned as leverage.
Yes, Sheila is Taylor's greater threat, with Brooke remaining her romantic rival for Ridge.
This site is a leading source for everything linked to The Bold and the Beautiful. Check back on Soap Spoilers regularly for B&B spoilers and news!