The Bold and the Beautiful Next 2 Weeks: Brooke's Bizarre Behavior, Liam's Secret Struggle, Steffy Snoops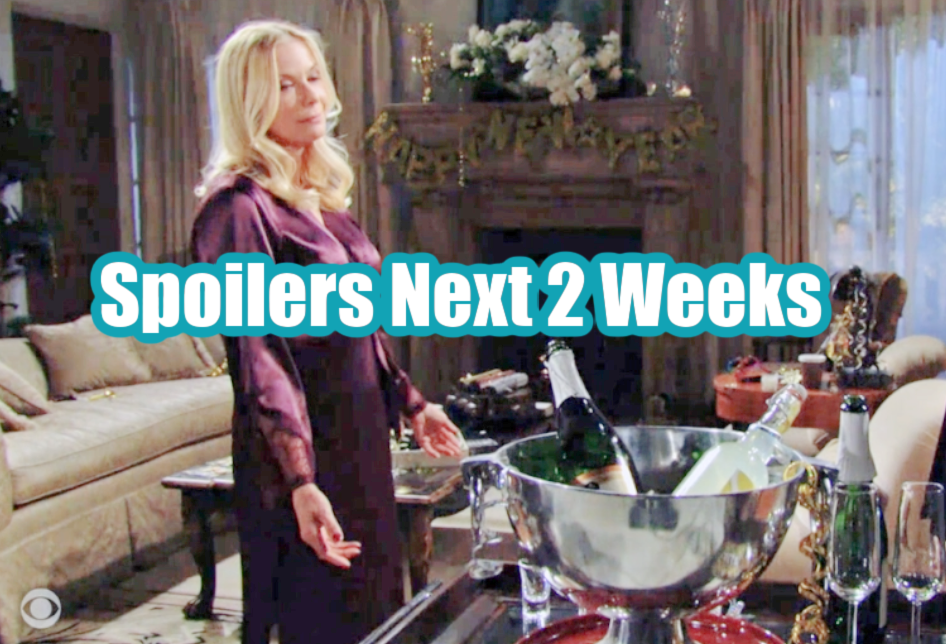 The Bold and the Beautiful (B&B) spoilers for the next two weeks are in. From January 17 to 28, Brooke Logan Forrester (Katherine Kelly Lang) will exhibit bizarre behavior. Liam Spencer (Scott Clifton) struggles to keep a secret. Meanwhile, Steffy Forrester Finnegan (Jacqueline MacInnes Wood) knows something is up with "Bridge" and investigates.
Brooke Logan Forrester's Battle
B&B spoilers for the week of January 17 reveal that Brooke's sobriety won't be her only battle. Deacon Sharpe (Sean Kanan) wants a future with Brooke and makes that clear. However, Brooke is in love with Ridge Forrester (Thorsten Kaye). Terrified Deacon's constant harassment and unwelcome visits will expose the truth, Brooke kicks him out.
Don't expect Deacon to give up, though. Meanwhile, Sheila Carter (Kimberlin Brown) will continue destroying Brooke's life. The villain will definitely up the ante, but Brooke has no clue that her release and night with Deacon was triggered by Sheila's champagne switcheroo.
The Bold and The Beautiful Spoilers: Secrets and Suspicions
Hope Logan Spencer (Annika Noelle) is devastated by her father seemingly abandoning her. What she doesn't know is that Deacon has been seeing plenty of Brooke! So, that will be upsetting to Hope when she learns that Deacon was just using her to get closer to Brooke.
Douglas Forrester (Henry Joseph Samiri) might be the one to spill the "Beacon" secret. Douglas has a serious conversation with Liam and Hope, which could expose the truth. Hope will try to protect Brooke and pressures Liam to keep the relapse a secret. However, that might be easier said than done.
Steffy Forrester Finnegan (Jacqueline MacInnes Wood) wants to know what Brooke has done. In fact, Taylor Hayes (Krista Allen) will try to find out by offering Brooke therapy! Taylor won't just be concerned about Ridge's ordeal with Brooke. Taylor will notice that Sheila's hatred of Brooke is going beyond healthy and normal. Taylor quizzes Sheila but the villain covers.
Unexpected Romantic Connections
The Bold and the Beautiful spoilers for the week of January 17 reveal that there will be some unexpected romance. Zende Forrester (Delon de Metz) kisses a model, which Paris Buckingham (Diamond White) observes. However, Paris doesn't get upset which makes her realize that she might not be in love with Zende.
Paris will decide to explore her feelings for Carter Walton (Lawrence Saint-Victor). Paris and Carter will get hot and heavy, but will they tell Zende the truth? Meanwhile, Ridge and Taylor share a special moment together.
The Bold and the Beautiful Spoilers 2 Weeks Ahead
During the week of January 24, Carter will want to do the right thing. So, Carter either backs off from Paris or tells Zende the truth. Steffy will notice Brooke's bizarre behavior and investigate. Brooke will be a hot mess over the Deacon situation and makes a desperate move to keep Ridge. However, the truth always comes out in soaps. It's only a matter of time before Ridge finds out about "Beacon."
Be sure to catch up on everything happening with B&B right now. Come back often for The Bold and the Beautiful spoilers, news, and updates.