General Hospital Spoilers Next 2 Weeks: Mysteries Unravel, Warnings, Big Moves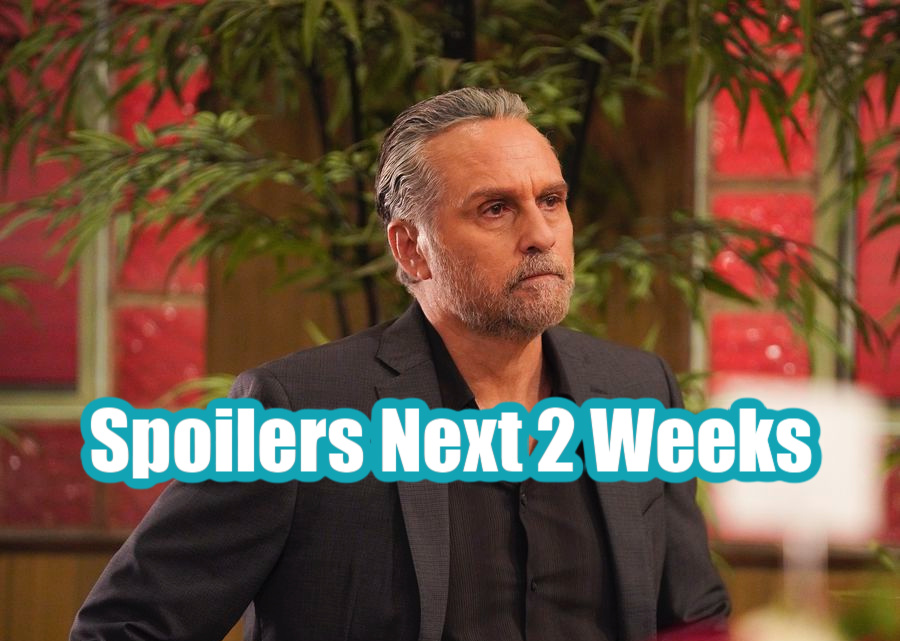 General Hospital spoilers for the next two weeks, January 17-21 and January 24-28 tease some real progress in General Hospital storylines. Mysteries will unravel, but new ones will begin!
General Hospital Spoilers – Brick's Warning
First up on General Hospital during the week of January 17-21, Brick (Stephen A. Smith) will have a warning for Sonny Corinthos (Maurice Benard) involving a new threat to Sonny's territory and possibly the safety of his family. General Hospital viewers have to wonder if this is the same "other player" that Marshall Ashford (Robert Gossett) told Curtis Ashford (Donnell Turner) about in a recent episode; Curtis still isn't quite willing to accept his recently returned from the dead father.
He'll talk to Laura Collins (Genie Francis) about what Marshall told him, namely that he had gone undercover changing his identity to protect his family from some really bad people he'd gotten involved with. She'll try to get Curtis to be a little more understanding of his father and why he did what he did, but he'll still want more, and he and Drew Cain (Cameron Mathison) will strategize the next steps. It looks like something serious related to Marshall might happen, as Curtis will have to endure a waiting game that will wreck his nerves!
GH Spoilers – Sasha Gilmore Seeks Peace
General Hospital viewers will recall that Sasha Gilmore (Sofia Mattsson) and Brando Corbin (Johnny Wactor) have had a difficult time since the death of their newborn Liam Mike Corbin (uncast infant), and Sasha continues to seek peace. In recent General Hospital episodes, it looked like Sasha was going to throw herself into her work to cope, which wasn't the best of ideas considering she was so close to Bailey Quartermaine/Louise Jones (London and Jett Prinzo-Berendt) at work.
But Sasha is determined to work out her grief in her own way with no help so we'll have to see how that goes, while speaking of help, Britt Westbourne (Kelly Thiebaud) tries to help Brad Cooper (Parry Shen)! She'll want her cousin Nina Reeves (Cynthia Watros) to talk to Sonny Corinthos (Maurice Benard) about calling off Selina Wu (Lydia Look) and Nina will tell her she can't help, but Nina will find out Carly Corinthos (Laura Wright) has moved out! Perhaps Nina still has a hold on Sonny, since Carly's moved out because of his admitting his feelings for both Nina and Carly!
General Hospital Spoilers – Brook Lynn Quartermaine And Harrison Chase Make A Big Move
General Hospital viewers will recall that Tracy Quartermaine (Jane Elliot) figured out the Bailey is Louise secret and confronted Brook Lynn Quartermaine (Amanda Setton) about it in a recent General Hospital episode. Considering she wanted Brook Lynn and Bailey to move to Amsterdam to keep Louise safe, BLQ couldn't do that to Maxie Jones (Kirsten Storms), and she and Harrison Chase (Josh Swickard) make a new plan! They'll plan to get a bigger place and move in together, but then BLQ will hear something scary – perhaps that Victor Cassadine (Charles Shaughnessy) is asking too many questions about "Bailey"!
Meanwhile, Maxie will continue to worry about Austin Gatlin-Holt (Roger Howarth) remembering what happened when he was out cold the night Louise was born even as Felicia Scorpio (Kristina Wagner) is suspicious of Maxie's lack of panic over her missing baby! It doesn't look like Maxie is going to be able to avoid this trip with Anna Devane, (Finola Hughes) and Austin to Pautuck to try and rev up Maxie's memories!
GH Spoilers – Luke Spencer's Memorial
General Hospital will honor the life of Luke Spencer (Anthony Geary) this week on General Hospital, as Tracy and his family and friends gather for his memorial aboard The Haunted Star. General Hospital fans may come to the conclusion that Luke may not be dead after all, as may some of the guests aboard The Haunted Star since Victor arranged to have Luke "neutralized "which doesn't always mean "dead"! However, that is not the only mystery – Luke's memorial service will lead to a new mystery, possibly having to do with Tracy being surprised on the same day, which will be Friday, January 21.
Undoubtedly, the subject of "The Ice Princess", Mikkos Cassadine's (John Colicos) weather machine that was supposed to freeze the world will be brought up, since Luke was integral in stopping Mikkos' evil plot! However, the real ice princess this time around might be Luke's niece, Carly, who still refuses to make up with her husband Sonny, and refuses to forgive him or take him back!
General Hospital Spoilers – Curtis Ashford Changes His Mind
During the week of January 24-28 on General Hospital, Curtis will change his mind; this might mean that he'll soften up a little towards his father Marshall; however there will be a tense situation at The Savoy. General Hospital viewers know that considering Brick's previous warning to Sonny, this could mean Marshall's past has caught up to him and that "other player" will be revealed! Back to the Cassadine clan, Victor will have some serious questions for his as yet unproven son Valentin Cassadine (James Patrick Stuart) about his true intentions, since Valentin is still not on board with a revenge plot against BLQ! Even worse, it looks like Victor will be the one to realize that "Bailey" is actually Louise, and he'll ask some questions at General Hospital later – hopefully not of Peter August (Wes Ramsey)! Britt will give some news to Peter but not about Louise – it'll probably be that he's going to be moved back from GH to the Pentonville prison infirmary – Britt's on the good guy and gal side now.
GH Spoilers – Carly Corinthos Seeks Peace
General Hospital viewers will see Carly seek peace during the week of January 24-28 on General Hospital. It will be difficult with Ava Cassadine (Maura West) stepping up to the plate, likely for Nina who she's been encouraging to go for it with Sonny since Carly doesn't seem to want to claim him anymore! Also during the week of January 24-28 Sasha will cause a commotion when she decides to attend a yoga class, probably the same one that Elizabeth Baldwin, (Rebecca Herbst) Terry Randolph, (Cassandra James) and Portia Robinson (Brook Kerr) attend. Yoga is usually pretty peaceful, so there's a possibility that Sasha will be reminded of her newborn's death again and break down; she'll be among compassionate nurses and doctors who will just want to help if that's what takes place. Meanwhile, Maxie will scramble for an explanation – or perhaps an excuse, and that could be in the vicinity of Pautauk, New York although it's not certain.
General Hospital Spoilers – The Teens Go To The Corinthos Cabin
During the week of January 24-28, the teens of General Hospital finally go on their long awaited trip to the Corinthos cabin, complete with Esme Prince (Avery Kristen Pohl) and her pills she picked up at General Hospital! Esme will want to play a game, possibly using the pills that she brought, and as night falls, tensions will escalate! Esme could have something in mind like the spin the coffee game that caused Chase to get a dose of Peter's poison that was meant for Hamilton Finn (Michael Easton) although she probably has more of a targeted use in mind!
Spencer Cassadine, (Nicholas Chavez) Trina Robinson, (Sydney Mikayla) Cameron Webber, (William Lipton) and Josslyn Jacks (Eden McCoy) will all be there, so her targets will likely be Trina, Cameron, and Josslyn! A good question is how Spencer will respond to his friends' reactions to the pills and whether he'll become a target himself if he tries to help!
Be sure to catch up on everything happening with GH right now. Come back here often for General Hospital spoilers, news, and updates.