The Young and the Restless Spoilers: Week of January 17 Preview – Mariah's Shocking Reply To Tessa's Proposal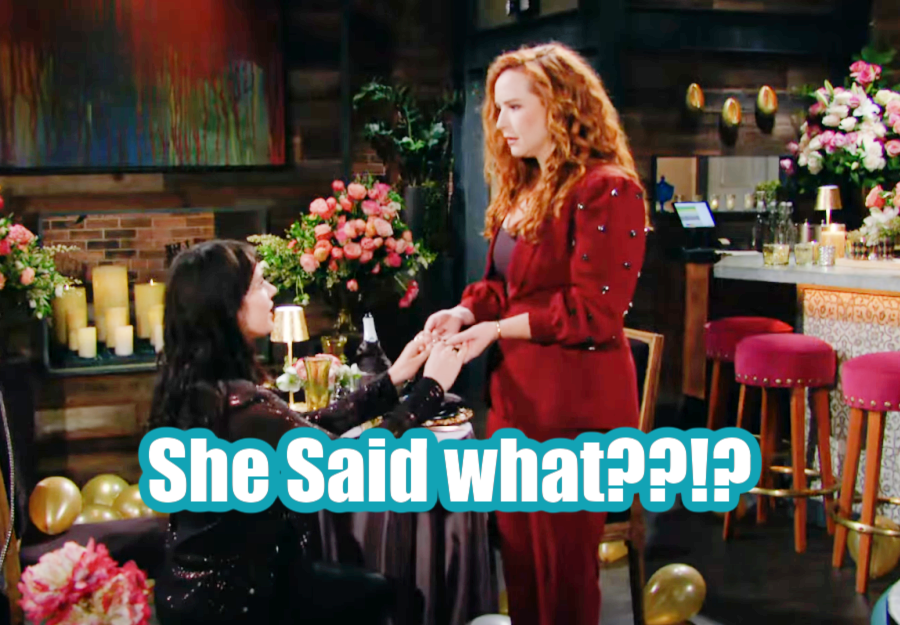 The Young and the Restless (Y&R) spoilers for the week of January 17 tease Tessa Porter (Cait Fairbanks) proposes. However, the preview shows that instead of saying "yes," Mariah Copeland (Camryn Grimes) blurts out a confession. Will "Teriah" still get engaged or is Mariah's admission a dealbreaker?
Abby Newman-Abbott-Chancellor Explodes
Y&R spoilers reveal that the preview begins with Abby Newman-Abbott-Chancellor (Melissa Ordway) arguing with Devon Hamilton (Bryton James). Abby wants Devon to admit the real reason he wants shared custody of Dominic Newman-Abbott-Chancellor (River and Rainn Ware).
Abby thinks it's about her, so she is surprised when Devon says it's about Chance Chancellor (Conner Floyd). Devon claims that he's concerned about how Chance's PTSD will affect the baby.
The Young and The Restless Spoilers: Adam Newman's Warning
Next, the preview shows Adam Newman (Mark Grossman) and Victoria Newman-Locke (Amelia Heinle) having another confrontation. Victoria is rather smug and pleased with herself as she believes that Victor Newman (Eric Braeden) will give her what she wants. However, Adam warns Victoria and Ashland Locke (Richard Burgi) that Victor could turn on them at any time.
Tessa Porter's Proposal
The Young and the Restless spoilers reveal that Tessa pulls out all the stops for Mariah. All alone with a candlelit dinner, it's a romantic scene. Mariah asks if they are celebrating something. Imagine her surprise when Tessa gets down on one knee and proposes with a beautiful engagement ring. It's clear in the preview that Mariah was not expecting a marriage proposal!
The Young and the Restless Spoilers: Mariah Copeland's Confession
As all fans know, no relationship is smooth in soaps. Engagements, weddings, and marriages are pretty bumpy. It seems that Mariah has something to tell Tessa. In an additional clip shared by Y&R, Mariah doesn't immediately give Tessa an answer. While Tessa is still down on one knee holding the ring, Mariah blurts out that she has a confession to make.
Will "Teriah" still get married, or could this confession derail their relationship? Perhaps this is connected with the spoiler that Tessa surprises Noah Newman (Rory Gibson). Of course, "Teriah" fans shouldn't get too upset yet. Maybe Mariah's confession is actually good news. Perhaps their goal of starting a family will happen sooner rather than later. There is also the possibility that Mariah's news is actually her "big opportunity," which sounds work-related. Could that change everything for the couple?
Tell us if you think Tessa and Mariah will get married. Will there be something that affects their relationship in a big way? What exactly is Mariah's confession and how will Tessa react?
Be sure to catch up on everything happening with Y&R right now. Come back often for The Young and the Restless spoilers, news, and updates.