The Young and the Restless Spoilers: Ashland's Reveal Is Believable – Ashland Fakes Cancer News – Victoria Deserves The Truth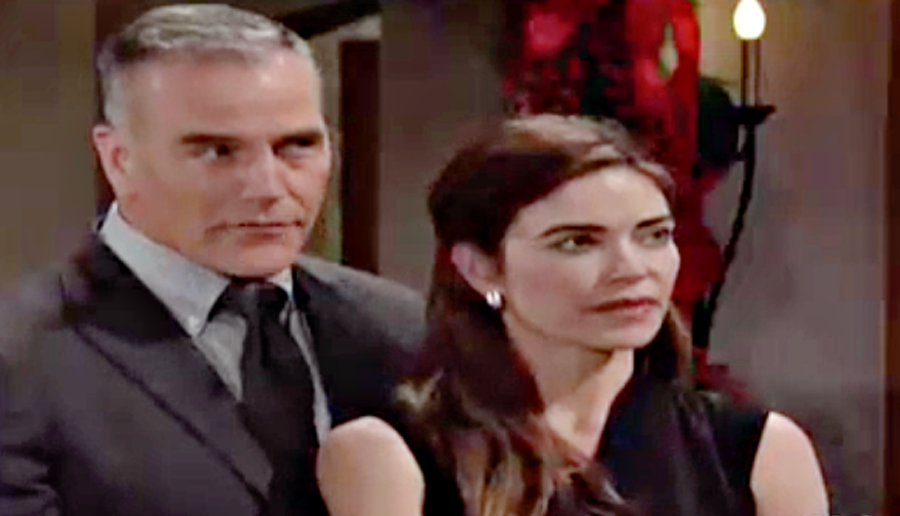 The Young and the Restless spoilers document that Ashland Locke (Richard Burgi) is teased to provide an update on his cancer condition. Previously believed to be terminal, with death imminent, the Lockeness Monster's outlook appears to have shifted.
However, this character's duplicitous past and cascading truth spills in recent months continue to provide reasonable doubt as to whether he is being truthful or not.
Victoria Newman Locke (Amelia Heinle) believes her husband. She was with him during the recent trip to Peru, where an experimental treatment regimen, that appears to be working, was employed. But no scenes were shown of that event, which leads fans to wonder if Victoria is a first-person witness?
Young And The Restless Spoilers – Victor Newman's Comparative Analysis
Victor Newman (Eric Braeden) recognized Ashland as being like himself. That is the leading reason why he accepted his now son-in-law. The other equally important reason is that Ashland's love for Victoria is clear.
Billy Abbott (Jason Thompson) absolutely loves Victoria. The Moustache rejects that reality, saying that Billy's a destructive lout.
But the real reason why Victor was so willing to accept Ashland and reject Billy is that he sees Burgi's character as having earned his way to the top. Billy-boy has, what Victor terms, a silver spoon in his mouth.
So, believing that Ashland shares a similar backstory, Victor bought in. He overlooks Ashland's crimes and believes he has cancer.
Young And The Restless Spoilers – Ashland Locke Is Fresh
The creation of the Ashland character was built from Kyle Abbott's (Michael Mealor) connection to Tara Locke (Elizabeth Leiner). The mother of Kyle's previously unknown child served as a plot vehicle that introduced Ashland as a central character on Y&R.
The writing staff definitively split Victoria from Billy by creating Vashland. While both halves of Villy continue to be involved in each other's lives, the choice to send their children to boarding school would lessen Victoria and Billy's need to be in regular touch with each other.
The above development implies that Victoria and Billy will not be as entangled moving forward. Victoria is a legacy character. So, she requires an individual arc. That could mean that Ashland is her long-term soulmate.
Young And The Restless Spoilers – Victoria Newman Locke Represents Vashland Supporters
All who have long hoped Victoria would move beyond Billy are cautiously optimistic. Vashland supporters want this couple not to be a mirage.
It would be terrible if Ashland ever confesses that he never had cancer or if the timeline of his being aware that it was treatable proves to be different than what he said. That type of surprise would be disrespectful to Victoria and the audience.
Hopefully, Ashland has been truthful and is enjoying the benefits of good medicine and the prayers that are offered on his behalf.
This site is a leading source for everything linked to The Young and the Restless. Check back regularly for Y&R spoilers and news!