The Young and the Restless Spoilers: Tuesday, November 2 Update – Phyllis' Dealbreaker – Sharon's New Bond – Victor's Memories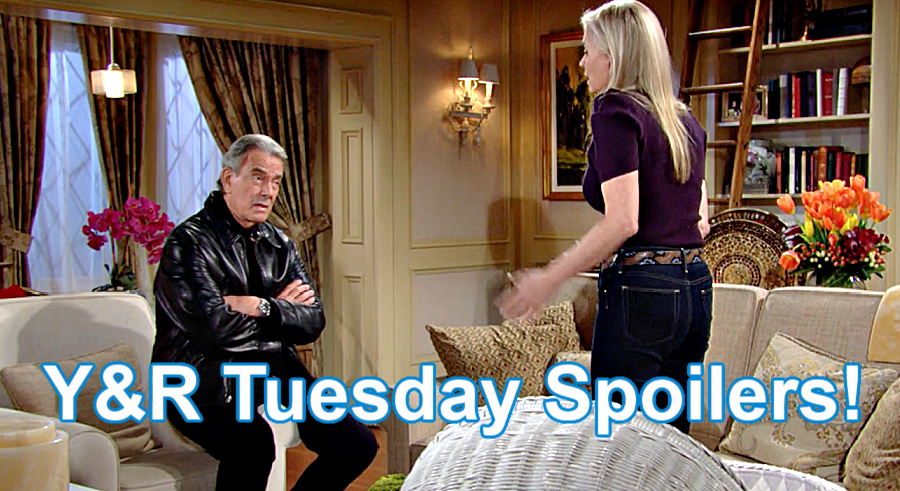 The Young and the Restless (Y&R) spoilers update for Tuesday, November 2, reveals that Phyllis Summers' (Michelle Stafford) dealbreaker will end her relationship with Nick Newman (Joshua Morrow) while Sharon Rosales (Sharon Case) forms an unexpected bond. Victor Newman (Eric Braeden) will also think back on some significant memories, so let's discuss what's ahead.
At the end of Monday's show, Phyllis realizes her romance with Nick isn't going to work.
They've given this their best shot, but there's been a total breakdown in communication. Phyllis and Nick aren't on the same page or even in the same library for that matter!
That's why Tuesday's episode should seal the deal on ending things for Nick and Phyllis. Although Phyllis was previously willing to accept Nick's family and all the baggage, that won't be the case anymore.
Nick is obsessed with the Newman scheming he's not privy to, so that'll be a dealbreaker for Phyllis.
It's clear that Nick can't devote his full attention to repairing this relationship. Nick also doesn't feel like Phyllis really respects how important his family is to him, so they'll break up and figure out what's next.
Over with Sharon and Devon, they'll find they have a lot in common as they confide in each other.
Both Devon and Sharon will want to support Abby Newman-Abbott-Chancellor (Melissa Ordway), but there'll be more to this connection than just that.
Devon and Sharon might have a deep conversation about grief and the toll it takes.
Sharon went through a tough time after Cassie Newman (Camryn Grimes) died – and Devon went through struggles of his own following the death of Hilary Curtis Hamilton (Mishael Morgan) as well as their unborn child.
No matter what the details of this discussion are, Devon and Sharon will be there for each other. They could become better friends as a result, and we can always use solid friendships on Y&R!
Meanwhile, Victor will think back on his past with Ashley Abbott (Eileen Davidson). Ashley and Victor have had their ups and downs over the years, but they'll be glad they're a team now.
It's important for Abby to have her parents backing her up as she mourns the loss of Chance Chancellor (soon-to-be Connor Floyd).
As part of that mourning, Abby will face another round of heartbreak. She'll deal with a rude awakening, so that could have a double meaning if a dream is involved.
However, Y&R could go with a positive ID from the rubble remains or even just have Abby realize a funeral is what comes next.
Thankfully, Chance is alive despite the evidence and will return to Abby as soon as he can. Until then, Mariah Copeland (Camryn Grimes) will make a tough admission to Tessa Porter (Cait Fairbanks).
Now that Abby has naturally become an emotional wreck, it's got Mariah on edge over the baby and what's ahead.
Mariah may admit she feels too attached again and might need help to take a step back.
The thought of replacing Abby as Dominic Newman-Abbott-Chancellor's mom might've crossed Mariah's mind, so she may shake that thought off and battle guilt over it.
Regardless, Tessa will do whatever she can to be there for Mariah and keep focused on positive progress.
The Young and the Restless spoilers say Tuesday's show will bring some great scenes, so stay tuned.
Soap Spoiler's where you want to be for hot Young and the Restless spoilers, news and updates, so drop by frequently.