The Bold And The Beautiful Spoilers Next Two Weeks: Crazy Connections, Explosive Clashes, Manipulations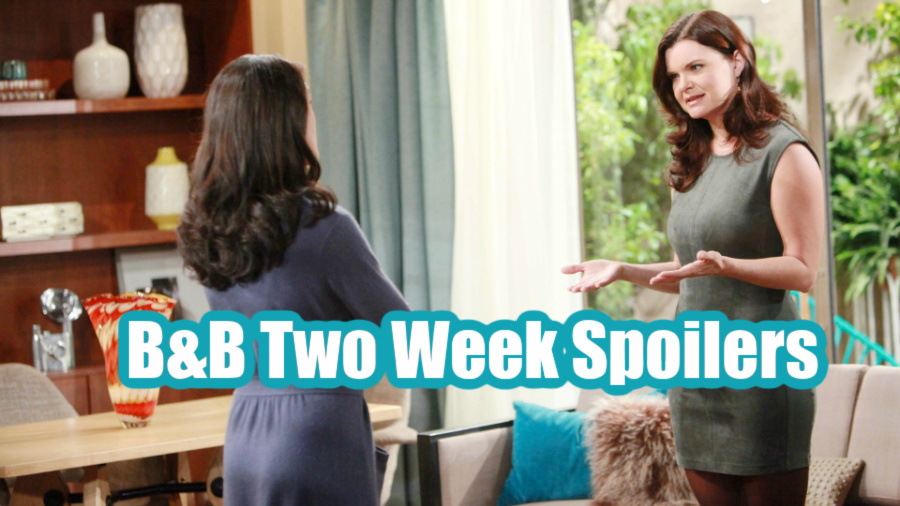 The Bold and The Beautiful (B&B) spoilers for the next two weeks, November 1-5 and November 8-12 tease some interesting match-ups as well as some crazy connections on B&B! Here's what viewers can expect!
The Bold And The Beautiful – Katie Logan And Carter Walton's Love Match
During the week of November 1-5 on The Bold and The Beautiful, Katie Logan (Heather Tom) and Carter Walton (Lawrence Saint-Victor) will find they could be a serious love match as their friendship deepens. Of course, this would be a rebound relationship for both of them, so who knows if it will turn into something permanent or just a spur of the moment thing for them.
Quinn Forrester, (Rena Sofer) upon hearing about Donna Logan's (Jennifer Gareis) turn-on effect on Eric Forrester (John McCook) will attempt to hang on to her man by staking her claim! She will do her best to intimidate mild-mannered Donna to the point that Donna may actually be afraid of Quinn. Eric will realize then that he was too late to keep the arousal secret a secret, although Quinn's having overheard Brooke Forrester (Katherine Kelly Lang) pitch Donna to Eric because of Quinn not doing it for him didn't help!
B&B Spoilers –  Steffy Forrester Lashes Out At Hope Spencer
Also during the week of November 1-5, viewers of The Bold and The Beautiful can expect that Steffy Forrester (Jacqueline Macinnes Wood) will lash out at Hope Spencer (Annika Noelle) for her part in John "Finn" Finnegan's (Tanner Novlan) violation of her stay-away-from- Sheila Carter (Kimberlin Brown) orders! Viewers of The Bold and The Beautiful will recall that Finn was just being protective of Hope when he went with her to a table in the outside dining area of Il Giardino after they witnessed their birth parents in a passionate clinch!
Regardless, Sheila will continue to manipulate Deacon Sharpe (Sean Kanan) as she tells him her latest crazy plan, likely being to solve their individual grown children and grandchildren problems by pushing them together and breaking them up with their individual spouses! Deacon will clap back with telling her how crazy she is and how her plot won't ever work! This will infuriate Sheila, and Ridge Forrester (Thorsten Kaye) and Liam Spencer (Scott Clifton) will band together to protect Steffy and Hope. Deacon may accept an invitation from Hope and leave her out of it as well, incurring Sheila's wrath against her! Brooke will try to school her daughter in the dangers of Deacon, but although there will be frustration and tears, it won't do any good!
The Bold And The Beautiful – Hope Spencer Works On Including Her Father In Her Life
During the week of November 8-12 on The Bold and The Beautiful, Hope will work on including her father in her life. Viewers of The Bold and The Beautiful can expect something along the lines of possibly meeting Deacon secretly, and bringing baby Beth Spencer (River Davison) along so he can meet his granddaughter and she can gauge Beth's reactions to Grandpa Deacon. But this secret meeting may get back to Ridge and Liam, because Ridge will take action against Deacon to prevent any further involvement with Hope and Beth, likely because of Hope's mother, Brooke's past experiences with Deacon.
Ridge will make some sort of blocking move against Deacon, possibly getting a restraining order against him. Hope won't like that! As for Quinn, she and Katie will clash dramatically, and being that Katie is protective of Eric as well as becoming involved with Carter, their clash could be over either of those situations or both of them! With Eric moving towards Donna, viewers would not be surprised if Quinn tried to start things up again with Carter, but this time Katie will be in the way!
Stay tuned to The Bold and The Beautiful, and keep checking The Bold and The Beautiful spoilers frequently for all the latest news, updates, and developments!