Days of Our Lives Spoilers: Tuesday, November 2 – Tripp & Charlie Battle – Nick Wants Jake Dead – Nicole Fights Deimos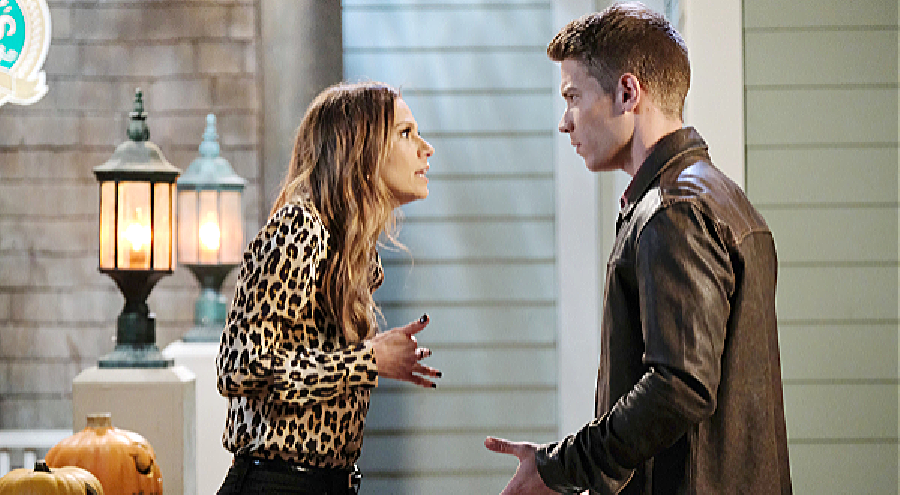 Days of Our Lives (DOOL) spoilers for Tuesday, November 2, tease that Tripp Johnson (Lucas Adams) and Charlie Dale (Mike Manning) will face a brother battle while Nick Fallon (Blake Berris) decides he wants Jake DiMera (Brandon Barash) dead. Nicole Walker (Arianne Zucker) will also fight Deimos Kiriakis' (Vincent Irizarry) revenge, so there'll be a lot happening in Tuesday's stunning episode.
At Basic Black, Nicole will be in disbelief over undead Deimos and his quest for vengeance. Nicole may protest that Deimos' death wasn't her fault since she was drugged and threatened when she plunged the knife.
Of course, the details aren't going to matter much to this vicious villain. Nicole will sneak a call to Rafe Hernandez (Galen Gering), but she'll be on her own until he can race to the office.
It seems there'll be a struggle over a letter opener, which Nicole might attack Deimos with. However, Deimos is in zombie mode and won't be deterred by the usual methods of murder!
Fortunately, Deimos won't be able to hurt or kill Nicole before Rafe arrives.
Deimos may hustle out before he can be spotted since Rafe will seem confused about the whole ordeal. Rafe may initially think Nicole's just got Halloween on the brain, but Nicole will insist Deimos truly came after her.
As for Eli Grant (Lamon Archey), he'll take the lead on the Carmine Merlino (Richie Stephens) murder case for Rafe.
Ava Vitali (Tamara Braun) will naturally be the top suspect since she's Carmine's former boss – not to mention the body was found in the home Ava shares with Rafe.
DOOL fans know Ava has more important matters to contend with since she just faced a terrifying Charlie encounter. Ava will try to convince Tripp that she genuinely had a run-in with his now undead brother.
The Charlie story isn't going to add up for Eli at first, so he'll take Ava into custody and force her to endure questions in the Salem PD interrogation room.
As for Tripp, he'll fear for Allie Horton (Lindsay Arnold) if Ava's claims are right.
Days spoilers say Tripp will get over to Nicole's place as fast as he can – and it's a good thing since Charlie just showed up there!
Charlie will taunt Allie as he prepares to make her pay. He'll probably threaten to kill Allie and steal Henry Horton (Nash Gunderson) right out of the nursery.
Allie will stall Charlie until Tripp can come bursting through the door on a rescue mission. It'll bring quite a brother battle as Tripp and Charlie go up against each other, so Days is sure to deliver some exciting scenes.
Across town, Gabi Hernandez DiMera (Camila Banus) will be yet another shocked Salemite who's haunted by her past. Nick just confronted Gabi and will consider killing her in Tuesday's Days episode.
Instead, Nick will decide to make Gabi suffer in other ways – and that means hunting down Jake. I
t would crush Gabi if she lost Jake, especially since she already went through losing Stefan DiMera (Brandon Barash).
Nick will make sure Jake literally goes into an early grave, so look for Jake to get buried alive!
As other DOOL info comes in, we'll keep bringing you updates.
Days of Our Lives spoilers say Gabi will freak over Jake's predicament by midweek, November 3, so stay tuned.
Soap Spoiler is where you want to be for hot Days of Our Lives spoilers, updates and news, so drop by regularly.