The Bold and the Beautiful Spoilers: Tuesday, November 2 – Steffy & Hope's Sheila Showdown – Eric Responds to Quinn's Wild Demand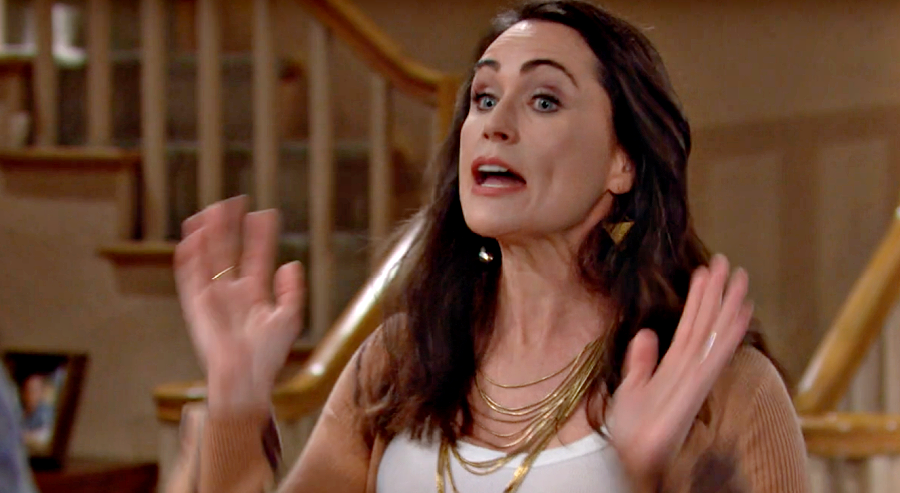 The Bold and the Beautiful (B&B) spoilers for Tuesday, November 2, tease that Steffy Forrester (Jacqueline MacInnes Wood) and Hope Spencer (Annika Noelle) will have a showdown over Sheila Carter (Kimberlin Brown) while Eric Forrester (John McCook) delivers his response to Quinn Forrester's (Rena Sofer) wild demand.
On Tuesday's B&B episode, Steffy will have a big issue with Hope and how she's handled things. Hope agreed to keep her mouth shut about the latest texts from Sheila to John "Finn" Finnegan (Tanner Novlan), so those might finally come into play.
Whatever the case, Steffy will want to address what she feels is Hope's interference in her marriage. Steffy will remind Hope that she doesn't want Finn interacting with his birth mom at all.
It's just too dangerous in Steffy's eyes, especially since Sheila is so obsessed with Hayes Forrester Finnegan (Piper Harriot).
Steffy may argue that Hope is encouraging Finn to have contact, especially since Hope felt the need to corner Sheila and Deacon Sharpe (Sean Kanan) at Ill Giardino.
The fact that Hope wants to cut Deacon some slack won't go over well with Steffy either.
Now that Deacon is tangled up with Sheila, Steffy will feel like they pose even more of a threat. Two schemers are better than one when it comes to plotting, but Steffy will think that makes both Sheila and Deacon incredibly dangerous.
Hope will feel like Steffy's overreacting and may even think she needs to compromise with Finn, who desperately wants to get to know his birth mother.
Of course, that's not Hope's call to make, so Steffy may once again push Hope to butt out and stop meddling in her relationship rules.
At the Forrester mansion, Eric and Quinn's conflict will rev up over Donna Logan (Jennifer Gareis). Quinn wants Eric to ban Donna from all areas of his life – and that includes firing her from Forrester Creations.
Eric will no doubt stand against the notion of sacking Donna just so Quinn can feel more secure in their marriage.
That seems over the top, so Eric may either try to strike a different deal or could perhaps reject Quinn's demand entirely.
This Donna problem will need to be settled one way or another, so don't miss what's ahead on the CBS soap.
We'll keep you posted as other B&B news and updates roll in.
The Bold and the Beautiful spoilers say some explosive scenes are coming up as Eric and Quinn face off.
Soap Spoiler will have all the exciting Bold and the Beautiful spoilers, updates and news you need, so stop by again soon.