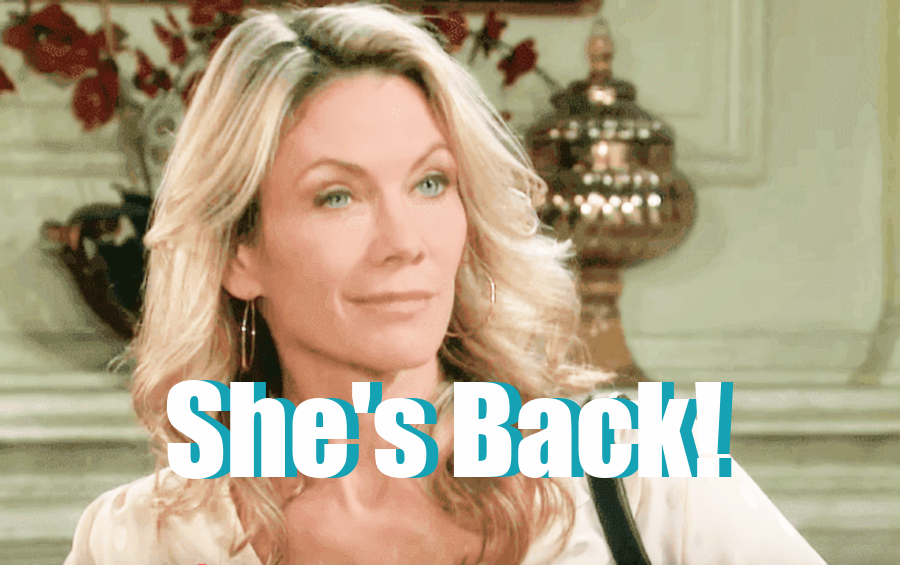 Days of Our Lives (DOOL) spoilers and updates tease that Stacy Haiduk returns to daytime drama as Kristen Dimera. The actress has been offscreen for a while, so her return will be a welcome sight for fans of the show.
Fans may recall that Kristin was on the run after escaping prison. But she won't be away for long since she'll return and bring more drama to Salem. It all starts when Victor Kiriakis (John Aniston) tells Steve Johnson (Stephen Nichols) that he's looking to hire Black Patch to find the woman who stabbed him.
The search is part of his deal with Melinda Trask (Tina Huang) for letting Xander Cook (Paul Telfer) and Justin Kiriakis (Wally Kurth) free. But it is yet to be revealed if Steve will do what is expected of him. What's clear for now is that Kristen will visit her brother EJ DiMera (Dan Feurriegel). He'll be shocked to see her when he opens the door. Fans have to wait and see to find out why she's back.
Days Of Our Lives – John Black Wants to Get Marlena Evans Back
Next week, John Black (Drake Hogestyn) will let the devil-possessed Marlena Evans (Deidre Hall) hear Doug Williams' (Bill Hayes) therapy session tape, which he found in her office. It contains a conversation between Doug and Marlena. The devil used Doug to speak to her and to force her to invite him into her body.
John wants to get his wife back but the devil will do all it can to continue taking control of Marlena's mind and body. The devil may take John hostage so he can continue doing what he wants.
Paulina Prince and Julie Williams Bond
Paulina Price (Jackée Harry) and Julie Williams (Susan Seaforth Hayes) will start to become friends after getting off on the wrong foot when they first met in Salem. Spoilers hint that the two ladies will develop a strong bond and become real friends. But Paulina will have to face her demons soon. She's been hiding a lot of secrets, which prevents her from having a real relationship with other people. One of her secrets is bound to resurface during her upcoming wedding. She's the real mother of Lani Price-Grant (Sal Stowers) but Abe Carver (James Reynolds) isn't her biological father.
DOOL – Rafe Hernandez Interrogates Jake DiMera
Rafe Hernandez (Galen Gering) wants answers and he'll grill Jake DiMera (Brandon Barash) about his history with Carmine Carmine (Richard Stevens). Jake may end up ratting Ava Vitali (Tamara Braun) out and explaining the whole blackmail drama involving Gabi Hernandez DiMera (Camila Banus). As for Rafe, he'll have some steamy scenes with Nicole at Basic Black (Eric Martsolf).
Be sure to catch up on everything happening with Days of Our Lives right now. Come back here often for Days of Our Lives spoilers, news, and updates.