The Bold and the Beautiful Spoilers Next Two Weeks: Catfight Erupts, A Fauxmance, Explosive Secret Revealed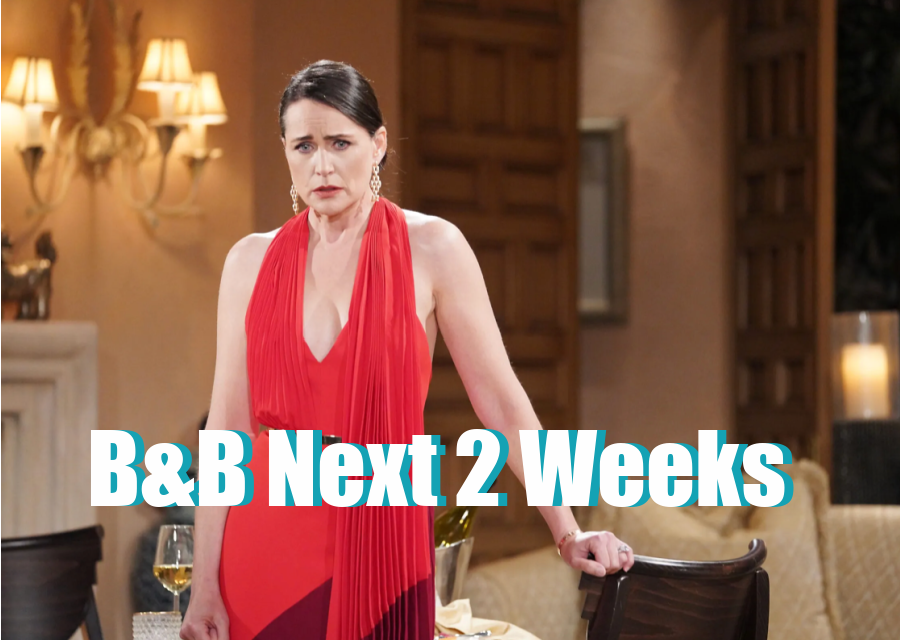 The Bold and the Beautiful (B&B) spoilers for the next two weeks, October 25 to November 5, reveal a good old fashioned soapy cat could erupt when Quinn Forrester (Rena Sofer) and Donna Logan (Jennifer Gareis) fight over Eric Forrester (John McCook).
Meanwhile mama bear Steffy Forrester (Jacqueline MacInnes Wood) and her ex Liam Spencer (Scott Clifton) put their heads together to protect their assets.
The Bold and the Beautiful Spoilers: Soapy Drama
During the week of October 25-29 the elicit, then sanctioned, Quarter bond will be front and center. Quinn is stretched in two directions as she remains loyal to Eric but swoons over Carter Walton's (Lawrence Saint-Victor) sexy six-pack.
Quinn turns to her bestie Shauna Fulton (Denise Richards) as Eric's minions launch a war of words against her. First and foremost is Brooke Forrester (Katherine Kelly Lang) who just can't let go.
TRIGGER WARNING: those with sensitivities to pollen should look away now because we are about to talk about the birds and the bees. Did you catch the incredible lick-off last week between Eric and Donna Logan (Jennifer Gareis)? That was a scene for the ages with both of them licking honey and looking very flushed.
What does this mean for Eric's ED issue with Quinn? Explosive show spoilers tease that loose lips Donna will reveal a secret to Brooke and Katie Logan (Heather Tom) and again, we must issue a warning: this is not for sensitive retinas. Could it be that
Donna spills that she cured Eric's ED right then and there? Oh my.
B&B spoilers: A Fauxmance
Elsewhere scheming Sheila Carter (Kimberlin Brown) and Deacon Sharpe (Sean Kanan) double down on their love story. Sheila is convinced this ruse will get them both what they want—the love and respect of their kids—but Deacon isn't so sure.
The kids, Hope Spencer (Annika Noelle) and John "Finn" Finnegan (Tanner Novlan), spill that they saw their parents kissing to Liam and Steffy, who decide to do something about this twisted fauxmance.
There are two couples to be on the watch for next week: Thomas Forrester (Matthew Atkinson) and Paris Buckingham (Diamond White) and Katie and Carter.
The Bold and The Beautiful spoilers: Consequences
During the week of November 1-5 Quinn lays down the law with Eric over his honey bear. Can he comply? Stunning spoilers reveal he may ask Quinn to give him a hall pass with Donna just like he did with Quarter!
Look for Steam to put in motion their grand plan to keep Hope and Finn from Deacon and Sheila.
Be sure to catch up on everything happening with B&B right now. Come back here often for The Bold and the Beautiful spoilers, news, and updates.