Days of our Lives Spoilers Next 2 Weeks: Secret Explodes, Turmoil and Angst & More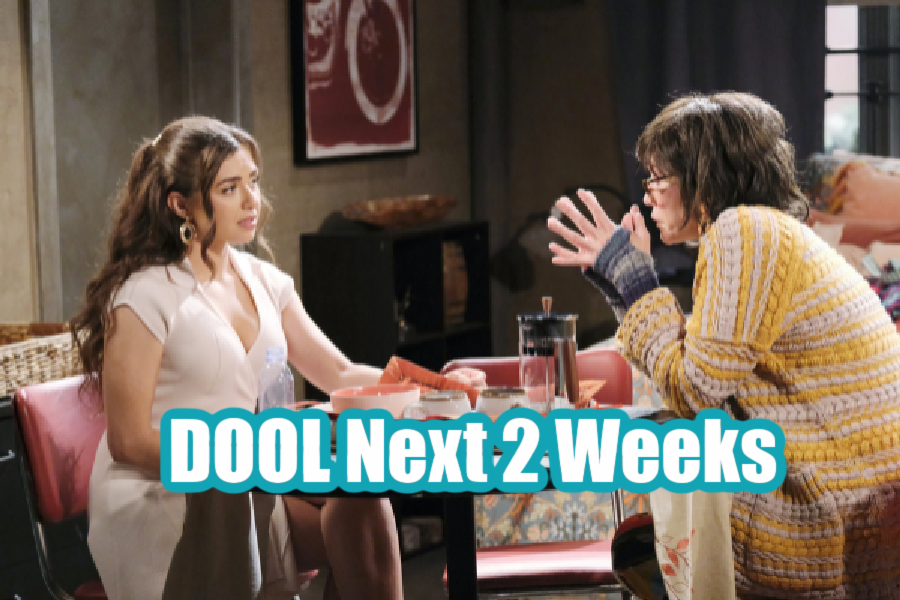 Days of our Lives (DOOL) spoilers for the next two weeks tease that John Black (Drake Hogestyn) and Susan Banks (Stacy Haiduk) look to disappear and the wedding of the century between Paulina Price (Jackée Harry) and Honest Abe Reynolds (James Reynolds) hits a major snag when a decades old secret takes center stage. How will Lani Price-Grant (Sal Stowers) handle the deception?
For the week of November 8-12, Nicole Walker (Arianne Zucker) tells Rafe Hernandez (Galen Gering) to zip it up–his lip, we mean. She thinks that their conference table passion was a one-off and doesn't want him spilling the beans to his girlfriend and dangerous mob moll Ava Vitali (Tamara Braun).
Ava is busy with problems of her own however as she joins forces with Kristen DiMera, and what could go wrong between these two forces of nature?
DOOL – Susan Banks Back In Town
Are you pleased to see the anti-mean girl Susan Banks (Stacy Haiduk) back in town? She rushed in to tell Cin they're in the weeds and finds herself trapped after disclosing the dark mischief surrounding their unborn baby. Will Ben Weston (Robert Scott Wilson) and Ciara Brady Weston (Victoria Konefal) ever get a clue?
Unfortunately for Susan the devil takes a shine to her and exits Marlena and enters the next victim.
John Black (Drake Hogestyn) will see the devil leaving Marlena's body but he doesn't have the whole picture.
John will be tested and oh my there could be more than one Kristen portrayer running around town. Eileen Davidson will be seen in upcoming episodes!
Days of our Lives spoilers: November 8-12 Brings Turmoil and Angst
DA Melinda Trask (Tina Huang) is large and in charge this week. She'll be confronted by Jake DiMera (Brandon Barash) but she's a mighty fearsome opponent.
Leave it to Gwen Rizczech (Emily O'Brien) to try and outwit Trask who took Xander Cook's (Paul Telfer) $1 million.
Elsewhere Little Bits baker Chanel Dupree (Raven Bowens) is hurtful with her mom. Is it because Paulina picked her OTHER daughter Lani to be her matron of honor? See what a tangled web is weaved when first we practice to deceive?
DOOL spoilers – Chanel Dupree Throws a Snit Fit
Instead of being the bigger person with her mom bratty Chanel throws a snit fit, just like the she did when she first came to town. What, you thought she was reformed? ROFL.
Chanel acts like a big baby and wants to skip the wedding, giving MarDevil the perfect opportunity to manipulate chaotic Chanel.
Does Chanel learn the truth Lani's parentage and ruin the wedding by stopping the nuptials? Lani thinks Tamara Price (Marylin McCoo is her mom but instead her Aunt Paulina is really Big Momma Paulina.
That's ok since Abe is still her dad, right? Oopsie.
Meanwhile back in the crypt, John and Susan try to run free but only one will make it, the unlucky other gets to deal with the devil. On the fun side, MarDevil has picked out the most adorable baby gift for Cin!
Finally, Gwen and Kristen are in for a doozy. In a classic quid pro quo deal Kristen tells Gwen about Sarah Horton's (last played by Linsey Godfrey) island vacation. You don't want to miss the scheme these two villains concoct to protects their assets!
Be sure to catch up on everything happening with DOOL right now. Come back here often for Days of our Lives spoilers, news, and updates.