The Young and the Restless Spoilers: Monday, November 8 Update – Abby Ignores Dominic – Billy's Ultimatum – Sally Defends Adam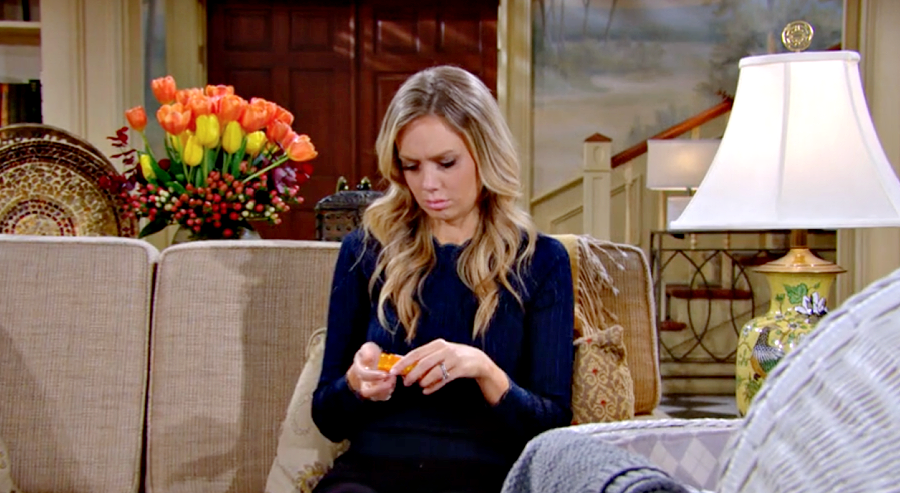 The Young and the Restless (Y&R) spoilers update for Monday, November 8, teases that Billy Abbott (Jason Thompson) will deliver a blackmail ultimatum while Sally Spectra (Courtney Hope) defends Adam Newman (Mark Grossman). Abby Newman-Abbott-Chancellor (Melissa Ordway) will also ignore Dominic Newman-Abbott-Chancellor while she focuses on a dangerous mission, so here's what's in store.
At Billy and Lily Winters' (Christel Khalil) place, she'll learn Billy's headed to the motel to take some supplies to their guest. Lily will clarify that Jesse Gaines (Jamison Jones) is Billy's guest, not hers. She'll argue that if Billy insists on blackmailing Newman Media, then she's not going to be part of the plan.
At the coffeehouse, Lily will spot Victoria Newman-Locke (Amelia Heinle) and demand to know why she's letting things escalate to the point of a full-blown war.
Victoria will contend that between Ashland Locke's (Richard Burgi) health battle and the merger, she's got enough on her plate without dealing with Billy's issues.
Besides, Victoria will suspect Lily's real problem is that Billy's exhibiting his typical behavior and creating drama in their romance.
Lily will decide she's wasting her time when she could be going directly to Adam Newman (Mark Grossman), so she'll head to Newman Media next.
In Gaines' motel room, he'll get some food, toiletries and other items from Billy.
When Billy pushes for Camila Rhodes' original letter, Gaines will be hesitant to hand it over. He'll want details on how Billy's going to handle Ashland and the Newmans, but Billy will be a bit cagey.
Gaines and Billy will establish that they don't really trust each other, but they'll agree to take steps to get there. Billy will once again push for the letter, so Gaines will ultimately surrender it.
In Adam's office on Monday's Y&R episode, Sally and Chloe Mitchell (Elizabeth Hendrickson) will pitch a new promotional idea. They'll think they should have a design competition and publish the winning designs as well as offer a prize for each division.
Adam will like what he's hearing, but he'll have to put the meeting on hold when Lily comes in and demands a meeting of her own.
When Lily suggests a cease-fire agreement, Adam will shut down any talk of negotiations. He will, however, promise Lily a job since they're going to destroy ChancComm.
Lily will scoff at the idea of working for Adam and will warn that he'll never take ChancComm away from them.
As Lily exits, Adam will call out and once again push her to think about his job offer.
Nikki Newman (Melody Thomas Scott) will confront Adam soon after, so that'll bring her objections about Ashland's stress level.
Adam will argue that Ashland wanted to be involved, but Nikki will complain about Newman Media's battle with ChancComm anyway.
Once Billy's at the office, a frustrated Lily will come in and admit Victoria shut her down. Since Lily didn't have any luck with Adam either, she'll decide they'll do this Billy's way.
Billy will be thrilled to have Lily on his side and will reveal that he was able to score Camila Rhodes' original letter. He'll note this proves Camila didn't leave Ashland anything in her will, so he'll consider this their ace in the hole.
At Society, Sally and Chloe will discuss the potential threat ChancComm poses. Chloe will wish they could just break off and become their own entity, but Sally will defend Adam since he gives them access and exposure.
That comment will worry Chloe, who'll remind Sally that she can't be flirting with Adam once Chelsea Lawson (Melissa Claire Egan) comes back to town. Chloe will be grateful Chelsea moved on from Adam, but she'll warn that her bestie won't want to see Adam with another woman.
The best thing Sally can do is concentrate on the collaboration, so Sally will offer Chloe reassurance.
Back with Billy, he'll strut in Adam's office and mention that he's hiding Gaines. Billy will insist he's got the evidence to bury Ashland as well as Newman Media. He'll give Adam the ultimatum to either abandon the attack on ChancComm or face a takedown, but Adam won't look concerned.
At Chancellor Park, Mariah Copeland (Camryn Grimes) will be grateful to have Noah Newman (Rory Gibson) for a running partner. She'll admit she's been slacking on her park workouts since that's where Ben "Stitch" Rayburn (Sean Carrigan) snatched her.
Noah will be sympathetic before Mariah grills him about his reason for leaving London. He'll admit there are some things he'd rather not talk about, but he'll feel certain he can get over his heartbreak.
Over with Devon Hamilton (Bryton James), he'll stop by the Chancellor mansion to check on Abby. Nina Webster (Tricia Cast) and Christine Williams (Lauralee Bell) will also be there when a chipper Abby comes downstairs looking perfectly fine.
Abby will explain her plan to fly to Spain and investigate this Chance Chancellor (soon-to-be Connor Floyd) situation. She won't be satisfied with the lack of answers and will feel like Chance could be injured or hiding out somewhere.
Christine will urge Abby to let the professionals handle this, but Abby will refuse to budge. She'll reflect on another time Chance faked his demise and will feel like she has to follow her instincts.
Abby will think the people in Valencia will be more willing to talk to Chance's wife than an agent from the U.S. government.
If there's even the slightest chance that her husband is alive, Abby will feel like she has to look into it. While Abby's upstairs packing, Devon will think they need to figure out how to talk Abby out of her plan.
Nina will suggest seeing the explosion site might be a good way for Abby to accept Chance's fate and find closure. She'll think perhaps she should join Abby since she could use closure as well.
Christina will contend that things are different for Abby, who's made an impulsive decision to do a horrendously risky thing with almost no discussion. Devon will fret over Dominic since Abby didn't even bring him up. He won't feel like Abby's thinking about the baby and will refuse to sign off on this.
Christine will agree it's too risky, but Nina will cling to a glimmer of hope. She'll wonder if Chance might've survived like Abby claims to know in her heart, but Christine will gently make it clear that's just not possible.
After Christine leaves to deal with work, Abby will ask if Devon or Nina might be willing to come on the trip with her. Devon will refuse to let Abby go since it's too reckless, but she'll seem offended that he thinks he can control whether she goes or not.
Nina will also discourage the trip, but Abby will shout about how she's going to Spain with or without them. She'll be fed up with Devon and Nina for trying to talk her out of this.
Suddenly, a troubled Mariah will walk through the door and realize Abby's planning to leave town. She'll mention Dominic and wonder if she should move back in to take care of him.
The Young and the Restless spoilers say some Dominic-related conflict is about to break out, so stay tuned.
Soap Spoiler will have tons of other great Young and the Restless spoilers, news and updates for you, so make us your favorite hotspot.
Reality starts to set in this week on all-new episodes of #YR. Watch the latest episodes on @paramountplus. pic.twitter.com/evIe3LlF5x

— Young and Restless (@YandR_CBS) November 7, 2021