General Hospital (GH) Spoilers: Maxie Furious, Blasts Sam About Her Relationship With Dante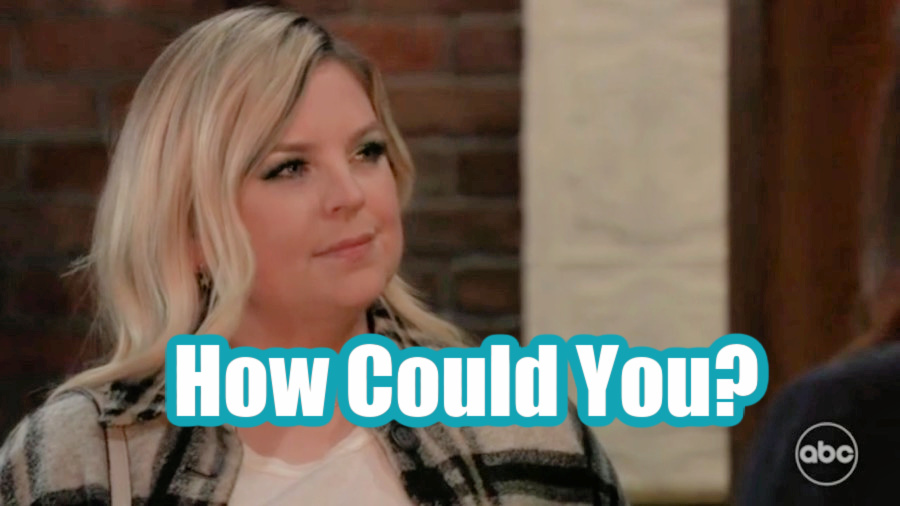 General Hospital (GH) spoilers tease that Maxie Jones (Kirsten Storms) will confront Sam McCall (Kelly Monaco) about her relationship with Dante Falconeri (Dominic Zamprogna) in an upcoming episode of General Hospital!
General Hospital Spoilers – Maxie Jones' Best Friend Is Lulu Spencer
General Hospital viewers will recall that Maxie Jones' best friend is Lulu Spencer (last played by Emme Rylan). General Hospital viewers will recall that before Lulu was seriously injured in the explosion of the Floating Rib, which also killed her then boyfriend Dustin Phillips (Mark Lawson) she confided her feelings about Dante to Maxie. Dustin was going to propose to Lulu the night of the explosion, but Lulu was going to turn him down because she still loved Dante, in spite of her granting the divorce he had previously sought.
Dante had been suffering from post-traumatic stress disorder and was having hallucinations of killing Lulu, and so when he came back from Turkey he didn't want to endanger Lulu and their family. Dante doesn't know that Lulu still loved him and was going to turn Dustin down, later in the hospital chapel she tried to tell Dante but he didn't hear her, and collapsed in his arms. Lulu had suffered a traumatic brain injury in the explosion, for which she had not sought treatment and as a result went into an indeterminate coma.
GH Spoilers – Maxie Jones Can't Help But Be Worried About Dante Falconeri Moving On
Even though Lulu has been in a hospital in New York for nearly a year now with no signs of discovery, General Hospital viewers will have noticed that Maxie can't help but worry about Dante possibly moving on. Lulu had waited for him for quite a while when he was rogue in Turkey before starting to date "Hot Dustin" as Maxie teasingly used to call him. But it hasn't been all that long for Dante to get close with Sam – and Maxie wants to know exactly what kind of "close" that is for Lulu's sake! Maxie has not told Dante what she knows about Lulu's feelings for him – but she wants to gauge how serious the relationship with Sam is and so she butts in where she probably doesn't belong, and General Hospital viewers will see her talk to Sam about her relationship with Dante! Maxie and Sam are not exactly best buds nor have they ever been, so Sam could get just a wee bit offended with Maxie's nosiness!
General Hospital Spoilers – Maxie Jones' "Talk" May Devolve Into A Verbal Catfight
General Hospital viewers know that Maxie can be pretty aggressive when she wants to be, and her "talk" with Sam about her relationship with Dante could devolve into a verbal catfight! Sam of all people should understand what it's like to have a child with a person who may never come back even though the person may still be living. Prior to her talk with Maxie, Sam will get reassuring news – and that might be the news that Drew Cain (Cameron Mathison) is still alive. Jason Morgan (Steve Burton) may have been able to get a call out to her or possibly even Drew himself. Sam's case is a little different – she had moved on from Drew before he disappeared.
Dante's case is that he is missing information that he should have received but was not able to before Lulu collapsed, and he needs to know that Lulu did still love him before this new thing with Sam gets too serious! General Hospital viewers know that if Maxie was simply to level with Sam about what she knows, Sam might understand why Maxie's asking so many nosy questions! Otherwise, there is a possibility that she'll simply tell Maxie that Dante is an adult and doesn't need her protection!
Stay tuned to General Hospital, and keep checking General Hospital spoilers frequently for all the latest news, updates, and developments!