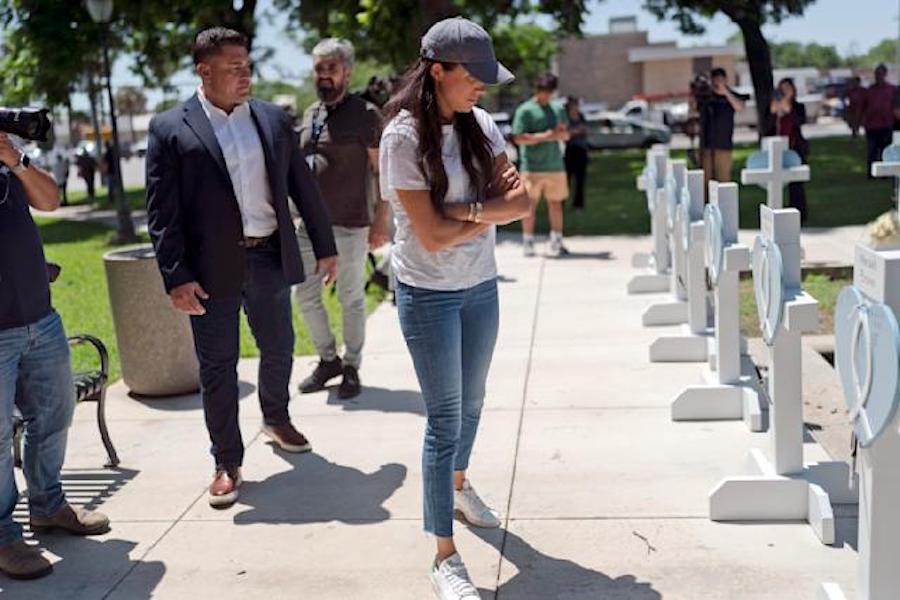 It's a good thing that a photographer was available for this supposed 'surprise' trip, right? There are new reports that say Meghan Markle has snubbed her estranged father Thomas Markle, who had just suffered a stroke and has been recovering in a hospital, to visit the graves of the 19 children and two school teachers who were shot and killed in the mass shooting at an elementary school in Uvalde, Texas. Here's what you need to know.
British Royal News: Meghan Markle Snubs Her Father Thomas Markle To Visit Uvalde, Texas
The duchess took the trip in a personal capacity as a mother, to offer her condolences and support in person to a community experiencing unimaginable grief, her spokesperson told People. The Duchess of Sussex was spotted wearing a gray shirt, jeans, sneakers and a hat while she paid respect to the victims. She did not speak to the press while she was there.
Meghan was at the memorial for the children before she made a stop at a community center, where she made donations. Meghan dropped off two bags that consisted of sandwiches, beverages, and desserts for blood donors. One volunteer by the name of Gloria Contreras told Buzzfeed, "I had no idea who she was. She just was carrying on a conversation like her and I knew each other for years."
She continued, "We were just talking about, you know, the situation and what happened what we were doing here. I told her about us giving out water to the people and and feeding them,' Contreras said. "I even talked about my personal life, telling her about my son and my family and, you know, coming to Texas because she told me she was from Santa Barbara and I said, 'Well, you need to come to Texas!'"
British Royal New: Meghan Markle Pays Her Respects To The Victims Of The Mass Shooting
Meghan Markle has made no comments about the trip, nor has her spokesperson said anything about the visit, either. Her father Thomas is currently at a hospital in Chula Vista, which is where he has been since he had his stroke earlier in the week.
In the meantime, let us know what you think with your thoughts in our comments section again. Be sure to catch up with everything on the British Royal Family right now. Come back here often for the British Royal Family news and updates.