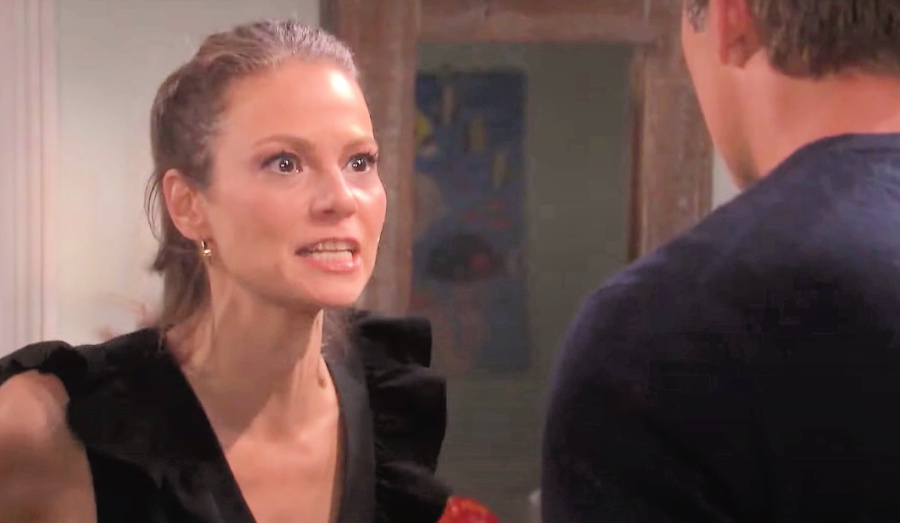 Days of Our Lives spoilers for the week of November 22 reveal that Ava Vitali (Tamara Braun) makes a declaration to Rafe Hernandez (Galen Gering). Ava might tell him how she feels in her heart. However, Rafe will not give her the reaction she expects. Could Rafe say the "L" word but accidentally use Nicole Walker's (Arianne Zucker) name?
'Racole' Secret Passion
DOOL spoilers reveal that Rafe and Nicole have romantic feelings for each other. However, they keep trying to deny those feelings. Rafe is still in a relationship with Ava even though he initially believed she was guilty of murder. Meanwhile, Nicole doesn't want to steal her friend's man and is trying to move on with EJ DiMera (Dan Feuerriegel).
On Halloween, Rafe and Nicole gave into their passion only to regret it afterward. Rafe nearly confessed to sleeping with Nicole, but his conversation with Ava was interrupted. So, Ava still has no idea that she's been betrayed by both her boyfriend and friend.
DOOL Spoilers: Ava Vitali's Declaration
During the week of November 22, Ava will make a declaration to Rafe. Even though Ava knows that Rafe and Nicole have feelings for each other, she doesn't realize that they have been intimate. Plus, that doesn't erase the feelings that Ava has for the commissioner. So, it's likely that the declaration is telling Rafe "I love you."
Rafe Hernandez's Unexpected Reaction
Days of Our Lives spoilers reveal that Ava will expect Rafe to say "I love you, too." However, that doesn't happen. It is confirmed that Rafe has an "unexpected reaction" to Ava's declaration. Perhaps he says "thank you" or isn't able to say anything at all. However, this is a soap, which means something far more dramatic will probably happen.
Days of Our Lives Spoilers: Heartbreak and Hatred
It's possible that Rafe says "I love you, too, Nicole." After all, that is where his heart is and he's always thinking about Nicole instead of Ava. What will make this even worse is if the words are said while Rafe and Ava are in bed together. If this happens, Ava will be heartbroken and furious at the same time. It could even lead to Ava reverting back to her old ways. As fans recall from Ava's obsession with Steve "Patch" Johnson (Stephen Nichols), Ava doesn't deal with rejection very well.
Will she try to get back at Nicole, especially when she finds out about Rafe cheating? Could Ava decide to steal EJ to even the score? We will have to keep watching the NBC soap to find out.
Be sure to catch up on everything happening with DOOL right now. Come back often for Days of Our Lives spoilers, news and updates.