The Bold and the Beautiful Spoilers: Sheila & Jack Revive Connection – Finn's Heart Glows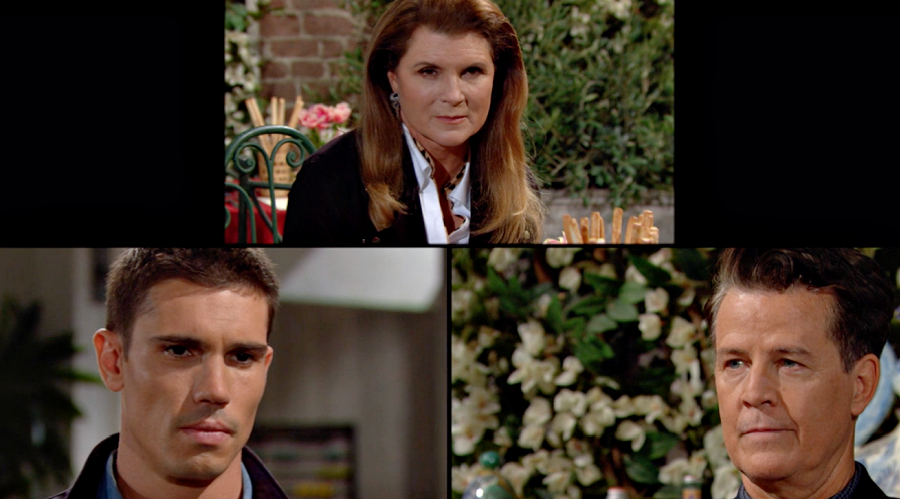 The Bold and the Beautiful spoilers document that Sheila Carter's (Kimberlin Brown) conversation with Jack Finnegan (Ted King) at Il Giordino could be more than just an extension of their backstory.
While John Finn Finnegan (Tanner Novlan) is teased to learn that Jack is his birth father, it seems that the one-time spark between Sheila and King's character was never fully extinguished.
Li Finnegan (Naomi Matsuda) has loved her husband for decades. She believed that Jack knew a pregnant woman in need and that they adopted her baby.
Of course, B&B fans have been let in on the secret. Jack is Finn's biological father and has been lying to his wife and actual son.
Bold And The Beautiful Spoilers – John Finn Finnegan Deserves The Truth
Finn naturally had questions about both of his birth parents since he was young.
After being told by Li and Jack that they adopted him, Finn spent the next years of his life through to adulthood wondering if he would ever know or meet his birth mother and father.
Well, he has been living with his birth father, Jack, all along. As for his birth mother, Sheila is nothing like he expected.
Steffy Forrester (Jacqueline MacInnes Wood) knows that her husband's curiosity has not abated since Sheila introduced herself to him at the Forrester guest house on Sinn's wedding day. But Finn's paternal quandary will soon be resolved.
Bold And The Beautiful Spoilers – Jack Finnegan Risks His Family
Jack kept the secret about Finn being his child from Li because he was ashamed.
Viewers learned that Sheila and Jack cavorted during the time Li was working as a doctor and Sheila was working as a nurse at the same hospital in the early 1990s.
Jack decided that he could never tell Li the truth without risking divorce. He made an understandable assumption, as his betrayal was intense.
However, Jack did not know about the ferocious life Sheila was living.
That came as a shock to him when Brown's character acknowledged what Steffy and the others were shouting during the Sinn wedding reception.
Bold And The Beautiful Spoilers – Sheila Carter Offers Good Advice
Sheila has basically been behaving. Yes, she coerced Deacon Sharpe (Sean Kanan) to lie about them being a couple.
And, Sheila swore revenge on Steffy. But other than that, B&B's most infamous villain has been living a relatively decent life.
Encouraging Jack to tell Finn the truth is not a pure calculation on Sheila's part. She believes that their son needs to know that Jack is his father and that King's character is the best person to offer that reveal.
Li will have a choice to make. If she decides that her marriage can not continue, then it becomes possible Jack and Sheila will revive. Although, they got together in the past without Li's approval.
This site is a leading source for everything linked to The Bold and the Beautiful. Check back at Soap Spoiler regularly for B&B spoilers and news!