The Young and the Restless Spoilers: Will Abby and Chance Survive 2022 – Devon's Dominic Pressure Building?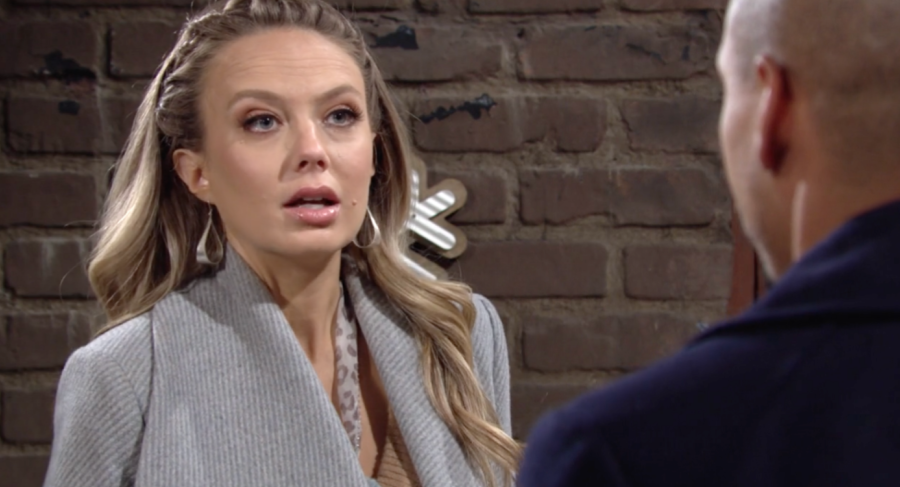 The Young and the Restless spoilers document that Abby Newman Abbott Chancellor (Melissa Ordway) enters 2022 with a starkly different outlook compared to the last calendar. Chance Chancellor (Conner Floyd) was her January dream a year ago. Today, he is the man she needs to protect.
Chance sees the new year as an opportunity to start fresh. He wants to put the horror of what happened to his colleagues in Spain behind him.
The unexpected issue that faces this struggling couple involves their son. Dominic Newman Abbott Chancellor (Rainn and River Ware) is often seen crying. That is said to be related to the tension he feels in the Chancellor mansion.
Young And The Restless Spoilers – Devon Hamilton Wants To Help
Devon Hamilton (Bryton James) couched his request for shared custody as wanting to help. While that is true, it is not the leading reason why Devon recently sought out Abby and Chance.
Nate Hastings (Sean Dominic), who has no known children, got in Devon's ear. He told his cousin to pursue a formal schedule.
Devon, who has been significantly influenced by all that happened during the time of Mariah Copeland's (Camryn Grimes) surrogacy, used Nate's advice as the impetus to have a sit-down.
Young And The Restless Spoilers – Chance Chancellor Loves His Wife
Chance is not in a good headspace. Who would be after what he endured on that life-threatening mission abroad?
Floyd's character loves his wife. But he has doubts about parenthood that did not previously exist. It is not much of a leap to suggest that he can begin to doubt Abby's commitment to him in the coming weeks.
This pairing formed naturally and did not face much strife when compared to some of the other relationships both characters experienced in the past. If Devon seeks legal recourse, potentially through Amanda Sinclair (Mishael Morgan), intense pressure will quickly build in Chance's marriage.
Young And The Restless Spoilers – Abby Newman Abbott Chancellor Reaches Her Limit
Abby was home keeping their developing family together while Chance's life was threatened. Now that he has returned, all has not gone as hoped.
Abby is Dom's biological mother. It will be determined if Devon can assert rights that were not set in writing during the verbal agreement he reached with his friend.
Viewers see that Abby is more than stressed. She appears to be near to or at her limit. Having the family life she planned with Chance and Dom disrupted by someone she trusted could push her over the edge on Y&R.
This site is a leading source for everything linked to The Young and the Restless. Check back regularly for Y&R spoilers and news!