General Hospital Spoilers: Nikolas Throws Spencer Out, Cuts Him Off Financially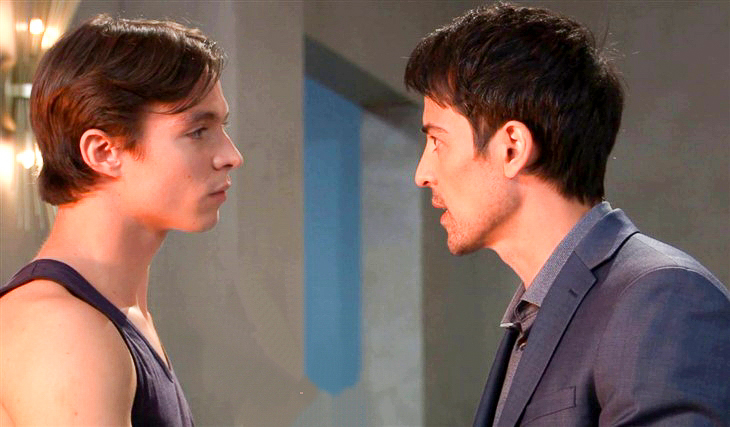 General Hospital (GH) spoilers and updates tease that Nikolas Cassadine (Marcus Coloma) has finally put his foot down when it comes to Spencer Spencer Cassadine (Nicholas Chavez). He'll kick him out of Wyndemere and cut him off financially.
Spencer Cassadine Admits He's the Stalker
Fans may recall that Spencer admitted to his father that he was the stalker. Nikolas was furious because he ruined the life he was building with Ava Jerome (Maura West), which he wanted Spencer to be a part of. Spencer understands why his father is angry but continues to hope that he'll forgive him for what he's done. Unfortunately, Nikolas isn't in a forgiving mood.
As a consequence of what he's done, Nikolas decides to kick his son out of Wyndemere and cut off all his financial access. This will infuriate Spencer and he'll think that his father and Ava are worse than him.
General Hospital – Ava Jerome Questions Esme Prince's Involvement
As for Ava, she'll continue to wonder if Spencer really hates her that much to involve Avery Corinthos (Ava and Grace Scarola). Ava will also have questions about his sudden confession and how Esme Prince (Avery Kristen Pohl) is involved in all these. But Spencer will continue to lie and say that she did things according to his orders. Spencer will be painted in a bad light.
Josslyn Jacks (Eden McCoy) will learn all about the chaos that took place in Wyndemere from Trina Robinson (Sydney Mikayla) and Cameron Webber (William Lipton). As for Esme, she'll be wrapping up her meeting with Ryan Ryan Chamberlain (Jon Lindstrom).
Trina Robinson Warns Esme Prince
Trina will be happy that Esme's plans didn't work and will warn her not to mess with the people she loves. Spencer may have tried to cover her guilt but it was still revealed that she was part of the stalker plot. Trina may feel like it's a victory for her but it seems like Esme is celebrating a victory of her own, too. She'll be talking to someone over the phone and she says "we have so much to celebrate. Is she talking to Spencer? Or perhaps another accomplice?
Be sure to catch up on everything happening with General Hospital right now. Come back here often for General Hospital spoilers, news, and updates.