General Hospital Spoilers and Rumors: Cassadine Manipulation – Victor NOT Really Valentin's Father?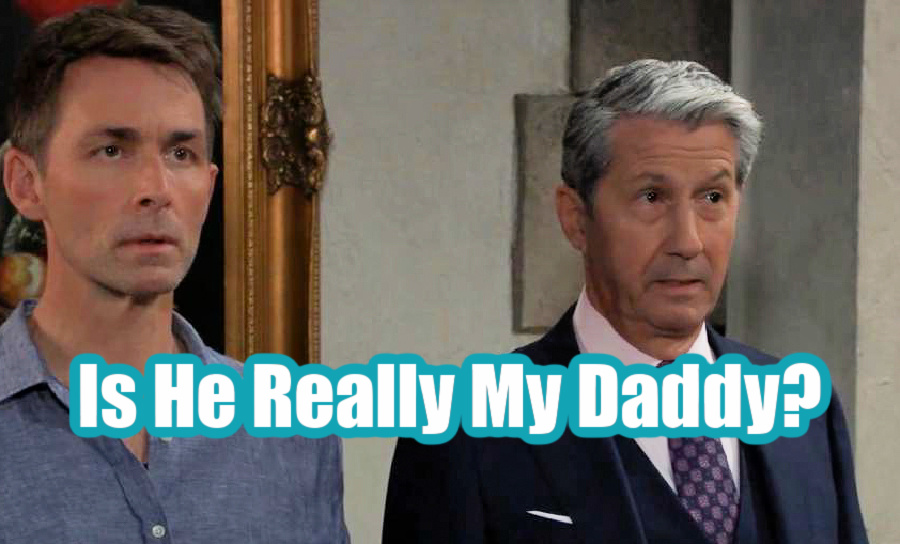 General Hospital (GH) spoilers and rumors tease that Victor Cassadine (Charles Shaughnessy) may not be Valentin Cassadine's (James Patrick Stuart) birth father as he says. General Hospital viewers saw Nikolas Cassadine (Marcus Coloma) say that Victor had helped him get his legacy back from Valentin!
General Hospital Spoilers – Or Maybe It's Just A Cassadine Thing?
General Hospital viewers know that Quartermaines stab each other in the back regularly, but are always there to lick each other's wounds; perhaps Cassadines stab each other in the back and finish each other off! It doesn't seem right for Victor to really be Valentin's birth father, and then have helped Nikolas get his legacy back from Valentin. General Hospital viewers want to know what's really going on – who's the liar, Nikolas or Victor?
It makes sense keeping that secret a secret as long as Helena Cassadine (Constance Towers) was alive – but Nikolas was shot out of that window after Helena died! Nikolas does seem a little sketchy when he's been talking about the family compound in Crete – where Victor was apparently hiding out. He's been saying the property was sold a long time ago. When Valentin first showed up to Cassadine Island and shot Nikolas out of that window, Victor certainly was nowhere to be found – and supposedly died in 2014. Valentin had been on Cassadine Island for a while, if the circumstances surrounding Charlotte Cassadine's (Scarlett Fernandez) conception were told correctly! So where was his supposedly concerned father Victor during that time?
GH Spoilers – Victor Cassadine Told Valentin Cassadine He Was Watching Out For Him From Afar
General Hospital viewers will recall that Victor had told Valentin he was watching out for him from afar – when Charlotte was conceived, Victor was actually still alive. Charlotte was born in 2019. Why would Valentin's supposedly concerned father allow Helena to harvest his sperm in what constituted an act of rape by a woman named Daphne (Andrea Savo)?
The story was, as longtime General Hospital viewers will recall, that Helena wanted another child for Stavros Cassadine (Robert Kelker-Kelly) and had stolen at least one of Lulu Spencer's (Emme Rylan) frozen eggs. Stavros' sperm was not able to produce an embryo so she had Daphne get some from Valentin. That was the story of how Charlotte came to be. Where was Victor? Working with Helena? Victor seems all concerned about Valentin coming through his surgery now, but why didn't he step up then?
General Hospital Spoilers – Nikolas Cassadine Was Helping Cassandra Pierce
General Hospital viewers will remember that when Nikolas first revealed himself alive in Port Charles, that not long afterwards he was helping drug lord Cassandra Pierce (Jessica Tuck). It was his hand that was revealed with the Cassadine ring on his finger in a car in Canada, having intercepted her from a clinic in Canada where Dr. Hamilton Finn (Michael Easton) had developed a cure for her coma, caused by her own drug, after Nina Reeves (Cynthia Watros) had stabbed her with a syringe in self-defense. It was Valentin who got rid of her – permanently – after she had kidnapped Charlotte.
Cassandra was supposed to have gone back into WSB custody and Nikolas prevented it. Victor was the one involved in all the medical clinics, Crichton-Clark for example and during the time he was head of the WSB. The question now before General Hospital viewers and in their minds is was Victor really helping Nikolas and giving him these tasks such as intercepting Cassandra, and was Victor only playing on Valentin's wound of finding out he wasn't a Cassadine and using him? Or, has Victor been duplicitous with both Valentin and Nikolas? Time will tell!
Stay tuned to General Hospital, and keep checking General Hospital spoilers frequently for all the latest news, updates and developments!