DOOL Spoilers: Eileen Davidson Back As Kristen DiMera, The Devil Tempts John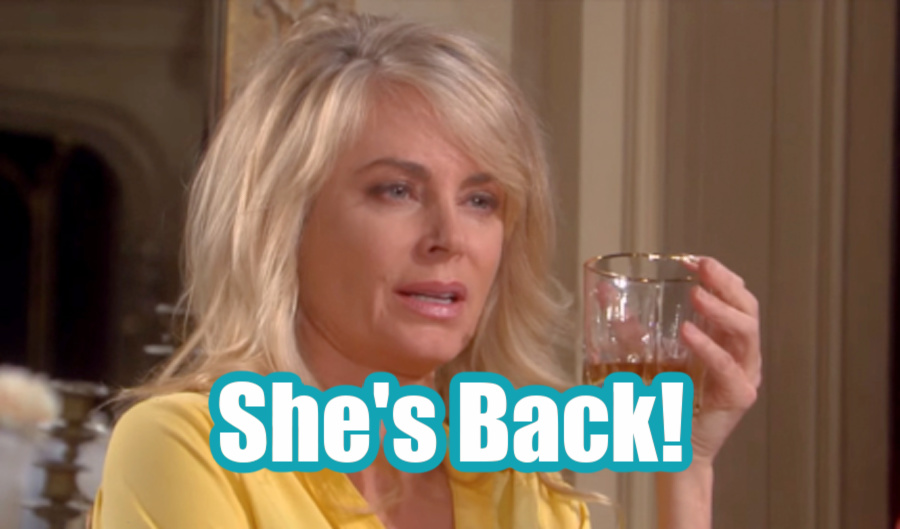 Days of Our Lives (DOOL) spoilers suggest that the Devil is determined to tempt John Black (Drake Hogestyn). Will the Devil break John's reserve to come between him and Marlena Evans (Deidre Hall)?
Days Of Our Lives – The Devil Will Up His Game
Days of Our Lives John will find himself still chained in the Dimera crypt the week of November 8 through 12. The Devil has had no luck coming between John and Marlena as he fights to save Marlena. The Devil knows that the only other woman who has tempted John has been Kristen Dimera (Stacy Haiduk). However, it seems that Eileen Davidson could reprise the role of Kristen in John's delusion. The Devil wants to corrupt John's soul because he is one person the Devil could never possess. John is loyal to Marlena and refuses to be swayed from his mission. Could Kristen be the one temptation that John cannot resist? Could John be swayed by the woman he once loved?
John Black's Hallucinations Makes Sense
Days of Our Lives executives may very well have Eileen to reprise the role in John's hallucinations. Stacy Haiduk isn't going anywhere so technically, Brady Black (Eric Martsolf) could be dealing with present-day Kristen while John is being tempted. Eileen played Kristen when John dated her before. Kristen was obsessed with John and tried every way to hold onto him. Having Eileen play the role of Kristen would make perfect sense. Eileen was available to play Kristen in the Days mini-series Beyond Salem, this could be how Eileen fits into the main show as well.
Days Of Our Lives – Can John Black Fight Kristen DiMera?
Days of Our Lives John is going to be subject to all kinds of torture in the crypt. Kristen's temptation would be only part of how John is attacked by the Devil. Kristen could be an illusion or she could be there much like the three villains raised on Halloween. Days writers have had a lot of drama in store lately and it doesn't seem to be ending anytime soon. Deidre is certainly enjoying her time as the possessed Marlena again. Will Marlena and John's love for one another pull them both through once again? Can John resist what the devil hopes is his last temptation and prove himself a worthy opponent?
Eileen enjoys revisiting Kristen's character when the chance arises. Eileen and Drake have a great history as former lovers. Long-term fans would enjoy seeing the two of them interact once again. Whatever the case may be, Days will certainly deliver the drama no matter what.
Be sure to catch up on everything happening with Days right now. Come back here often for Days Of Our Lives spoilers, news, and updates.