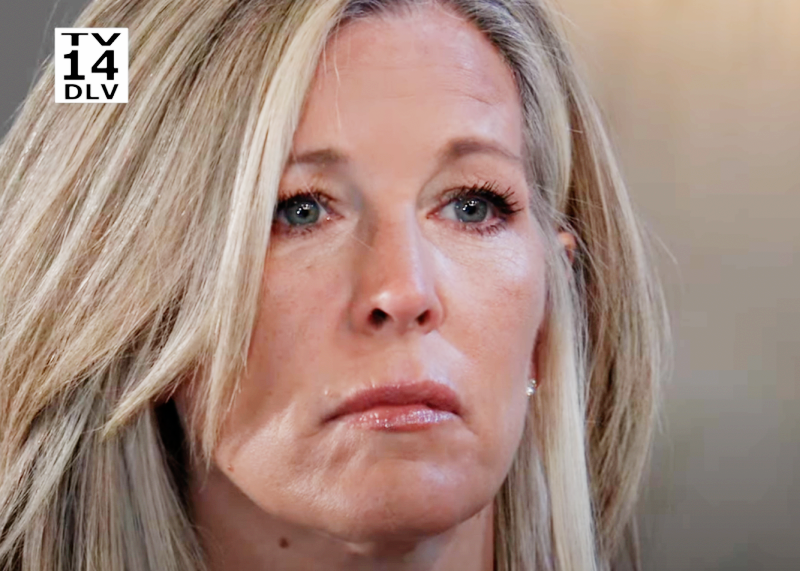 General Hospital (GH) spoilers reveal a big week in Port Charles as fireworks and romance get overshadowed by some truth bombs and a trial beginning.
General Hospital Spoilers: Trina's Fight For What's Right
Trina Robinson's (Tabyana Ali) trial is about to finally begin, which has to be the longest time from arrest to trial we have ever seen on a soap considering that Days of Our Lives does arrest to trial in about five days. In Trina's case, it's been months, which is much more consistent with real life. We guess that's what happens when you have way too many characters and too many stories to tell.
As the witnesses are sworn in, Carly Corinthos (Laura Wright) vows that Esme Prince (Avery Kristen Pohl) will never mess with the good kids again, but she still doesn't know what Spencer Cassadine (Nicholas Alexander Chavez) and Cameron Webber (William Lipton) are up to in order to bring Esme down.
Valentin Must Cover His Tracks
Anna Devane (Finola Hughes) now knows that Valentin Cassadine (James Patrick Stuart) was never in a rehab center for weeks as he had claimed to be and Victor Cassadine (Charles Shaughnessy) knows what Anna knows so it looks like he is going to tell his on he better cover his tracks a lot better.
Is it time that Valentin just tells Anna what is going on so that they can beat Victor together and bring Charlotte Cassadine back home? She won't like that she was lied to but she already knows she was lied to and it is time she learns why.
Romance and Fireworks, But Not Always Together
At least there is some couple happiness this week as Sam McCall (Kelly Monaco) and Dante Falconeri (Dominic Zamprogna) happily watch the fireworks from what looks to be her bedroom window. Even Trina and Spencer look as if they might kiss, but we won't hold our breath for that. Austin Holt (Roger Howarth) and Maxie Jones (Kirsten Storms) even have a nice time under a lit nighttime sky.
However, it looks like more strife for Carly who made her own mess and won't accept anyone's help to clean it up. She just wants to whine about it to anyone who will listen and Drew Cain (Cameron Mathison) always seems to be around to listen. What a fantastic Replacement Jason he makes. Stay tuned to General Hospital weekdays to see how these stories play out.