Days of Our Lives (DOOL) Spoilers: Maggie Horton Wants Answers From Rex Brady!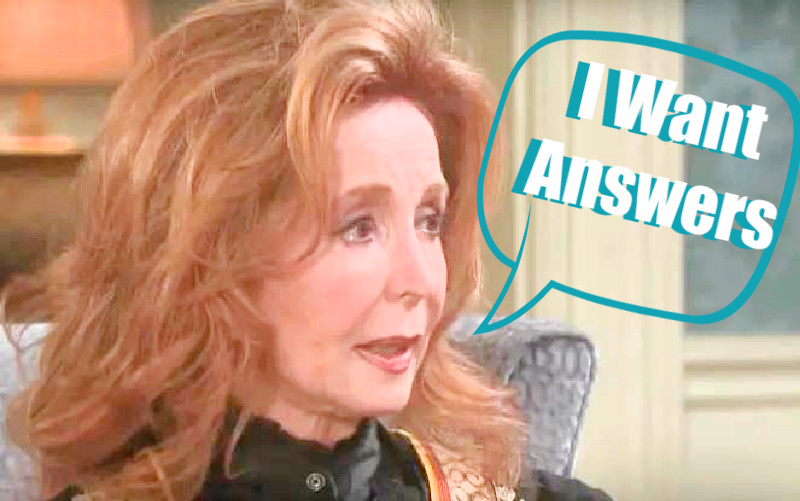 Days of Our Lives Spoilers tease that Maggie Horton (Suzanne Rogers) just remained home after burying her daughter Summer Townsend (Marie Wilson). And although Maggie and Summer had a complicated relationship, losing a daughter still took a lot out of her. Even through the worst of it, Maggie hasn't heard from her other daughter, Sarah Horton (Lindsay Godfrey). As viewers know, Sarah isn't ignoring Maggie at all.
Days of Our Lives Spoilers – Maggie Horton and the rest of Salem believe Sarah Horton ran off with Rex Brady!
Maggie has no idea that Sarah is actually missing. She believes, just like the rest of Salem, that Sarah ran off with Rex Brady (Kyle Lowder) on what was supposed to be her wedding day to Xander Cook (Paul Tefler). But in reality, it was Kristin DiMera (Stacey Haiduk) wearing a "Sarah" mask who slept with Rex and broke Xander's heart. Sarah had discovered that Kristin was impersonating Susan Banks (also Stacey Haiduk) instead of serving time in prison.
DOOL Spoilers – Kristin DiMera drugged Sarah Horton and sent her away to a deserted island!
During a scuffle, Sarah was drugged which made it easier for Kristin to stuff her in a trunk and ship her off to what Kristin called an island paradise. But since Sarah was supposed to marry Xander, Kristin somehow fashioned a "Sarah" mask and slept with her old flame Rex. Xander was devastated when Sarah broke up with him and left town. But Kristin also dumped Rex, who left town alone. Everyone in Salem believes that Sarah has been with Rex this whole time.
Days of Our Lives Spoilers – Maggie Horton will get in touch with Rex Brady!
Maggie will likely reach out to Rex soon to find out why Sarah isn't talking to her. Rex will be confused since he hasn't seen Sarah in months. But if she isn't with Rex, than Maggie will begin to realize that Sarah is in trouble! She will likely contact Xander with her suspicions, who will then make it his mission to bring Sarah home to Maggie. Of course, he will always hope that means that he and Sarah can pick up where they left off!
What do you think?
Will Maggie realize that Sarah never left town with Rex? Will Xander move heaven and earth to locate Sarah? Could she be on Melaswen? Literally anything can happen in Salem, so stay tuned to Days of Our Lives airing weekdays on NBC. And don't forget to check back right here regularly for all your Days of Our Lives news, information and spoilers!