General Hospital (GH) spoilers indicate that former star, Ryan Paevey (ex-Nathan West) has been dealing with a bit of depression lately. Paevey opens up about how he climbed out of the latest bout of depression.
Getting Back Into The Groove
On October 11, Ryan Paevey posted a video of himself climbing an indoor rock wall. The General Hospital alum commented, "I used to be really good at this working out thing." Of course, to the eyes of his fans, Paevey still seems to be good at it. After all, it's not like the man has let his body go. Paevey says that he had "been in a funk lately but it is great to have good friends and fun stuff like this to pull you out of it." Of course, Paevey has been keeping himself busy working on his Hallmark projects but every once in a while, it is good to step away from the shop and get back to reality. What is Paevey's advice? Find some of these people who will help you get back to your old self.
Hard At Work At Hallmark
General Hopsital's Paevey's last Hallmark movie was "A Little Bit Of Daytime Drama" with Jen Lilly (former Theresa Donovan, Days) and Linda Dano (ex- Vivian Alamain, Days). Ironically, the movie was about a soap opera. Something very dear to Paevey's heart. Paevey has been at Hallmark since he left General Hospital several years ago. Paevey's newest movie, part of Hallmark's Countdown To Christmas, is called Coyote Creek Christmas with costar Janel Parrish from Pretty Little Liars. Paevey and his onscreen son will give his leading lady some much-needed excitement.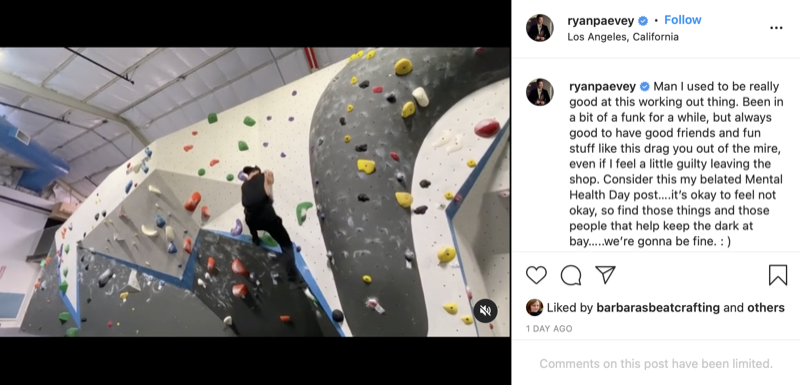 General Hospital's alum, Paevey, won the hearts of many fans when he appeared as the blue-eyed cop who joined the PCPD and fell in love with Maxie Jones (Kirsten Storms). Maxie and Nathan were anxiously awaiting the birth of their first child when Nathan was shot and killed by Caesar Faison. Some of his fans have certainly followed him to the Hallmark channel but Paevey has picked up more fans there as well. Paevey is one of Hallmark's leading men at the present time. Of course, some fans still are still holding out for Nathan to return from the dead and come home to Maxie and their son and stop Peter August (Wes Ramsey) once and for all.
Countdown to Christmas begins October 23, 2021. Who is looking forward to Paevey's new Christmas movie? Here is hoping that Paevey can stay out of his funk and keep up with his workouts. We look forward to seeing what Paevey has coming up next.
Be sure to catch up on everything happening with GH right now. Come back here often for General Hospital spoilers, news, and updates.