One December Night Sees Bruce Campbell As A Retired Rock Star on Hallmark Channel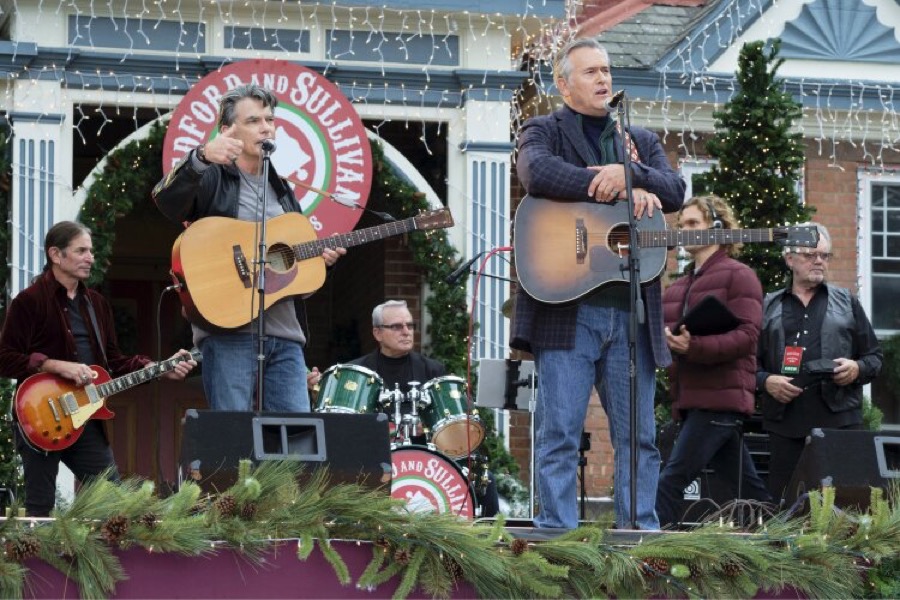 Bruce Campbell is known for the Evil Dead franchise and has starred in cult movies like Maniac Cop and Crimewave. However, now he is playing a completely different role, as a retired rock star in the Hallmark Movies & Mysteries holiday film One December Night. Read on to find out more about Campbell and his role in the Countdown to Christmas movie.
Bruce Campbell stars in the Hallmark movie One December Night
Besides starring in horror series, Bruce Campbell is also host to an annual horror-related event, The Bruce Campbell Horror Film Festival. His latest efforts have been to serve as the host and executive producer of the Ripley's Believe It or Not on the Travel Channel. This is why it comes as somewhat of a surprise to find Campbell starring in a Hallmark Channel Christmas movie this coming weekend.
According to Hallmark's press release, One December Night stars Campbell in the role of Steve Bedford, a former member of the legendary rock duo Bedford & Sullivan. The band had a hit song, One December Night, but split when Mike Sullivan (Peter Gallagher) was unable to play a sold-out show 10 years ago.
However, when Mike's estranged daughter Quinn (Eloise Mumford), an up-and-coming music manager, and Steve's son and manager, Jason (Brett Dalton) are putting together a televised reunion in time for the holidays, the two rock stars must work together to fix their complicated history. Naturally, there must be romance (this is Hallmark after all) and Quinn and Jason must come to terms with their budding romance.
Music in One December Night
The Hallmark movie also features an original song of the same name (One December Night) along with a new single from Gallagher, titled Coming Home.
The movie comes from Crown Choice Films Inc. with executive producer Nancy Bennett in charge, along with Tony Glazer and Summer Crockett Moore as producers. The director of One December Night is Claire Niederpruem, from a script penned by Sib Ventress. Meanwhile, it includes the original songs of Jonathan Yudkin, as well as a score by Tommy Fields.
The trailer for the movie is included here for readers' enjoyment:
About the cast
More detail about the talented cast sees Peter Gallagher as starring in Zoey's Extraordinary Playlist and Palm Springs, while Bruce Campbell is known for Burn Notice and Evil Dead. Eloise Mumford starred in The Baker's Son and Fifty Shades of Grey, and Brett Dalton in Just My Type, Agents of S.H.I.E.L.D.
Be sure to catch One December Night on Hallmark Movies & Mysteries on Saturday, November 13 at 10 pm ET.