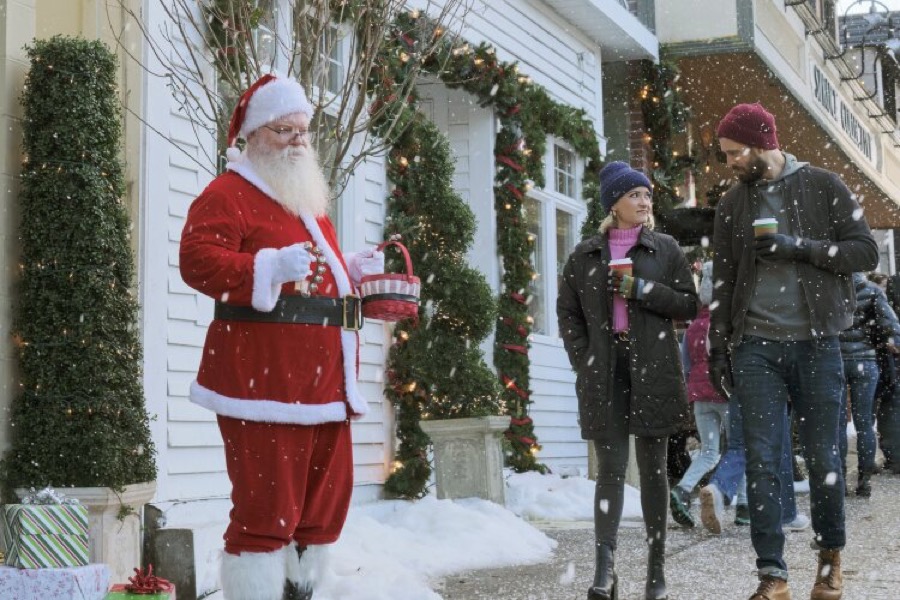 Anyone who has a birthday over the Christmas holidays can sympathize with Emily Osment's character, Leah, in the Hallmark Channel movie A Very Merry Bridesmaid. Her birthday falls on Christmas Eve, but this year, it is eclipsed by yet another major event, her brother's wedding. Read on to find out more about Emily Osment and Casey Deidrick's new movie, A Very Merry Bridesmaid.
Hallmark Channel: A Very Merry Bridesmaid
As part of the network's annual Countdown to Christmas programming event, Hallmark Channel is releasing a new, original movie A Very Merry Bridesmaid.
According to the official synopsis, it is Leah's (Emily Osment) 30th birthday on Christmas Eve. While already overshadowed by the holidays, this milestone birthday has to take a back seat when her future sister-in-law decides to get married that day and asks Leah to be one of her many bridesmaids.
While she may be feeling a little put-out, the return of Leah's childhood crush, Drew (Casey Diedrick) may be just what she needs to push her to the forefront of the overlapping festivities and help her find a new direction in her life. In fact, Drew is determined to ensure that her special day doesn't go by the wayside.
The movie A Very Merry Bridesmaid comes from Unity Pictures with Kristofer McNeeley executive producing. Meanwhile, Ron French and Steve Harmaty as producing, with David Strasser directing from a script penned by Tracy Andreen and Elena Valdez.
About the cast of A Very Merry Bridesmaid
Emily Osment stars as Leah Taylor and if her name sounds familiar, this is because she is the younger sister of The Sixth Sense star, Haley Joel Osment of "I see dead people" fame. Most recently, Emily has starred in The Kominsky Method. However, in the past she starred in the Hallmark movie, Sarah, Plain and Tall: Winter's End, leading to a nomination for Best Young Actor.
Casey Deidrick stars as Leah's former crush, Drew Vaughn. He is known for his appearance in The CW's hit In the Dark. He also co-starred in the MTV series Teen Wolf and the psychological thriller A Midsummer Nightmare. Casey is also known for his role as Chad DiMera on the daytime drama, Days of Our Lives.
According to the official IMDb page, other cast members include Amber Taylor as a young Leah Taylor. This remarkable child star has an impressive resume, with Unspeakable, Childsplay, Batwoman, The 100, Sense, Sensibiity & Snowman and Be Still on the list.
 Meanwhile, Lachlan Quarmby stars as Jalen and is known for his roles in Fresh, Roll Initiative and Double Shot.
When does the movie premiere on Hallmark?
A Very Merry Bridesmaid premieres on the Hallmark Channel as part of the Countdown to Christmas programming event on Saturday, December 4 at 8 pm ET.
Readers, are you intrigued by this new original Hallmark movie? Let us know by dropping a comment below.