Days of Our Lives (DOOL) Spoilers: Despite Bad Omens, Johnny DiMera Begins Filming!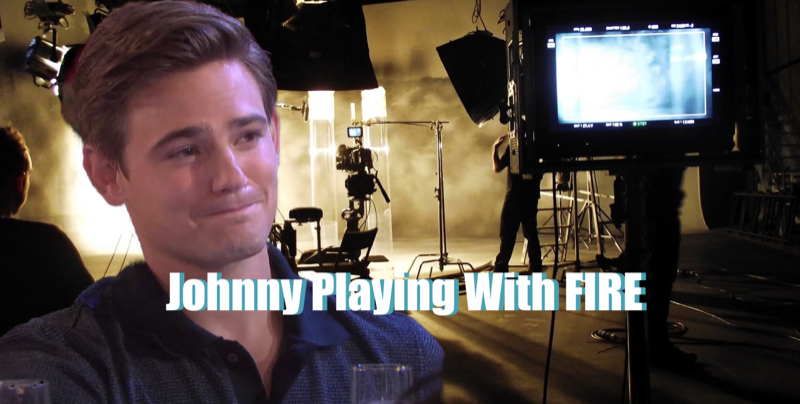 Days of Our Lives (DOOL) spoilers tease that Johnny DiMera (Carson Boatman) has no idea that he may be playing with fire… hellfire to be precise. As viewers know, Johnny just secured the last bit of funding to make his movie from his uncle Chad DiMera (Billy Flynn). Although his father, EJ DiMera (Dan Feueriggel) is dead set on Johnny joining the ranks at DiMera Enterprises, Johnny is determined to make his own way. But he may have bitten off more than he can chew.
Days of Our Lives Spoilers – Johnny DiMera's movie is based on Dr. Marlena Evans' original possession!
Although he was originally going to make a movie about his mother, Sami Brady (Allison Sweeney) and her life once he read the script written by his brother Will Horton (Chandler Massey), he chose to focus on his grandmother's, Dr. Marlena Evans' (Deidre Hall) life, or more specifically, a certain event that happened to her twenty-five years ago. Although he may not completely believe what happened, Johnny has decided to film his movie about Marlena's possession by the devil!
DOOL Spoilers – The Possession was the darkest time Dr. Marlena Evans has ever faced!
But what Johnny doesn't know, at least not yet, is that the devil has returned. At first he possessed Doug Williams (Bill Hayes) but he has since moved back into a more familiar setting. He's back inside Marlena, and although she hasn't completely given in, it's only a matter of time. And he may not want all the secrets from his first possession to come out, so look for MarDevil to create as many roadblocks as she can!
Days of Our Lives Spoilers – Johnny DiMera won't stop until his movie is made!
The devil hasn't revealed his plans just yet, so its not yet knows how he feels about a movie about his defeat and banishment. But chances are he won't like it. He may resort to some of his previous tactics. Perhaps he will try to destroy all the sets, or cause harm to leading lady Abigail DiMera (Marci Miller). But Johnny won't give up, no matter how many bad omens the devil throws at him.
What do you think?
Will the devil want Johnny to make his movie? Or will he try to shut it down? Could he try to harm Abigail? Literally anything can happen in Salem so stay tuned to Days of Our Lives airing weekdays on NBC. And don't forget to check back right here regularly for all your Days of Our Lives news, information and spoilers!