Days Of Our Lives Two Week Spoilers: Devilish Discovery, Surprise Visitor, Shocking Decision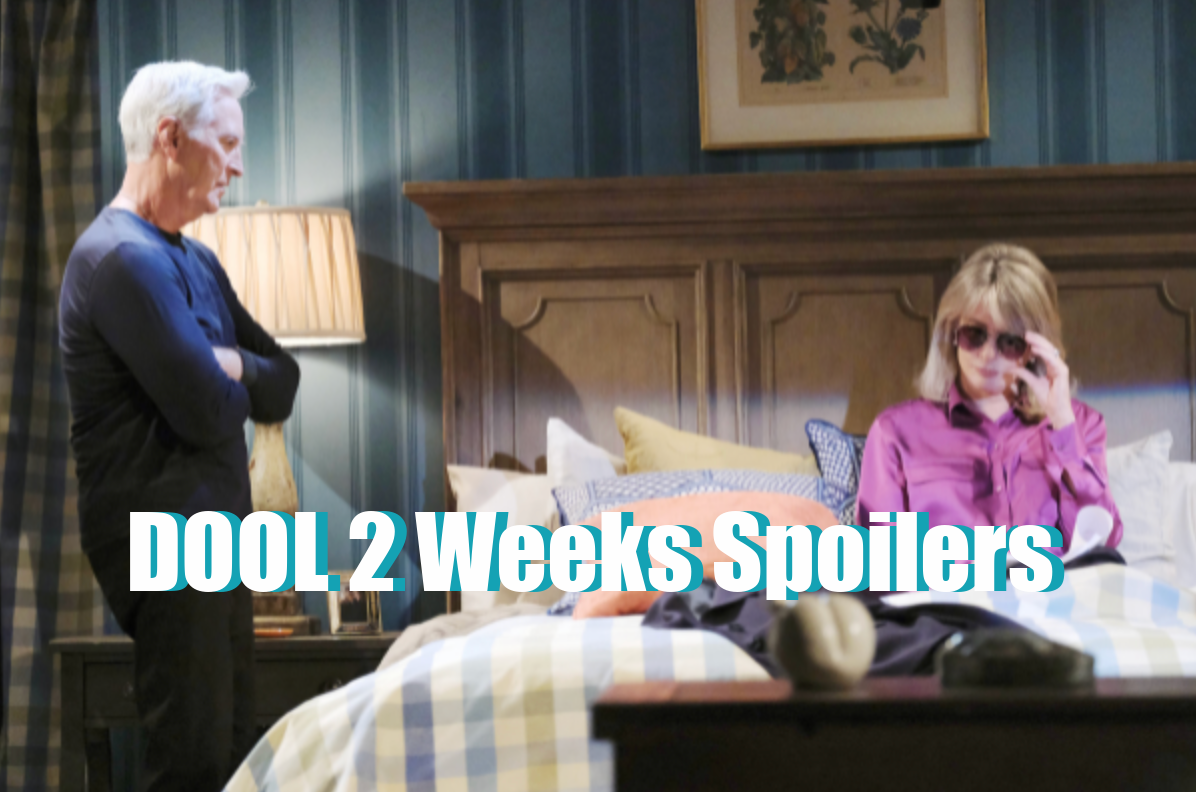 Days of Our Lives (DOOL) spoilers tease that for the next two weeks, the week of October 18 and October 25, there will be lots of devilish drama going on in Salem! Days Of Our Lives viewers should buckle up!
Days Of Our Lives Spoilers – Marlena Evans' Shocking Decision
Days of Our Lives spoilers for October 18 have Marlena Evans (Deidre Hall) making a shocking decision – she gives Johnny DiMera (Carson Boatman) the go-ahead on his movie. John Black (Drake Hogestyn) and Johnny are both shocked, and John will know something's wrong with "Doc". He'll make it his mission to find out exactly what, although he may suspect! Once the devil is fully in control of Marlena, there will be a very real threat to the citizens of Salem! Paulina Price (Jackeé Harry) will have a devilish dilemma on her hands also, when Abe Carver (James Reynolds) wants Marlena to officiate at their wedding. That's because Paulina spotted those yellow eyes and knows there's a demon in there! Longtime Days of Our Lives viewers will remember the havoc that Satan perpetrated through Marlena during her original possession!
DOOL Spoilers – Julie Williams Demands To See Doug Williams
Days of Our Lives viewers will also see Julie Williams (Susan Seaforth Hayes) demanding to see Doug Williams (Bill Hayes), who Marlena has put a no visitors order on at Bayview. Things will get ugly as Julie bears down on Marlena and demands visitor's rights! MarDevil will just batten down the Bayview hatches even more, and as Julie prays in the chapel, MarDevil plots to drown her in a vessel of holy water – ooh, Satan – that holy water's gonna burn you! It looks like she's interrupted before she can harm Julie though. Days of Our Lives viewers will also see Brady Black (Eric Martsolf) reach out to Chloe Lane (Nadia Bjorlin) who just got kicked out of the Kiriakis mansion. He'll invite her to move in with him. Days of Our Lives viewers can imagine what Philip Kiriakis' (Jay Kenneth Johnson) response will be, especially since Chloe was fed up with his jealousy and controlling ways and broke up with him!
Days Of Our Lives Spoilers  – Jake DiMera's Arrest
Days of Our Lives viewers will also see Jake DiMera (Brandon Barash) arrested after getting into a shootout with Carmine (Richard Stevens) who has come to Salem from Philly! Abe will take a bullet when he gets caught in the crossfire, and Jake will likely be blamed for the shooting since he'll be found trying to give Abe medical assistance. Elsewhere, Philip will get some motherly and brotherly advice from Kate Roberts DiMera (Lauren Koslow) and Lucas Horton (Bryan Datillo). They won't think that Philip should give up on Chloe so easily and tell him to let her have some space. After all, if you let something go and set it free, if it doesn't return it just wasn't meant to be. But it will prove to Chloe that Philip can be patient and not quite so controlling! Days of Our Lives viewers know Philip does have some control issues!
DOOL Spoilers – Roman Brady And Kate DiMera Go Back For Another Round
Also during the week of October 18 on Days of Our Lives, Roman Brady (Josh Taylor) and Kate go back for another round – of love, that is! After Kate's date with her sons at Brady's Pub she'll be a little worried when Roman isn't quite as nice or attentive to her as usual. She'll worry she has driven him off with all her indecision on being more than friends again, so she'll have a heart to heart with him as well. They'll decide to give their relationship another try! Steve Johnson (Stephen Nichols) will get an unexpected assignment – it looks like Victor Kiriakis (John Aniston) will hire him to track down Kristen DiMera (Stacy Haiduk)! The other half of Black Patch, John will be on an assignment of his own, snooping around in his wife's office to see what clues might be found as to what is going on with "Doc"! Days of Our Lives viewers can expect that his worst fears will be confirmed when he hears the devil's voice on the tape of Marlena's therapy session with Doug!
Days Of Our Lives Spoilers  –  Paulina Price And Julie Williams Bond
Days of Our Lives spoilers the week of October 25 find John playing the tape he found in Marlena's office for Marlena. By this time he'll really be dealing with the devil in Marlena, and Satan will have some post traumatic memories of Father John evicting him! Satan will fight hard to keep control of Marlena, and he won't think twice about taking John captive to do so! MarDevil will hold John hostage while she does the devil's bidding all over Salem! Longtime Days of Our Lives viewers will recall the devilish damage she's capable of! An unusual friendship will take place when Paulina and Julie bond. They really got off on the wrong foot when Paulina first came to town, but she's trying to make up for all that and Julie accepts her offer of friendship. Paulina just hopes she doesn't blow up holding in the secret that she's Lani Price's (Sal Stowers) birth mother and Abe isn't her birth father. Julie in particular would take umbrage at those life changing lies!
Days Of Our Lives Spoilers – Jake DiMera's Arrest
Last but not least, Days of Our Lives spoilers for the week of October 25 show that Jake will be arrested. As expected, he will be arrested for Abe's shooting, although Abe will make it through just fine. Rafe Hernandez (Galen Gering) will be put in the awkward position of interrogating Jake for the shooting, and Jake may have to come clean about his past. Rafe will certainly advise him of his Miranda rights, even though the arresting officer or officers certainly must have. It's hard to make charges stick if a suspect isn't read their Miranda rights, after all! As for EJ DiMera (Dan Feurreriegel) he'll get a surprise visitor – most likely his mama Susan Banks (Stacy Haiduk) – unless it's his sister Kristen impersonating his mother again! If it's really, really, really, Susan, Elvis John DiMera might hear the words "Shame, shame, shame on you, Elvis!" As Days of Our Lives viewers know, EJ has been quite the stinker lately!
Stay tuned to Days of Our Lives, and keep checking Days of Our Lives spoilers frequently for all the latest DOOL news, updates and developments!