Days of Our Lives (DOOL) Spoilers: Marlena's Eyes Glow After Devil Changes Bodies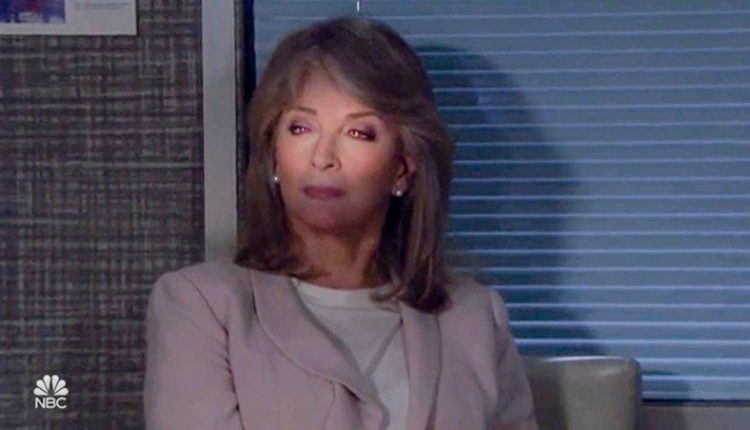 Days of Our Lives (DOOL) spoilers recap for Tuesday, September 21, reveals that Marlena Evans (Deidre Hall) eyes glowed after the devil changed bodies – and Sami Brady DiMera's (Alison Sweeney) text offered a "tied up" clue. Let's talk about all the drama that played out on Tuesday's shocking show.
In the town square, Johnny DiMera (Carson Boatman) grilled Sami over the phone about why she'd been so out of touch, but he quickly shifted gears and wanted to know about Marlena's possession. Johnny then began to hear static before the call dropped.
Chanel Dupree (Raven Bowens) teased Johnny about calling his mom and got updates on the text that followed. The message said Sami was sorry about the bad connection, but she warned Johnny not to call back since she was "tied up at the moment." It sounds like Sami's captor cracked a joke when he texted in his hostage's place!
Days Of Our Lives Spoilers – Chanel Found Out About Marlena's Possession
Once Chanel joined Johnny on the bench, she found out about Marlena's possession. Johnny mentioned The Exorcist and was stunned to learn Chanel had never seen it. He invited Chanel over to his place so they could rectify that by watching the movie together, but Chanel seemed a bit uneasy over the idea.
Johnny admitted he didn't have a great track record, but he liked Chanel and hoped she felt the same way. Chanel admired Johnny's passion for filmmaking and could relate to it due to her bakery, so she thought maybe they could pick up where they left off after all.
Meanwhile, Allie Horton (Lindsay Arnold) visited John Black (Drake Hogestyn), who assured Allie that of course the demonic possession story wasn't real. John acted like Sami embellished everything, so Allie thanked John since she could always count on him to tell her the truth. She was sorry for bothering John with this silliness, but he stopped Allie from leaving.
John confessed that he lied just now – that the story was all too real. His instinct was just to protect Marlena and his family since it was such a traumatic chapter, but it indeed happened. Allie learned that John performed the exorcism over 25 years ago and that it was ultimately the power of "Jarlena's" love that saved Marlena.
Allie could tell that it was still hard for John to tell the story after all this time. John felt they had to convince Johnny to pick another story to tell, so Allie realized this was about more than stirring up bad memories.
John worried they could be tempting the devil to come back. He suggested he didn't really believe it would happen after a quarter of a century, but he figured why take chances.
DOOL Spoilers – Lani Admits She Gave Abe Permission To Marry
At Paulina Price (Jackee Harry) place on Tuesday's Days episode, Lani Price-Grant (Sal Stowers) referred to her as "Grandma Paulina" and revealed that Abe Carver (James Reynolds) filled her in. Lani admitted she gave Abe her blessing to marry Paulina, but she had a couple conditions before she gave that same blessing to Paulina.
Lani didn't want Abe to get hurt and felt like Paulina had been a mystery her whole life. She didn't want all the lies and secrets getting in the way now. Lani also pointed out that she wasn't going to call Paulina "Mom" despite her eventual stepmom status, though she was happy to have her as Aunt Paulina.
Paulina was touched to get Lani's blessing and insisted she only wanted the best for her. When Paulina got choked up, Lani seemed surprised how emotional she was and embraced her.
Paulina talked about Doug Williams (Bill Hayes) grabbing her behind at one point – and later, Abe came home with a ton of food. When Paulina wondered why Abe bought so much, Abe mentioned that he'd invited John and Marlena over for dinner.
That news unsettled Paulina, who blurted out that Marlena couldn't come there! After Abe and Lani wondered why, Paulina fibbed that she wasn't her usual gregarious self and didn't feel like entertaining. Abe assured Paulina that was fine since John was dealing with some stuff anyway.
Afterward, Lani told Paulina she deserved to have a great life with Abe, but she intended to hold Paulina to her promise of no more secrets or lies. Paulina declared that she could tell Lani one truth: that she loved Abe and would move heaven and earth to make him happy. That was just what Lani wanted to hear, so they shared another hug on Tuesday's DOOL episode.
Back with Johnny, he convinced Chanel to accept his invitation to watch The Exorcist – though Chanel felt like she'd probably keep her eyes covered the whole time. Johnny joked that he wouldn't let the devil get Chanel and then made out with her just as Allie arrived.
Allie didn't seem thrilled about the pair kissing and making up, but she knew Chanel was a grown woman who could do what she wanted. As for the possession, Allie admitted she talked to John about it and confirmed the story was true.
At the hospital on Tuesday's Days episode, Julie Williams (Susan Seaforth Hayes) wondered what happened to Doug and questioned why Marlena was just standing there. Marlena eventually got down on the floor to check Doug's pulse and then called for help using the phone in her office.
In Doug's hospital room, Tripp Johnson (Lucas Adams) was confused over the EKG. He assumed Doug must've had a cardiac event, but there was no sign of it. Kayla Johnson (Mary Beth Evans) agreed it looked perfectly normal.
When Tripp moved close to the bed, Doug gripped his arm so tightly that Kayla had to help pry Doug's hand off. Doug's BP and pulse suddenly started dropping as his machine beeped like crazy, so Kayla declared that they were losing him.
Once Doug was stable, Kayla told Tripp that every moment was a blessing at Doug's age. They still didn't know what was causing Doug's issues, but Kayla suggested that sometimes they have to accept that they're not God and just pray.
Back with Marlena, she seemed sluggish and confused as she slowly thought back through what happened in her office. Marlena dished out bits and pieces of her session to Julie, who remained baffled over the whole ordeal and wondered what was wrong with Doug.
Julie later sat by Doug's bedside, where he opened his eyes and left her even more perplexed with his next comment. "He left me…he left me and went into her," Doug said before losing consciousness again – leaving Julie to ponder what that meant.
Once Marlena made it back to the townhouse, she told John that Doug gave them a good scare. Marlena suggested she was sure it'd turn out fine for everybody.
John said he was there for "Doc," so Marlena said she was there for him, too. As they hugged, Marlena's eyes glowed yellow to indicate she'd taken the deal and was now possessed by the devil.
We'll keep you posted as other Days details emerge. Days of Our Lives spoilers say Marlena's about to go off the rails, so don't miss what's next on the NBC soap. Soap Spoilers's where you want to be for fantastic Days of Our Lives spoilers, updates and news, so make us your favorite DOOL hotspot.