General Hospital Spoilers: Disorder In Court – Carly Removed From Courtroom At Nina's Hearing!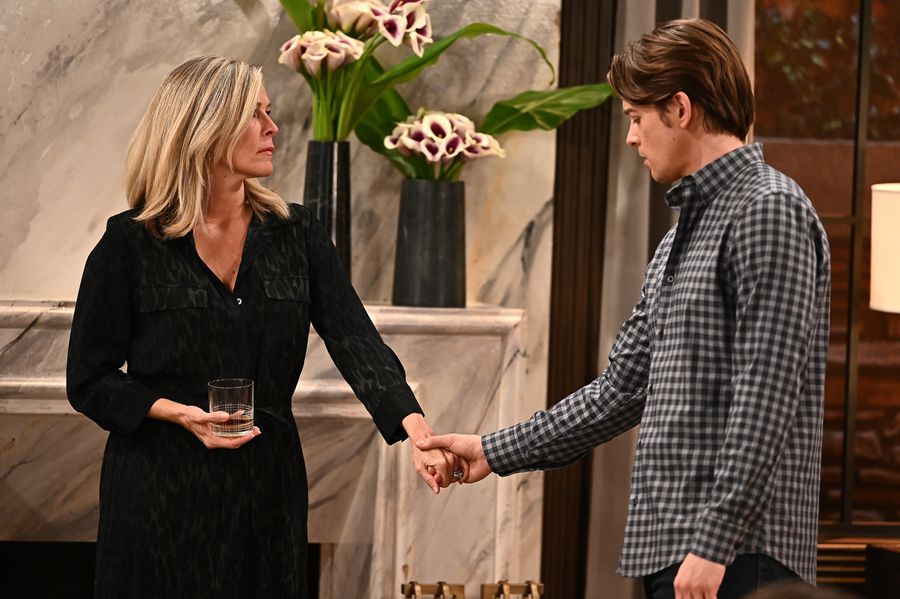 General Hospital (GH) spoilers and rumors tease that there could be disorder in the court as Carly Corinthos (Laura Wright) has to be taken out of the courtroom at Nina Reeves' (Cynthia Watros) hearing in an upcoming episode of General Hospital!
General Hospital – Scott Baldwin Has Compelled Sonny Corinthos To Testify
General Hospital viewers will recall that Scott Baldwin (Kin Shriner) has decided to force Sonny Corinthos (Maurice Benard) to testify at Nina's preliminary hearing, which of course Carly attends to make sure Nina goes down! In a recent episode of General Hospital, Liesl Obrecht (Kathleen Gati) had told Scott that she thinks Sonny and Nina were in love in Nixon Falls, and Scott decides to use that to try and get the case dropped before it goes any further.
The last thing Sonny needs is another illegality or criminal charge, and perjury in a court of law would be defined as such. Sonny will have to tell the truth, and just because he got his memories back as Sonny doesn't mean he doesn't have his memories of the nine or so months when he had amnesia and lived as Mike the bartender at the Tan-O! Viewers will remember it was "Mike" who put the moves on Nina, not the other way around, and she didn't let it get physical between them beyond a couple of passionate kisses! But there was definitely an affair of the heart between them!
GH – Michael Corinthos Will Likely Also Be There
General Hospital viewers know that Michael Corinthos, (Chad Duell) who was the one who made hefty campaign contributions to Llantano County, Pennsylvania District Attorney Richard Sheridan (David Jahn) to get him to prosecute Nina will also be present. It wouldn't make any sense if he wasn't – he's the one who got the ball rolling! Of course Michael will want to know what goes on at the hearing and like his mother, he'll want Nina to be prosecuted to the fullest extent of the law!
Michael and Carly's hatred of Nina for keeping Sonny away from them for nine months is equal; and so is their hunger for revenge! This way, Michael can also ensure that Nina will never see Wiley Corinthos (Viron Weaver) or approach him again. General Hospital viewers know that both Michael and Carly wish this was a death penalty case, but unfortunately, fraud and identity theft are not punishable by death!
General Hospital – Carly Corinthos Can't Control Herself From Racing Towards The Stand
General Hospital viewers will see Sonny testifying under oath that it is true that he and Nina had a relationship that could be described as romantic while he didn't have his full memory during the time in Nixon Falls! Carly's mind explodes, and she can't control herself from racing towards the stand! Not only does she want to strangle Nina, she wants to strangle Sonny and explodes with rage!
She shouts that Sonny lied to her about him and Nina, and although Michael does his best to channel his late uncle Jason Morgan (Steve Burton) and hold her back, it doesn't work! Liesl is there to support her niece and she and Scotty protect Nina as the judge shouts for order in the court; soon two deputies come and haul Carly out of the courtroom as the judge calls for a recess! General Hospital viewers can only imagine Nina trying to hold back from smirking and Sonny looking in shock at the scene before him as an out of control Carly is hauled out!
Stay tuned to General Hospital, and keep checking General Hospital spoilers frequently for all the latest news, updates, and developments!