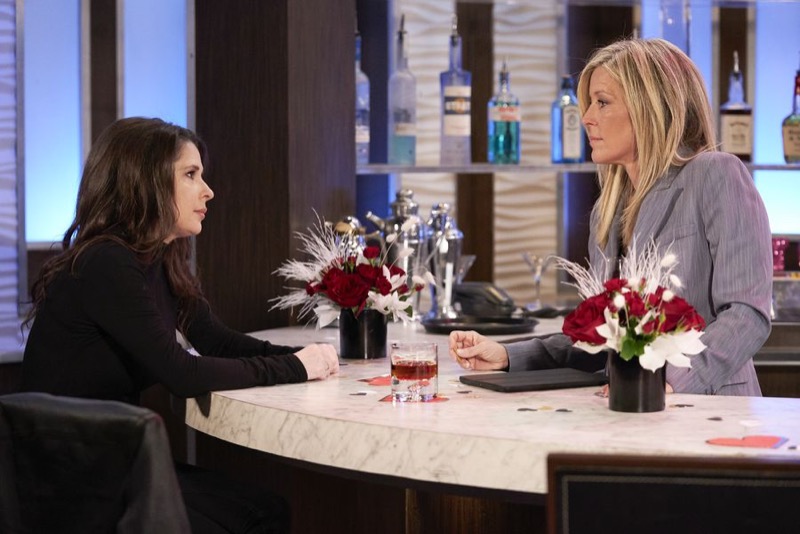 General Hospital spoilers reveal Carly continuing to aimlessly wander around Port Charles looking for anyone willing to lend her a sympathetic ear about her latest personal distress.
General Hospital Spoilers: Woe Is Me Carly Is On The Prowl
It looks like Carly Corinthos (Laura Wright) might have run out of people to tell her problems to because now GH is bringing in recurring day players who we barely see to prop her up and give her someone to whine to. We love Felix DuBois (Marc Anthony Samuel). We'd love to see Felix have his own storyline and on-screen romance. What we do not love is seeing him be used as a tell-to for Carly when they were never real friends to begin with.
And then there's Britt Westbourne (Kelly Thiebaud). The woman was telling Nina Reeves to go get Carly's man just a few weeks ago after Carly stole Britt's man last summer — remember Jason (Steve Burton)? Carly can't stop talking about him either — and on Valentine's Day, they were getting drunk together at The Savoy and doing shots. Make it make sense, GH.
Why Did Carly Run To Her Son? And Then SAM???
Did nobody else find it weird that the first person Carly wanted to talk to after finding Sonny Corinthos (Maurice Benard) in bed with another woman was her son? Who goes and tells their grown son about their father's sex life? There is something weird and inappropriate about that and basically sums up why Michael Corinthos (Chad Duell) is such a dysfunctional person.
And that scene at the Metro Court bar with Sam (Kelly Monaco)? Carly told Sam McCall that she walked in on Sonny in bed with another woman again. There he goes again, right Sam? Um, wasn't Sam one of the women Carly walked in on Sonny in bed with years ago? Wasn't that conversation a little awkward?
Shouldn't Sam have been worried about a kidnapped Maxie Jones (Kirsten Storms), her actual friend? Shouldn't Britt have also been worried about a kidnapped Maxie Jones? Is anyone worried about a kidnapped Maxie Jones or do they feel she can hold her own and Carly needs their attention more because Sonny cheated on her once again? Again, just make it make sense, GH, make it make sense. Stay tuned to General Hospital weekdays to see if Carly stops broadcasting her problems for all of Port Charles to hear.