The Young and the Restless Spoilers: Sharon Settled For Rey – Time To Move On With Chelsea?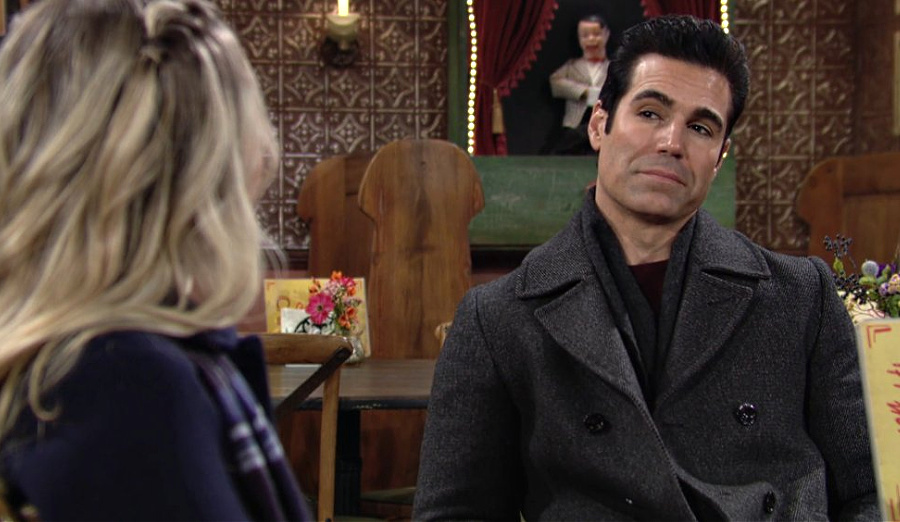 The Young and the Restless spoilers document that Sharon Rosales (Sharon Case) has settled for Rey Rosales (Jordi Vilasuso). That could be considered a harsh statement or an honest one, depending upon one's point of view into Genoa City, Wisconsin.
Rey has not settled for Sharon. He loved her since he first saw Case's legacy character at Crimson Lights. But he was married at the time.
That connection ended at a later point. Rey and Sharon allowed themselves to become involved and all has been well in recent months. But is that a good love match on Y&R?
Young And The Restless Spoilers – Adam Newman Was Annoying For A Long Time
Before he turned himself around, Adam Newman (Mark Grossman) was intent on pushing Rey's buttons. That was not smart, considering that Rey was married to Sharon, appears to be significantly stronger than Adam, and is a police officer.
Adam is a brilliant guy. But he has also behaved like a bratty high-schooler for many years. His infatuation with Sharon has not been one-sided.
Sharon loved Adam and married him in daytime days gone by. She also continues to be his defender. But they made a pact to stay away from each other and have been sticking to it for a while. So, Rey does not have much-forced interaction with Adam right now.
Young And The Restless Spoilers – Rey Rosales And Chelsea Lawson Destined To Connect?
The revenge play is predictable. If for some reason, Sharon gives Rey a reason to believe that she has betrayed his trust, especially if that involves Adam, then he could act out.
A vivid scenario could have him pursue Chelsea Lawson (Melissa Claire Egan). She is single, per Adam's choice, and knows that her ex-husband does not like Rey. So, a pairing that involves Vilasuso and Egan's characters could make sense.
Whether the unlikely friendship they have developed, following Chelsea having poisoned Rey while she was mentally off-balance, requires belief to be suspended. This pair eventually connecting, in a romantic sense, would be even more of a stretch.
Young And The Restless Spoilers – Sharon Rosales Has Loved Before
Rey is a meat and potatoes kind of guy. He is not her first true love. Nick Newman (Joshua Morrow) is that man. And Rey is not her most passionate flame, with Adam arguably holding that title.
At this stage of Sharon's life, she has settled down and wants peace of mind. Rey checks all of the boxes in terms of Sharon's needs. But if she does not love him completely or deeply, then this marriage will always be one episode away from danger.
This site is a leading source for everything linked to The Young and the Restless. Check back on Soap Spoiler regularly for Y&R spoilers and news!