The Bold and the Beautiful Spoilers: Taylor Positioned To Win – Brooke Loses Everything?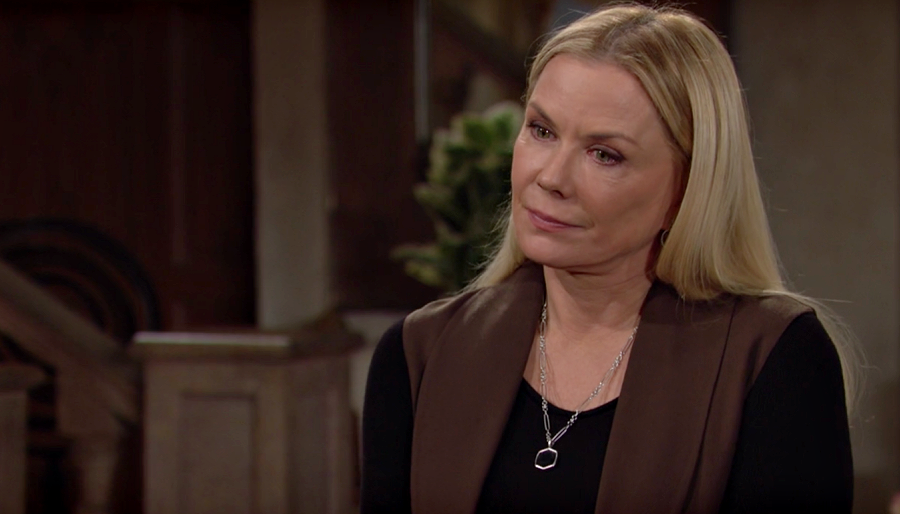 The Bold and the Beautiful spoilers document Taylor Hayes (Krista Allen) has played a smart game by not playing at all. In stark contrast, Brooke Logan Forrester (Katherine Kelly Lang) has played to type, which stands to end her run.
Steffy Forrester Finnegan (Jacqueline MacInnes Wood) is teased to secure the digital footage that proves Brooke not only cheated on Ridge Forrester (Thorsten Kaye) but also has developed a series of cover-up stories about the infamous night in question.
Bold And The Beautiful Spoilers – Constant Replays Highlight Frantic State
Brooke has incessantly thought about New Year's Eve since New Year's Day. She and the viewers have seen the same scenes replayed endlessly for a reason.
This problem, caused by Sheila Carter (Kimberlin Brown), resulted in Brooke not being in control of her faculties. However, if she had not agreed to allow Deacon Sharpe (Sean Kanan) at her house, then there would be no problem now beyond her sobriety breaking.
Bold And The Beautiful Spoilers – Gotcha Gives Steffy Forrester Finnegan A Weapon
The implication is that Charlie Webber (Dick Christie) will provide Steffy and Thomas Forrester (Matthew Atkinson) with evidence that shows Brooke and Deacon were together after Hope Spencer (Annika Noelle), Liam Spencer (Scott Clifton), Douglas Forrester (Henri Samiri), and Beth Spencer (Madeline Valdez and River Davidson) left for the cabin following the early celebration of 2022's arrival.
This gotcha moment will be epic. Steffy and Thomas, along with Charlie, will be taken aback by the brashness of what they witnessed. But context will be missing, as they will not know what vital role Sheila played.
Kudos to Christie for delivering comic relief. This outstanding character actor is always welcomed on B&B. Charlie is the poor soul. He is also quirky and fiercely loyal to the Forrester family.
Bold And The Beautiful Spoilers – Taylor Hayes Reunites With Ridge Forrester?
It seems too easy. Steffy and Thomas provide the scenes in question to their mother, she tells Ridge what was learned, and he goes ballistic.
Ridge will be devastated, along with being enraged. Deacon will certainly be targeted for a likely physical confrontation, as Ridge will be geared to blame him for what happened.
Brooke will seemingly have no ability to defend her actions and fall apart. Ridge will leave her and thank Taylor for helping to expose the truth and for caring about him.
But soap is not about straight-line dramatics. No, there are twists and unexpected events that make the genre fantastic, as is true of this well-written sequence of events that has been playing out since the annual calendar changed.
This site is a leading source for everything linked to The Bold and the Beautiful. Check back regularly to Soap Spoiler for the hottest B&B spoilers and news!