General Hospital Spoilers Next 2 Weeks: Surprising Testimony, New Mysteries, Shocking Changes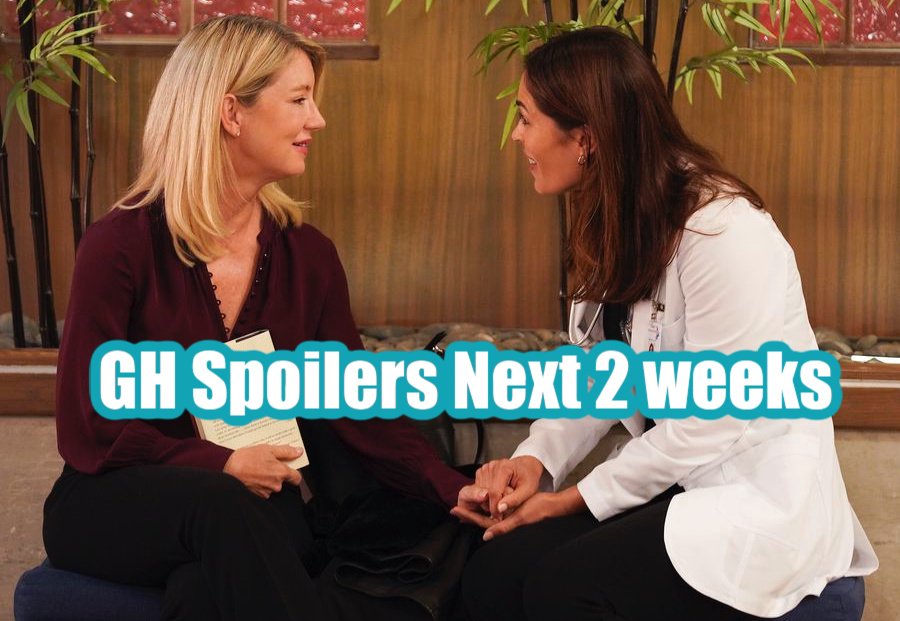 General Hospital spoilers for the next two weeks, December 20-December 31 tease some exciting drama and new mysteries for General Hospital viewers as well as surprises and shocks! Let's see what's in store!
General Hospital Spoilers – Scotty Frets, Laura Doubts
General Hospital spoilers for December 20-24 have Scott Baldwin (Kin Shriner) fretting about his plan of action to get Nina Reeves (Cynthia Watros) charges dropped, as her preliminary hearing draws near. He and Liesl Obrecht (Kathleen Gati) sit in the Metro Court and talk about it as they get ready to order lunch. Scott's at a loss until Liesl tells him about the conversation she and Nina had about her Nixon Falls, Pennsylvania boyfriend named "Mike" who she's pretty sure now was Sonny Corinthos (Maurice Benard)!
Scott spits out his drink he's so shocked at what he's hearing, but it gives him a plan of attack in court! Meanwhile, General Hospital viewers will also see Laura Collins (Genie Francis) make a surprise Christmas visit to her half-brother Cyrus Renault (Jeff Kober) in the Midwestern prison where he's been incarcerated for the last several months. Laura might pull a motherly "you don't believe that yourself!" in response to what she'll consider to be a very tall tale from Cyrus, who claims he's a new man, having gotten religion!
He'll also tell her that he wasn't behind the attack on her and Martin Grey (Michael E. Knight) and that the danger is still out there and they need to watch their backs! Even if she does believe him just a little bit, she'll suspect if it wasn't Cyrus behind the hits and the attack, then it must be Victor Cassadine (Charles Shaughnessy)!
GH Spoilers – Spencer Bonds With Victor
General Hospital viewers will also see Spencer Cassadine (Nicholas Chavez) bond with Victor, starting with a surprise encounter – surprise for Spencer, not for Victor – at Kelly's during Spencer's shift. Victor offers to help Spencer with something, according to Monday, December 20's General Hospital preview. Grandma Laura wouldn't like that idea at all, since she knows Victor from years ago when she was still married to Stavros Cassadine (most recently Robert Kelker-Kelly) on Cassadine Island! She figures once evil, always evil, and a definite danger to both Spencer and her son, Nikolas Cassadine (Marcus Coloma)!
Santa Claus also comes to Port Charles this week, along with the annual tree lighting ceremony in Rice Plaza. Santa Claus will bring with him a surprise reunion, so it sounds like Santa Claus' true identity might be the big surprise! Everyone would expect Martin to show up back in Port Charles since Laura will be there also, so it will be interesting to see who this surprising reunion will include!
Spencer Frustrated
General Hospital Spoilers December 20-24 also tease that Spencer will be frustrated! He'll spy with his little eye Trina Robinson (Sydney Mikayla) in a conversation with his dad, which will make him think the two are plotting against him! Spencer will feel betrayed, since he views his dad as his enemy these days for staying with Ava Cassadine (Maura West). Trina will think he's overreacting when he lashes out at her, but she'll definitely be offended! Also during the week of December 20, General Hospital viewers will see both the Quartermaines and Alexis Davis (Nancy Lee Grahn) have Christmas parties, but Alexis' will again turn into Cassadine chaos with a similar scenario; maybe Victor's plan with helping Spencer will play out! Brando Corbin (Johnny Wactor) will stay close to Sasha Gilmore's (Sofia Mattsson) side as she's released from General Hospital, and the couple will definitely not have a merry Christmas as they grieve their newborn, Liam Mike Corbin (uncast infant).
General Hospital Spoilers – Marshall Meets A Lovely Lady
Finally, during the week of December 20, Marshall Ashford (Robert Gossett) will do some volunteering at General Hospital, and meet a lovely lady! General Hospital Head Nurse Epiphany Johnson (Sonia Eddy) will catch his eye, and it looks like he might engage in a little flirting! That might take Epiphany by surprise, but is she ready to move on from her previous long term relationship with Milo Giambetti (Drew Cheetwood)?
The occasionally gruff Epiphany might find herself balanced out by the seemingly mellow Marshall! Elsewhere, Cameron Webber (William Lipton) and Josslyn Jacks (Eden McCoy) will find themselves interrupted – possibly in a romantic moment! Josslyn will cancel some plans with Cameron, which might make him feel a bit snubbed, but she might feel she has to intervene in a crisis Spencer is having! Viewers should also remember that Friday, December 24's episode is a rerun.
GH Spoilers – Sonny's Surprising Testimony
General Hospital spoilers from December 27-31 have a surprise witness show up on the stand at Nina's preliminary hearing, and all roads point to it being Sonny Corinthos! Remember, Scott is going to use his intel from Liesl about "Mike" and Nina's Nixon Falls romance to try and get the case kicked out of court. It only makes sense for him to call Sonny as a witness and grill him about their relationship while in Nixon Falls! Sonny has those memories as well as having recovered his own!
Carly Corinthos (Laura Wright) is bound to be in court and possibly both Sonny and Nina will be on the hot seat from Carly! She won't like it that Sonny's been a big of a liar as Nina, by not telling all, and now there's no Jason Morgan (Steve Burton) to hold her back from physically ripping into both of them! General Hospital viewers know Carly's a loose cannon and there's no telling how she'll react! Back in Port Charles, Drew Cain (Cameron Mathison) and Curtis Ashford (Donnell Turner) will start on a deep dig investigation into Marshall, even though Drew has told Curtis he's a little too close to be objective.
However, Drew might need some details of what happened when Marshall disappeared and even a funeral was held-obviously with a closed casket-when Curtis and his brother were little boys. Drew as well as Curtis will likely drill Stella Henry (Vernee Watson) on what else Curtis' dad might be hiding!
Marshall Has A Question For Epiphany
General Hospital spoilers from December 27-31 bring a question from Marshall for Epiphany, which might be a question about if she'd like to go on a date with him! Epiphany might agree to a cup of coffee in the General Hospital break room, but she'll want to get to know Marshall better before she commits to any more, more than likely. Also during the week of December 27-31 Leo Falconeri's (Easton Rocket Sweda) autism screening results will come back, which might make his mother Olivia Quartermaine (Lisa LoCicero) even more nervous than the screening evaluation itself did!
She and Ned Quartermaine (Wally Kurth) will go to General Hospital to discuss the results while Brook Lynn Quartermaine (Amanda Setton) keeps an eye on Leo. Also, Britt Westbourne (Kelly Thiebaud) will receive a special belated Christmas present from her mother Liesl. Friday, December 31 is also a rerun.
Stay tuned to General Hospital, and keep checking General Hospital spoilers frequently, for all the latest news, updates, and developments!