The Young and the Restless Spoilers: Mysterious Stranger Stalking Billy – Adam Being Fed False Information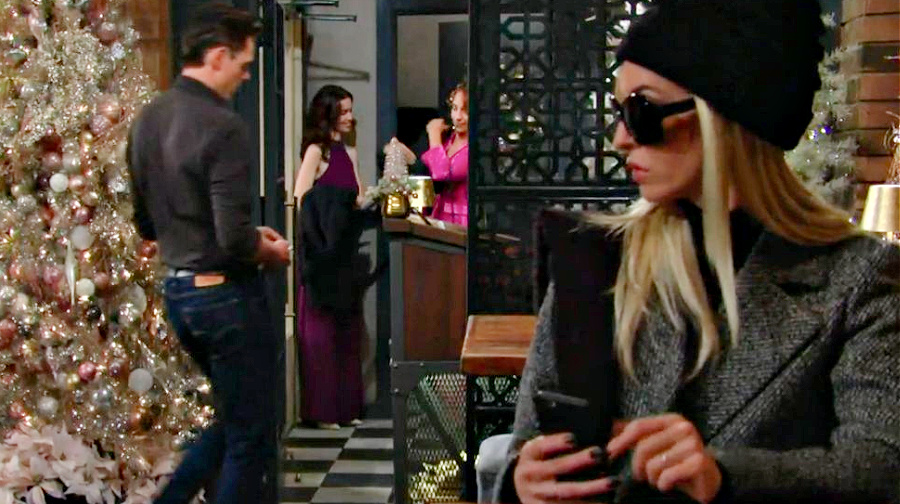 The Young and the Restless spoilers document that a mysterious stranger is stalking Billy Abbott (Jason Thompson). There is a plethora of women in his past who are comeback candidates for reasons that too vast to define.
The lady in question, who was most recently seen at Crimson Lights, is cloaking her identity and appears to be wearing a wig. She also is wearing oversized glasses to guard against Billy's facial recognition. Of course, TPTB do not want the audience to see her either.
This mystery character seems to be the person who is sending Adam Newman (Mark Grossman) public video of Billy. Thompson's character noticed the woman when she entered Crimson Lights but did not pay much attention to her other than that.
Young And The Restless Spoilers – Billy Abbott Is Paying To Be Watched
Billy is going to extreme lengths in playing a role. His goal is to lure Adam, Victor Newman (Eric Braeden), and Ashland Locke (Richard Burgi) into believing that he is crashing.
The plan is rather clever, as it includes public performances where Billy has himself drinking. But he revealed to the audience that his liquids were non-alcoholic.
The above makes it fair to ask if Billy is paying someone to trail him, take video, and forward it to an eager Adam?
Young And The Restless Spoilers – Amber Moore Last Seen Eight Years Ago
Amber Moore (Adrienne Frantz) was last seen on Y&R in 2013. That was the year Katherine Chancellor (the late, great Jeanne Cooper) died.
Frantz's character crossed over from The Bold and the Beautiful in 2006 after being on the sister soap for several years. The actor won a Daytime Emmy Award, in the Outstanding Younger Actor in a Drama Series category, in 2001.
Billy was romantically involved with Amber many years ago, long before Thompson held this role. Her name is mentioned because the woman who came into the coffee house somewhat resembles Amber. But the disguise that person is wearing makes it hard to tell, as it could be almost anyone.
Young And The Restless Spoilers – Adam Newman Connects With Source
Adam can not have hired the lady in question. Although, a man could be in disguise as well.
It would be a mind-bender if this mystery character was not hired by Billy either. If that proves out, then who is she, and want is this person's goal on Y&R?
This site is a leading source for everything linked to The Young and the Restless. Check Soap Spoiler regularly for Y&R spoilers and news!