The Bold and the Beautiful Spoilers: If Brooke Demands Ridge Accept Deacon, Then She Must Accept Taylor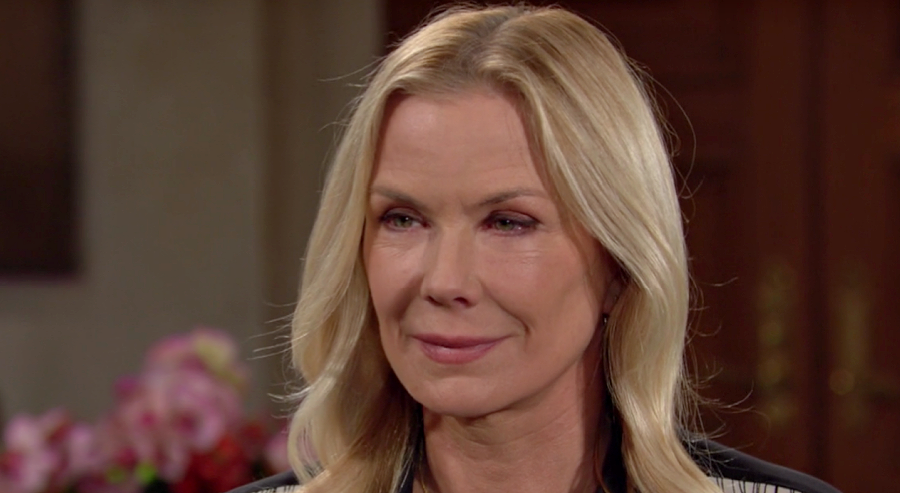 The Bold and the Beautiful spoilers document that Brooke Logan Forrester (Katherine Kelly Lang) made a hard decision. Ridge Forrester (Thorsten Kaye) has the opportunity to make a choice now as well.
Brooke told her husband that her daughter, Hope Spencer (Annika Noelle), has a right to see her father, Deacon Sharpe (Sean Kanan). That will happen on the property that Brooke owns. So, Ridge's eviction order was thrown out of Bridge's court.
However, as B&B fans have seen, a new soapy wrinkle appeared just as the above was playing out. Taylor Hayes (Krista Allen) is back. That gives Ridge an option he did not have before.
Bold And The Beautiful Spoilers – Shauna Fulton Represented An Emotional Fling
Devoted fans recall that Shidge never materialized. Ridge was attracted to Shauna Fulton (Denise Richards). But his fondness for Richards' likable character never developed into love or anything other than the faux marriage on the strip in Las Vegas, Nevada.
So, Shauna proved to be a distraction or an emotional fling. Shidge happened because of tension with Brooke.
Steffy Forrester's (Jacqueline MacInnes Wood) assessment of Bridge as constantly being impacted by Brooke's drama is biased in favor of her dad. However, she is arguably not far off the mark.
Bold And The Beautiful Spoilers – Deacon Sharpe Conceals Full Plan
Deacon is being honest in saying that he wants a relationship with his daughter. Hope wants the same and recognizes that her dad is being sincere.
As viewers have seen, Deacon told Sheila Carter (Kimberlin Brown) and Brooke, in lesser detail, that he has another goal. Kanan's character has unresolved feelings for Brooke, and he wants another shot with her.
Brooke does not love Deacon. But she also has not denied that their connection was intense. It represents her regretted backstory, whereas Deacon sees Beacon as the best pairing he ever had.
Bold And The Beautiful Spoilers – Too Late To Resolve Issues?
Ridge absolutely will not accept Deacon being around his wife. Brooke wants to believe that time will allow Ridge to realize that Deacon is not a threat.
Deacon loves that Ridge is jealous and acting out as a result. The plan is to allow the man who divorced Brooke seven times to follow that pattern to an eighth break.
Taylor's reappearance and her status as Brooke's nemesis means that the daytime dynamic has changed. Good soap is served well done.
This site is a leading source for everything linked to The Bold and the Beautiful. Check back on Soap Spoiler regularly for B&B spoilers and news!