Days of Our Lives Spoilers: Susan Forced To Do The Devil's Work – Steve Left In Shock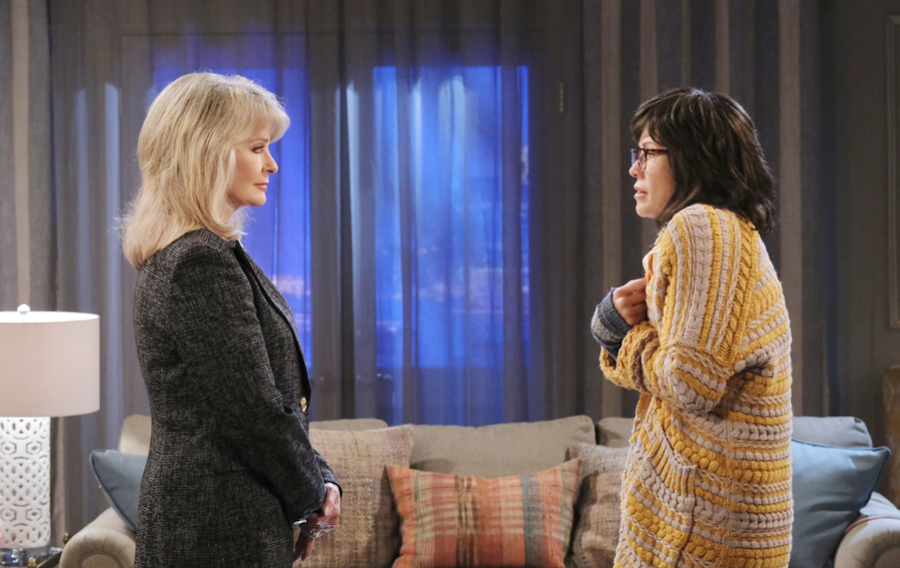 Days of Our Lives spoilers say that John Black (Drake Hogestyn) and Susan Banks (Stacy Haiduk) are fighting for their lives after Marlena Evans (Deidre Hall) announces her demonic plan to kill them both. It's a fight to save their lives as Susan is forced to come up with a plan that will help both of them see the end of the day. Keep reading for all the spoilers you need to know.
Days of Our Lives Spoilers: Susan Forced To Do The Devil's Work – Steve Left In Shock
In the latest edition of Soap Opera Digest, Stacy Haiduk, who plays Susan on the hit NBC soap, says in an interview with Soap Opera Digest that her character doesn't feel totally helpless in this fight against evil in Salem. Susan is afraid, but she believes she can take on the devil. Haiduk put it this way, "She has this feeling that she can really do it, that she can fight the devil off. Susan has this innate passion to protect John and Marlena, so she's willing to get through her fears and deal with this. In her mind, she is going to beat the devil and get Marlena back."
With that said, Days of Our Lives spoilers preview that Marlena says John will die first, but has Susan spilling his blood instead. This puts Susan in a difficult situation because she doesn't want to hurt the two people that she loves so much in her life right now. 
Haiduk adds that her character is definitely in panic mode. "She doesn't know what to do. She can't let her son, her EJ, die and be taken back to hell by the devil. She knows the devil and how dangerous he can be. In Susan's mind, she's thinking, 'I"ve got to come up with something. She doesn't want anything to happen to her EJ, but she doesn't want to hurt John either. So she's really at a crossroads," she said.
Days of Our Lives Spoilers: Who Will Live And Who Will Die?
DOOL spoilers also says that Steve Johnson (Stephen Nichols) arrives after his bizarre encounter with Marlena on Halloween and decides to break into the crypt. However, he is shocked by what he sees. Needless to say, Susan took matters into her own hands and is doing some of the devil's work in the hopes that it will work for her. Of course, Days of Our Lives fans will have to tune in to find out what will happen next!
Be sure to catch up with everything on DOOL right now. Come back here often for Days of Our Lives spoilers, news and updates.