Days of Our Lives Spoilers: Julie's Bittersweet Reunion, Doug Too Drugged to Communicate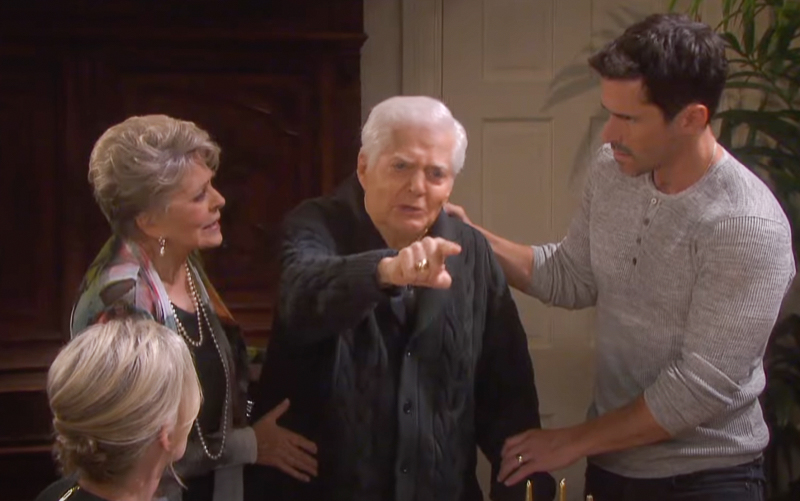 Days of Our Lives (DOOL) spoilers reveal that Belle Brady (Martha Madison) wins her court case against Marlena Evans (Deidre Hall). Belle is able to convince a judge that Doug Williams (Bill Hayes) should be allowed to spend Thanksgiving at home with Julie Williams (Susan Seaforth Hayes). However, Doug is too drugged to communicate.
Julie Williams' Legal Action
DOOL spoilers reveal that Julie has tried everything to get at least a visit with Doug while he is in Bayview. Unfortunately, Marlena aka "MarDevil" has blocked every single attempt. Fed up and frustrated, Julie asked Belle to sue Marlena. Despite Marlena being Belle's mother and Julie signing over power of attorney, the lawyer takes the case.
DOOL Spoilers: Belle Brady Wins
According to the November 29 issue of Soap Opera Digest, Belle and Julie win the court case. While a judge doesn't order Doug to be released from Bayview and Marlena is still in charge of his care, there is a victory. A judge rules that Doug be released on a home visit for Thanksgiving.
Doug Williams Home for Thanksgiving
Days of Our Lives spoilers reveal that during the week of November 22, Doug and Julie are finally reunited. Doug comes home for Thanksgiving, but it is bittersweet. With Marlena still in charge of Doug's medical care, she makes sure that he can't reveal anything that is going on – including Marlena being possessed by the devil again.
Days of Our Lives Spoilers: Too Drugged to Communicate
Actress Susan Seaforth Hayes told the magazine, "Julie's deeply concerned. He's not speaking at all. He is heavily medicated and not himself. It is every loving wife's worst nightmare. Julie is trying to connect with Doug. She even sings to him, 'I'll Be Loving You, Always', which was Tom [Horton, Macdonald Carey] and Alice's [Horton, Frances Reid] song."
However, things go from bittersweet to sad to terrible. Marlena suddenly shows up at the Horton house in a rage. Doug is dragged out of his own home on Thanksgiving. Not only is he taken back to Bayview on Thanksgiving, but right smack in the middle of a special toast by Julie. When will the truth come out and can Doug be saved before the devil decides to get rid of him permanently?
What do you think of Julie and Doug's current storyline? What is Julie's next move going to be after Marlena drags Doug back to Bayview in the middle of Thanksgiving dinner? Why hasn't Marlena been removed from being in charge of Doug's care? Let us know your thoughts and keep watching the NBC soap to find out what happens next.
Be sure to catch up on everything happening with DOOL right now. Come back often for Days of Our Lives spoilers, news and updates.