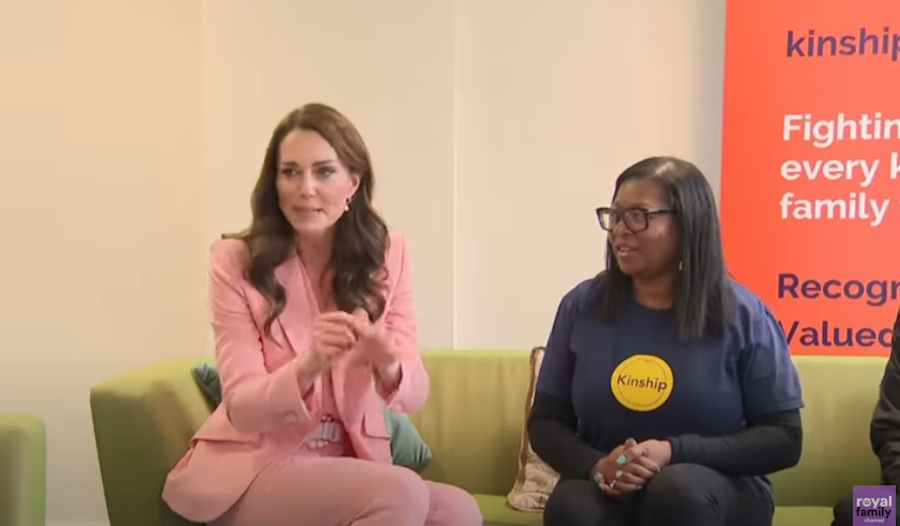 It looks like someone might be taking a page out of the other person's royal style book – or vice versa! Apparently, a lot of people just couldn't help but notice that Kate Middleton wore an outfit that was almost identical to what Meghan Markle wore just a few weeks back. Keep reading below to find out why.
Royal Family News: Is Kate Middleton Copying Meghan Markle's Style Again?
It seems like everyone is pretty in pink these days and that's not such a bad thing, right? For one of her royal engagements in London on Wednesday, Kate Middleton wore a pink blazer that she matched with pink trousers. It didn't take very long for royal style watchers to point out that her sister-in-law Meghan Markle also wore a pink blazer when she went to an LA Lakers game with Prince Harry only a few weeks back. 
Of course, many royal fans sure did have a lot to say about the matter. Some have commented with, "Kate Middleton's look is tailored, pressed and fitted properly. Meghan's isn't. Meghan can look nice when she puts effort into it but it's almost like she did that on purpose to get attention. She got attention but in a bad way," along with, "Reminds me of how Diana and Sarah Ferguson were always compared, Diana, like Kate, could wear a bin liner and still look stunning! You can't make a silk purse from a sow's ear."
Royal Family News: The Royals Are Pretty In Pink
Another critic wrote, "Kate Middleton already wore this suit in June 2022 at the Royal Institution before Meghan's wrinkled mess at the Laker's game! The squad needs to find a way to donate an iron and steamer to Montecito, she honestly looks like she slept in that outfit. One of these ladies owns an iron and one of these ladies does not."
And then there was this comment, too: "The Princess of Wales looks elegant, stylish and chic. She makes it look effortless. Meghan on the other hand looks like a mess. Clothes that don't fit well, not flattering to her figure and need an iron desperately. It's like all of those memes of what you ordered and what you got."
Tell us celebrity gossip fans, how do you feel about this story? Contribute to the buzz by dropping us a line with your thoughts in our comments section below. Also, come back here for all the latest news about your favorite Hollywood and reality television stars right here.