Days of Our Lives Spoilers: Satan Blames Theo, Ben and Ciara's Shocking Accusation?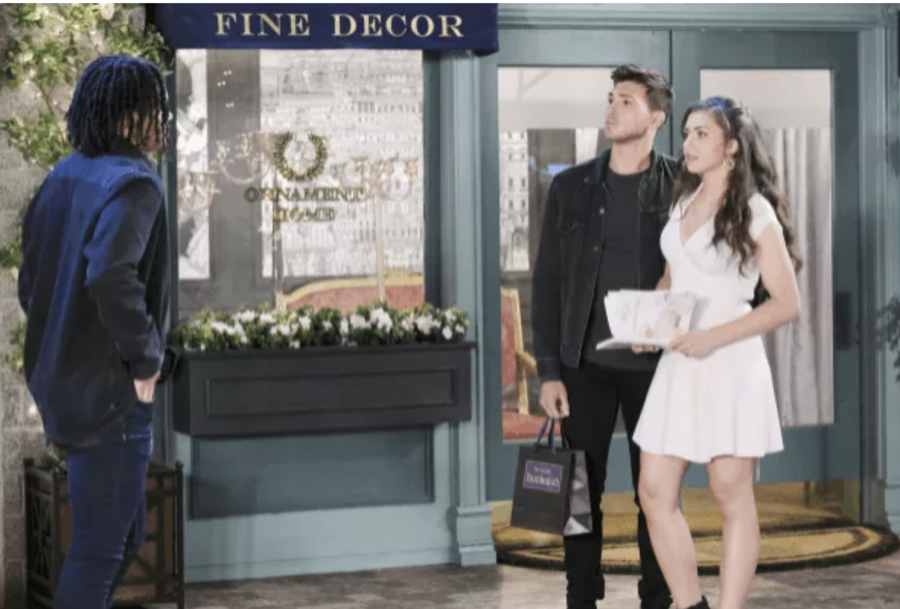 Days of Our Lives (DOOL) spoilers reveal that Ben Weston (Robert Scott Wilson) and Ciara Brady Weston (Victoria Konefal) are focused on who is a threat to their unborn child. As the devil appears as both Susan Banks (Stacy Haiduk) and Marlena Evans (Deidre Hall), Theo Carver (Cameron Johnson) could be used to keep "CIN" from the truth.
Theo Carver's Apology
DOOL spoilers reveal that Theo came to Salem to check on Abe Carver (James Reynolds), who was shot. Now that Theo knows his father is going to make a full recovery, he's catching up with everyone in Salem. Theo had a heartwarming talk with Lani Price Grant (Sal Stowers) before running into Chanel Dupree (Raven Bowens) and Johnny DiMera (Carson Boatman). Then, Theo saw Ben and Ciara, who were walking while flipping through a pregnancy book.
According to Soap Opera Digest, Theo will apologize to Ben and Ciara.
DOOL Spoilers: Susan Banks Impersonated
Meanwhile, Susan is put in the DiMera crypt with John Black (Drake Hogestyn). While the two try to find a way to escape, "Susan" helps Ciara figure out who is a threat to her baby. Susan can't be in two places at once and is already possessing Marlena. However, the devil did mention being able to appear as other people. So, the devil must impersonate Susan to make sure Ben and Ciara don't figure out the truth.
Marlena Evans Thwarts Investigation
Days of Our Lives spoilers reveal that "MarDevil" can't undo what Susan said to Ben and Ciara. However, the evil entity can take the focus off of herself and send "CIN" down the wrong path. If accusing the wrong person of being a threat to the baby will cause drama, then that will be a bonus for Satan. So, it only makes sense that the devil would use the existing tension between Theo and Ben to create more problems.
Although Ciara might initially dismiss that Theo could be any threat, "MarDevil" could bring up his broken heart. Since Ciara doesn't realize that Marlena isn't herself, she has no reason to doubt the psychiatrist.
Days of Our Lives Spoilers: 'CIN' Connect the Dots
Ben and Ciara might initially accuse Theo of having bad intentions, but they will soon connect the dots. Others could help "CIN" figure out this mystery, too. John and Susan might be locked up, but Steve "Patch" Johnson (Stephen Nichols) will share his suspicions with Kayla Johnson (Mary Beth Evans). Ciara and Kayla could discuss Marlena's odd behavior during a prenatal visit.
Then, there is Belle Brady (Martha Madison), who knows something isn't quite right with her mother. Will she figure out the truth and help save Marlena, baby "CIN" as well as the entire town of Salem?
Be sure to catch up on everything happening with DOOL right now. Come back often for Days of Our Lives spoilers, news and updates.