General Hospital Spoilers Next 2 Weeks: Chaos, Mob Power, Shocking Discovery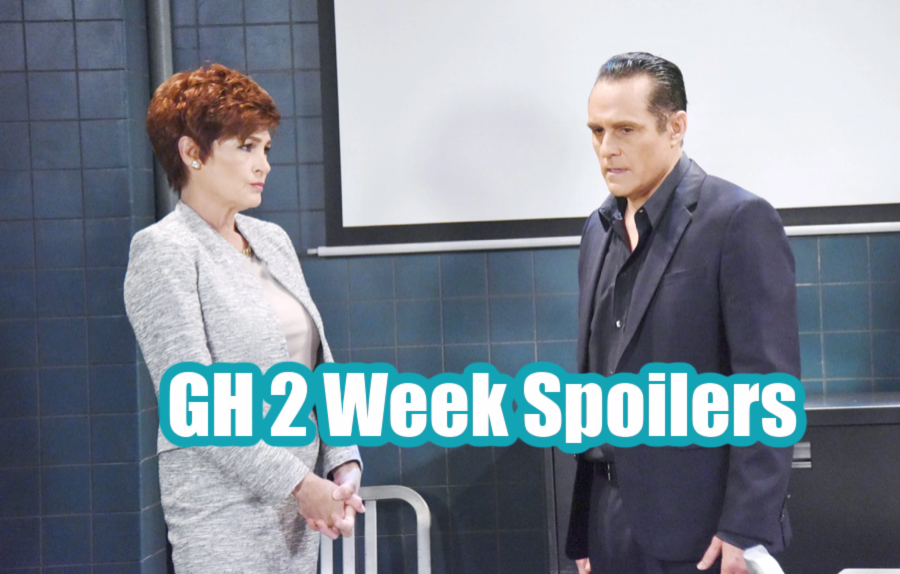 General Hospital (GH) spoilers for the next two weeks, November 8-12 and November 15-19 tease exciting drama for General Hospital fans as the Cassadine Island chaos continues, and shocking discoveries are made!
General Hospital Spoilers – Carly Corinthos' Craving For Power
General Hospital spoilers from November 8-12 will find Cassadine Island in chaos as Jason Morgan (Steve Burton) teams up with Drew Cain, (Cameron Mathison) who at least temporarily has overcome his activation. They plot to take down Peter August, (Wes Ramsey) but he'll stage a power play to show he's the one in charge! Hopefully, Drew's love for his daughter Scout Cain (Ella Ramcieri) will continue to be his focus as he fights his programming!
Meanwhile, back in Port Charles, General Hospital viewers will see that Diane Miller (Carolyn Hennesy) will suspect that Carly Corinthos (Laura Wright) will think that Carly perhaps has developed a taste for power of her own, and that would be mob power! Sonny Corinthos (Maurice Benard) is home now, but perhaps with Jason gone she'll want to be equally in charge with Sonny!
General Hospital Spoilers – Maxie Jones And Brook Lynn Quartermaine Conspire
General Hospital spoilers from November 8-12 also tease that Maxie Jones (Kirsten Storms) and Brook Lynn Quartermaine (Amanda Setton) will conspire as part of a new plan to keep baby Louise Jones/Bailey Quartermaine (Harper and Scarlett Bloom) safe. They'll recruit the Metro Court bartender, Kip Morris (Artie O'Daily) to play a part in their plan to keep Gladys Corbin (Bonnie Burroughs) from running her big mouth about what she knows about the baby, namely that Valentin Cassadine (James Patrick Stuart) isn't her father!
Kip will play a key part, undoubtedly since he's also a part-time actor, but Austin Gatlin-Holt (Roger Howarth) gets more suspicious about exactly what Gladys is threatening to spill and he might send that plan down like a lead zeppelin! General Hospital viewers will also see Sonny make an offer to Phyllis Caulfield (Joyce Guy) that he hopes she won't refuse. He recently bought Charlie's Pub from Ava Cassadine (Ava Jerome) and he hopes to gift it to Phyllis, since working in a hospital was no longer something she wanted to do.
General Hospital Spoilers – Austin Gatlin-Holt Delivers Some Intel To Valentin Cassadine
Also during the week of November 8-12, General Hospital viewers will see Josslyn Jacks (Eden McCoy) confide her plans to take a big step to Trina Robinson (Sydney Mikayla) while Esme Prince (Avery Kristen Pohl) will scheme to interfere with it! General Hospital viewers will recall from recent episodes that Joss and Cameron Webber (William Lipton) think it's time to lose their virginity to each other, if they can only get a private time and place!
Meanwhile, Esme will scheme to get right up in the middle of Cameron and Josslyn, and she'll see why Trina warned her about her motivations – Trina thinks it's more about one upping Esme and Spencer Cassadine (Nicholas Chavez) then showing her commitment to Cam! Esme will also confront Trina at the Jerome Art Gallery, where she'll blame her for causing Spencer to walk away from his princely Cassadine legacy – and money! Austin will find out some interesting intel also, and he'll deliver it to Valentin, feeling that he has the right to know! The baby bombshell may not quite drop yet, but Austin's definitely putting two and two together!
General Hospital Spoilers – Curtis Ashford's Shocking Discovery
During the week of November 15-19 on General HOspital, there will be some shocking discoveries as well as shocking news, as Curtis Ashford (Donnell Turner) will get an unexpected visitor at The Savoy and Robert Scorpio (Tristan Rogers) will have shocking news for Valentin and Anna Devane (Finola Hughes)! Curtis' mystery man Marshall (Robert Gossett) will send Curtis into a tailspin when he realizes he's his not so dead father whom he hasn't seen since he was a tot! General Hospital viewers can expect that Curtis will almost certainly want some answers from dear old "dead" old Dad! As for Robert's shocking news, it will likely have to do with the happenings over on Cassadine Island, or it could be that he's finally teased out some information they can use from Victor Cassadine (Charles Shaughnessy)!
General Hospital – Gladys Corbin's Stunning Discovery
Also on General Hospital during the week of November 15-19, Detective Harrison Chase (Josh Swickard) will have some suspicions about baby "Bailey" and he won't buy Brook Lynn's story! General Hospital viewers will remember several weeks ago that Chase found it strange that Bailey didn't look like either one of her parents, and his detective brain has been trying to figure out why ever since! As for Gladys, she'll make a stunning discover of her own, and she'll pressure Brook Lynn for more to keep her big trap shut!
It sounds like whatever they got Kip to do concerning Gladys didn't work and she saw through the plot! Maxie will find it more and more difficult to answer Austin's questions about the baby, and Chase will likely figure out that Bailey is really Louise, hiding in plain sight! But it will likely be more important to Chase to keep the baby safe, so he might understand the plan and play along. Gladys will be closer to telling Valentin the truth, or at least the part she knows, but he too would put keeping the baby safe from Peter ahead of his own disappointment that the sweet little bundle really isn't his! Also on General Hospital, Trina's first art show at the Jerome Gallery featuring the National Geographic Photo Ark and photographer Joel Satore, will kick off! However, an unexpected guest may arrive when Sasha Gilmore, (Sofia Mattsson) unexpectedly goes into labor while attending it!
Stay tuned to General Hospital, and keep checking General Hospital spoilers frequently for all the latest news, updates, and developments!