The Bold and the Beautiful Spoilers: Steffy Offers Brooke No Quarter – Demands Cheater Lose Ridge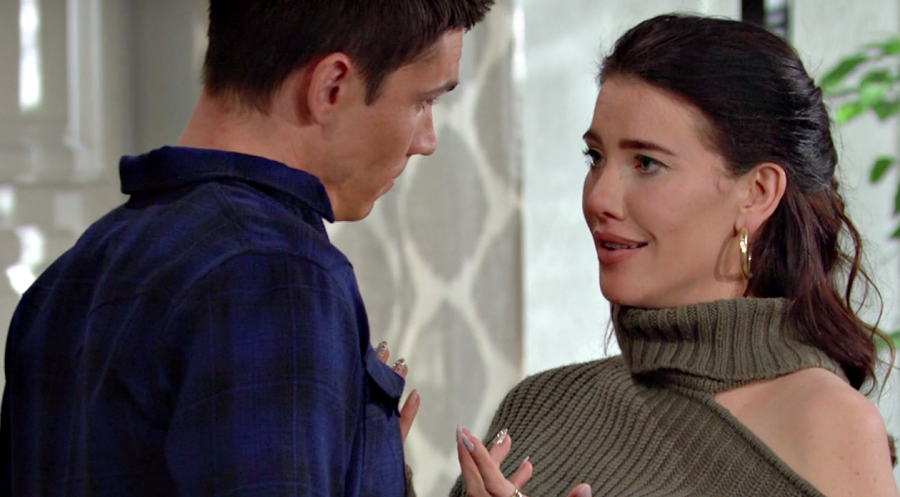 The Bold and the Beautiful spoilers document that Steffy Forrester Finnegan (Jacqueline MacInnes Wood) wasted no time. She and her mother decided that Ridge Forrester (Thorsten Kaye) needed to know the truth. That caused Taylor Hayes (Krista Allen) to ask Ridge to come to the cliff house and sent Steffy to Brooke Logan Forrester's (Katherine Kelly Lang) mansion.
Steffy used her key, entered the main room of the spacious estate, and locked eyes with Brooke. Lang's character was surprised to see Steffy but not bothered as she had no idea that an anvil was about to be dropped on her psyche.
Bold And The Beautiful Spoilers – The Ridgeless Logan Mansion
Steffy's strategy was smart. Her mom asked Ridge to join her at the Finnegan's home. So, Steffy knew that Brooke would likely be alone.
Sharp dialogue enabled Steffy to recap Brooke's many years of mayhem within a few sentences. Brooke was increasingly disturbed, told her she was offended, and then asked Steffy why she was there.
A blowout follows, with Brooke realizing that her secret is not only out but is in the hands of one of her major detractors.
Bold And The Beautiful Spoilers – Steffy Forrester Finnegan Keeps Pushing
The fans could see ahead as soon as Steffy learned her mother was back in Los Angeles, California. It was easy to predict that an attempted reunion between Ridge and Taylor would happen.
Whether Ridge was interested was the clear problem. As Deacon Sharpe (Sean Kanan) was telling Sheila Carter (Kimberlin Brown), no matter what they or anyone else thinks, Brooke loves Ridge.
But Steffy sensed that her mother was ready to try again. Patience was needed, as Steffy suggested that Brooke's pattern of scandal would repeat. Wood's character was proven right, as it has.
Bold And The Beautiful Spoilers – Sheila Carter Could Wreck Revival
There is nothing that will be able to prevent Ridge from being devastated. He will resist Taylor's efforts to clue him in. But when the shock sinks in and Ridge has time to think, he will realize that Brooke betrayed him and has withheld that information from him.
However, Brooke's impulse to drink is not the mystical event she thinks it to be. Fans know that Sheila caused Brooke to unknowingly drink alcohol.
Ridge will surely soften his initial reaction to Brooke when he learns about that second soapy shoe drop. It is too soon to tell how the timing of him learning about Brooke's betrayal and Sheila's involvement play into an anticipated relationship reboot with Taylor on B&B.
This site is a leading source for everything linked to The Bold and the Beautiful. Check Soap Spoiler regularly for B&B spoilers and news!