The Bold and the Beautiful Spoilers: The Deacon Secret Is Out – Brooke Takes To The Bottle?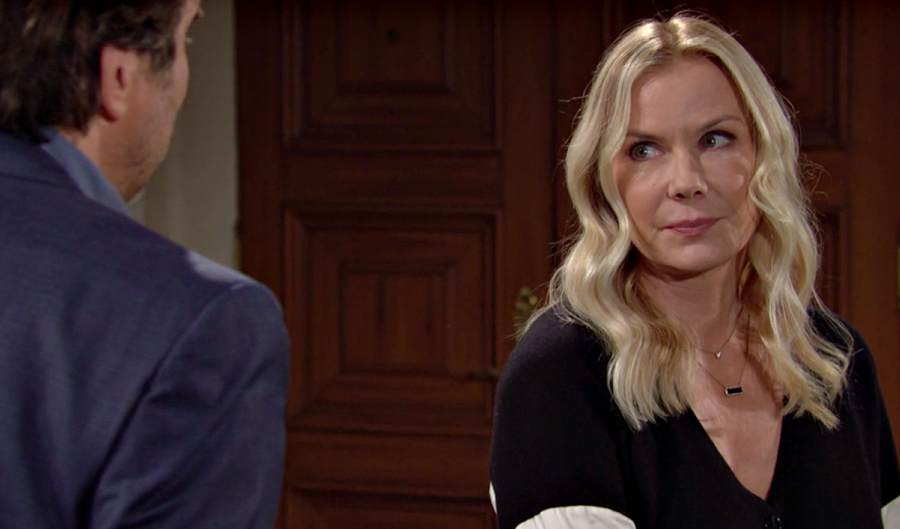 The Bold and the Beautiful spoilers document that the reveal Brooke Logan Forrester (Katherine Kelly Lang) feared is happening. The shock Steffy Forrester Finnegan (Jacqueline MacInnes Wood) sends through Brooke's body shakes this iconic character to her core.
Fans know that Sheila Carter (Kimberlin Brown) is responsible for Brooke's sobriety being most recently broken. That terrible offense led to Brooke and Deacon's now-infamous night of drinking.
When the past is considered, it is fair to wonder if the enormity of developing circumstances will cause Brooke to take to the bottle hard once more?
Bold And The Beautiful Spoilers – Steffy Forrester Not Concerned About Stepmother
Steffy is out to get Brooke. She holds her responsible for stealing Ridge Forrester (Thorsten Kaye) from Taylor Hayes (Krista Allen).
Well, Ridge was an adult who was fully capable of making his own choices. So, Brooke did not take Ridge from Taylor. He made that decision and owns it.
Other than lip service, Wood's character could not care in the least about Brooke's alcoholism. She wants to use the intel that Charlie Webber's (Dick Christie) video retrieval enables.
Bold And The Beautiful Spoilers – Deacon Sharpe Represents Scandal
It has been decades since Brooke and Deacon Sharpe (Sean Kanan) were scandalously together. In real-time, approximately twenty years have passed since Deacon broke his vows to Bridget Forrester (Ashley Jones), who is Brooke and Eric Forrester's (John McCook) daughter.
In soap-time TPTB SORAS'd (soap opera rapid aging syndrome) Hope Spencer (Annika Noelle). This actor and the character she plays is in her mid-30s.
Ridge was thrown when Brooke refused to block Deacon's reentry into her life. Brooke justified it as supporting Hope. But Ridge's instinct led him to believe that disaster would happen as Deacon represents scandal.
Bold And The Beautiful Spoilers – Brooke Logan Forrester Is Destabilized
Maintaining sobriety for as long as Brooke has allowed her to face more recent troubles from a strong position. However, falling off the cliched wagon means that Brooke likely may not be able to cope with Ridge's intense response.
Very emotional conversations with her husband about this topic will take place. Brooke will remain in the dark about Sheila's dastardly role in current matters, have no plausible explanations to offer her husband, and feel shattered in the days that follow.
While Ridge rid the mansion of alcohol, Brooke can obtain elsewhere if she feels overwhelmed. The bottle will be calling loudly, and Brooke's rock may be gone.
This site is a leading source for everything linked to The Bold and the Beautiful. Check Soap Spoiler regularly for B&B spoilers and news!